For WCHA commissioner Bill Robertson, growth of the conference remains the No. 1 priority. So when he watched two of the league's teams skate toe to toe with the top teams from the west's other conferences, he was delighted.
Bemidji State and Minnesota State both beat Minnesota, which sits atop the Big Ten, in the North Star College Cup last weekend in St. Paul. They both lost to third-ranked St. Cloud State, which sits a game out of first in the NCHC. The Beavers fell to the Huskies in Sunday's title game, while the Mavericks were edged in Saturday's semifinals on a late power-play goal.
"Overall, I was very pleased with the way both Mankato and Bemidji played," Robertson said. "They represented the WCHA extremely well and proved our conference can play against any Division I conference in college hockey, at any level. To me, it reaffirmed that we have a great league."
Any success by the league is fodder for Robertson's promotion of the league elsewhere, whether that's to potential ticket buyers for this year's Final Five in Grand Rapids, Mich., to potential partners for future championship weekends or to potential new league members through expansion.
This year's Final Five, March 18-19, will be the second at the Van Andel Arena. The event was held there two seasons ago following the first season of conference realignment, and ticket sales were slim. Attendance for the Broadmoor Trophy championship game was 3,968, a far cry from a year earlier in St. Paul when 18,782 filled the Xcel Energy Center for the final tournament before realignment.
"We want to make it fan-friendly," said Robertson, who will travel to Grand Rapids to meet with officials next week. "We're working really hard on a youth hockey piece. … The building is fantastic, and the town has been very receptive. We just hope that translates into ticket sales."
Next season, the event will move back to St. Paul, as it did last year when 8,204 was the announced attendance for the championship. Beyond that, Robertson said he and the league are "open to exploring different models."
That includes combining conference tournaments, something about which he said he's already spoken to the Big Ten, as well as considering other venues in other cities.
"It will be an overall conference decision," Robertson said, adding that his goal is to have a plan in place by late summer or early fall.
Another decision Robertson hopes comes this spring or summer is the future of Arizona State. The WCHA has been courting the sport's newest program, which just completed its first Division I schedule.
"We took a group from the WCHA to Tempe in November to make our pitch," Robertson said. "I feel like we put our best foot forward as a conference. We'd love to have them, and told them that."
Robertson said there's been continual dialogue with Arizona State, and he's also had "exploratory discussions" with other schools in "the western part of the United States," that are considering adding college hockey, although he wouldn't name them.
Robertson said he'd ultimately like to see the WCHA expand to 12 teams, keeping the current 10 in place, with two six-team divisions divided geographically.
Huskies gain ground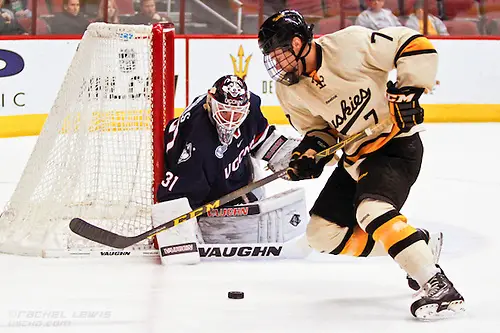 Michigan Tech entered its WCHA series at Bowling Green in third place, four points behind the second-place Falcons.
After last weekend, the Huskies are still in third place. But now, after they beat and tied BG in Ohio, the Huskies are just two points back of the Falcons — and, more importantly, just four points back of league-leading Minnesota State.
"This was a gut check for us," Huskies coach Mel Pearson told the Houghton Daily Mining Gazette. "This was a good win for the boys. … They played a tough, physical series. We did a good job despite the lack of power-play chances."
Although the Huskies lost a two-goal third-period lead in Friday's 4-4 tie, they made up for it Saturday in a 4-1 win. Alex Petan scored on the power play and Reid Sturos netted a 5-on-3 short-handed goal after the Falcons took an early 1-0 lead.
Tech has lost just one game away from Houghton since October — a 4-2 neutral-site loss to Michigan in the Great Lakes Invitational. They Huskies are 10-3-4 away from home this season compared to 4-4-1 at home.
The Huskies host Upper Peninsula rivals Lake Superior State, a team from which they took three points in December, for Winter Carnival weekend.
Friday's game will be the second WCHA game this season broadcast on the American Sports Network.
Ice chips
• The big series of the weekend pits No. 18 Minnesota State against No. 19 Bowling Green in Mankato. The first-place Mavericks hold a two-point lead over the Falcons in the standings. The two teams tied twice — both 2-2 — on Dec. 4-5 at Bowling Green. The series features the top two scoring defensemen in the WCHA in Minnesota State's Casey Nelson (4-15–19) and Bowling Green's Mark Friedman (4-13–17).
• Following a split at Alaska-Anchorage, Alabama-Huntsville is 2-3-1 in its last six games. That's the Chargers' best stretch since starting the season 3-2-1.
• Alaska-Anchorage will leave its home state for the last time in the regular season when it travels to Northern Michigan. Of the Seawolves' final six games after that, two series are at home and the last one is at Fairbanks.
• Alaska will play a home series for the first time since Jan. 2-3 when it hosts Ferris State this weekend. The Nanooks are looking for their first home victory since Nov. 6. They've gone 0-6-1 at the Carlson Center since then. Including the Ferris State series, six of their final eight games are in Fairbanks.
• Bemidji State showed off some solid special teams play at the North Star College Cup, scoring twice on the power play (once in each game) but, most importantly, holding Minnesota and St. Cloud State to a combined 0-for-4 on the power play. The Beavers have killed off 20 consecutive power plays and have allowed only 10 man-advantage goals all season. Their PK is No. 3 overall nationally at 90.6 percent.
• After a week off, Ferris State will look to extend its five-game unbeaten streak when it plays at Alaska.
• Lake Superior State was off last weekend, so the Lakers have two games in hand over just about everyone in the conference (both the Lakers and Northern Michigan have played 18 games, compared to 20 for the rest of the league). The Lakers are tied for seventh place with Alaska-Anchorage with 16 points. The Lakers will need to improve their offensive output if they want a chance to move up in the standings. After scoring a single goal two weekends ago against Minnesota State, their last-place scoring offense dropped to 1.82 goals per game.
• Northern Michigan hosted Minnesota-Duluth in a nonconference series last weekend in Marquette and did something few WCHA teams have been able to do this season: beat an NCHC team. The Wildcats defeated the Bulldogs 4-3 on Friday. After UMD's 3-1 win on Saturday, the WCHA's record against the NCHC is 3-18-2 with two games left.
• This week's WCHA players of the week were Bemidji State senior forward Markus Gerbrandt (offensive), Minnesota State junior defenseman Casey Nelson (defensive) and Alabama-Huntsville freshman forward Tyler Poulsen (rookie).
• January's WCHA player of the month was Michigan Tech senior forward Alex Petan. The rookie of the month was Ferris State goaltender Darren Smith.