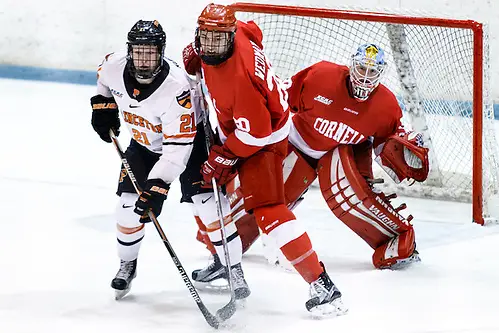 Cornell coach Mike Schafer must have been pleased with the Big Red's results on the road last weekend, even if he wasn't there to see it in person.
Schafer suffered a concussion in practice during the week and did not travel with Cornell for the team's road trip to Quinnipiac and Princeton. Associate head coach Ben Syer was behind the bench for Friday's tie at Quinnipiac and Saturday's win at Princeton.
The three-point weekend was a nice turnaround for the Big Red, who had been stuck in a 0-5-1 slump entering Friday's game against the Bobcats. But it was more than that for Syer, who spent 2002 to 2011 on Rand Pecknold's staff at Quinnipiac, heading to Cornell when Casey Jones left the Big Red to take the head coaching position at Clarkson.
"I'd be lying if I said there wasn't a little bit of emotion involved," Syer said after Friday's game against the Bobcats. "It was a home for 12 years. To come back and have an opportunity to coach against Rand, he's a mentor of mine. There's a lot of emotion involved."
Syer, who was at Quinnipiac when the Bobcats made the move from the MAAC to Atlantic Hockey before eventually settling in ECAC Hockey, had a hand in building the program to the national contender it is today. He recruited seniors Travis St. Denis and Michael Garteig and also worked with current Quinnipiac assistant Bill Riga in recruiting Tim and Connor Clifton, even getting a call from the twins' father while out grocery shopping. By the time the brothers committed, Syer had already left for Cornell.
Memories aside, it was an important weekend for the Big Red, whose offensive struggles coincided with the team's winless stretch. Following a loss to Dartmouth on Jan. 22, Schafer said the Big Red had been trying to be too fancy on offense. While Cornell's three goals on the weekend hardly count as an offensive outburst, the Big Red did show some signs of getting back to what they needed to do on offense, especially late in the game against Quinnipiac.
"I think we have a good mix of both speed and physicality," junior forward Jeff Kubiak said. "When both of those are going, we're moving our feet, being physical, it puts a lot of pressure on the other team's defense. We have to be playing that style to be successful and have any chance at winning. We can't be playing any other way, because that's not how our team is built."
It also doesn't hurt having Mitch Gillam in net. The junior has started every game for Cornell this season and was named the ECAC's goalie of the week for the third time after stopping 71 of 73 shots on the weekend.
Big Green continuing to impress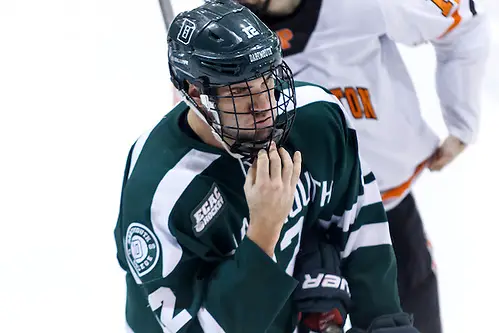 Aside from the last two Fridays, it's been a stellar second half for Dartmouth. While the Big Green's defensive improvements have helped key their solid play following the holidays, Dartmouth's offense has picked it up the last few weeks. Over the last month, the Big Green has scored at least three goals in all but two games.
That offensive prowess was on display Saturday against Brown, as the Big Green turned several Bears turnovers into goals in a 6-3 win.
"One of our keys that we wanted to work on was our transition," said senior captain Brad Schierhorn. "One of the things that we've just been preaching is 'neutral zone, D zone' and the rest will take care of itself."
Dartmouth has been led offensively by two players who are having career years. Senior Jack Barre and sophomore Carl Hesler entered the season with 10 career goals between them, but have doubled that total so far this season.
The duo combined for a pretty two-on-one goal against Brown on Saturday, putting the Big Green up by three late in the third after surviving a frantic second period that saw the teams combine for six goals in less than 10 minutes.
Not being able to finish an opponent was something that Dartmouth struggled with during one of its few blemishes of the second half. The Big Green led No. 1 Quinnipiac 5-2 on Jan. 29 but the Bobcats rallied for a 7-5 win, aided in part by a pair of third-period Dartmouth penalties that resulted in Quinnipiac power-play goals.
"I thought we played 50 really good minutes against Quinnipiac and it wasn't good enough," Big Green coach Bob Gaudet said. "Overall, our team has played very solid hockey. We've showed the ability to score a little more and we're getting good goaltending. I feel good about our team; we're starting to understand the game."
Union not using youth as excuse
With 16 freshmen and sophomores, Union has plenty of youth on its roster. But coach Rick Bennett and his staff aren't using that as an excuse.
"We haven't used that one all year and we're not going to," Bennett said. "We want them to make plays. It's slowly coming; we're just trying to figure out what's a turnover sometimes and what's keeping it simple and putting it on net."
When the Dutchmen do that, the results have generally been positive.
"That's where we are at times," Bennett said. "There's nights were we come into a barn like this [Ingalls Rink, where Union earned a 2-1 win over Yale on Jan. 29] and it's a close game and we kind of pull it out. You want to have a team that is really fast but is also able to think the game."
On the other hand, there are games like Friday. Union outshot the Golden Knights 45-25 but lost 4-1. It was the first time Clarkson had won at Messa Rink since March 6, 2005. While some teams might get frustrated with the high shot total producing only one goal, Bennett was proud of his team for not doing so, saying that was a sign of a mature team.
Still, he pointed out some bad penalties the Dutchmen took, adding that Union was "beating itself."
Bennett also said in his news conference Friday that junior defenseman Noah Henry had left the team because of a family decision. He did not say if he would return to the program.
Around the league
• It was a rough Beanpot for Harvard, as the Crimson lost Monday's consolation game 5-1 to Northeastern. Harvard was without forward Sean Malone, who was suspended one game by the ECAC for a hit on Yale's Rob O'Gara last Saturday. O'Gara was given a game disqualification for contact to the head, meaning the senior defenseman will miss the Bulldogs' game at Colgate on Friday.
• The teams for the 2016 Friendship Four tournament in Belfast, Northern Ireland, were announced Monday, and the ECAC will send two schools to the tournament. Quinnipiac and St. Lawrence will participate after Brown and Colgate took part earlier this season. Vermont and Massachusetts will also take part in the 2016 tournament, which will be held on Nov. 25-26.
• Brown forward Mark Naclerio hit the 100-point mark for his collegiate career with an assist against Dartmouth last Saturday. He joins linemate Nick Lappin, who reached the milestone earlier this season.
• Quinnipiac's 10-game unbeaten streak is tied with Air Force for the longest active streak in the country, but Clarkson isn't far behind. The Golden Knights swept Rensselaer and Union last weekend to push their unbeaten streak to seven games, moving to 17th in the PairWise Rankings in the process.
• Earlier this week, Union announced that Messa Rink will get a $10 million renovation. There is no timetable for the project. Some of the proposed improvements include a new video scoreboard, new boards and glass, a new floor for the ice surface and new coaches' offices.
• Quinnipiac's Sam Anas (player) and St. Lawrence's Jacob Pritchard (rookie) joined Gillam as the league's weekly award winners. Anas had three goals and two assists on the weekend, while Pritchard had three goals in a 1-0-1 road trip for the Saints.