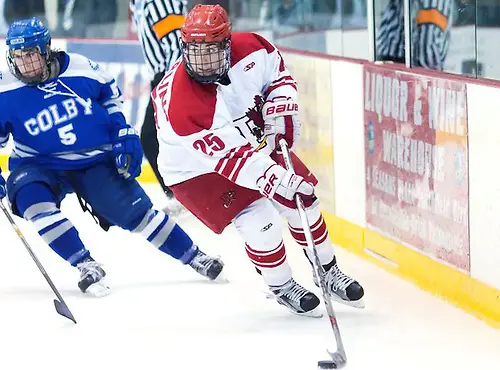 If you are Plattsburgh head coach Bob Emery, you must be pretty happy with the current state of affairs for your hockey team.
You currently sit atop the SUNYAC standings, are ranked No. 2 nationally, and have an 18-3-1 record that includes a current six-game win streak — all very nice indications of things going well, but then there is that belief that there can be more.
"I don't think we have played our best hockey yet," said Emery. "We knew at the beginning of the year we had speed, depth and talent, but how that all came together was to be determined. I have always been a 'roll four lines and play six 'D" coach and we are getting contributions up and down the lineup, but I think our best hockey is still ahead of us. We have three games left in conference play to focus on to solidify the league, but also to position ourselves for NCAA consideration. Every game matters and everything is always so tight for the opportunity to play in the national tournament — these games matter a lot for the league and more.
"It is a very important time of the year and we need to stay focused and with that sense of urgency in our game."
That sense of urgency comes from a solid group of seniors that includes defenseman Rich Botting, goaltender Spencer Finney and forwards Connor Gorman, Dillan Fox and Kevin Emmerling who know that this season is their last chance to reach for success not only in conference play, but on the national stage as well. All of the senior skaters are among the leaders on the team in points and part of a 15-player deep list of players with double-digit points for Cardinals that showcases their depth and balanced scoring approach to the game.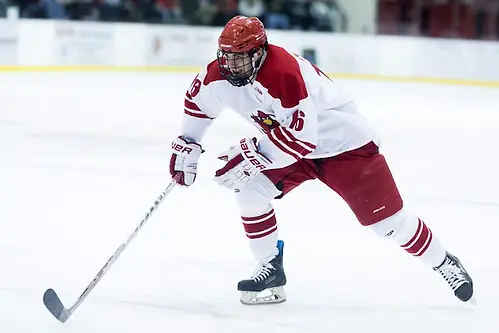 While freshmen Pat Egan and Cole Stallard are among the top three in points, it is the seniors that are driving the underclassmen to a better understanding of the opportunities at hand.
"When you are a younger player, you always think that there is the chance to advance further next year," stated Emery. "They don't have the perspective that our seniors have right now about this season. Our seniors really understand the window is closing and have that urgency around doing all we can do now, this season, to play our best hockey. They are sending that message to the team and I believe we will see the benefits of that late in the season."
The current six-game win streak comes on the heels of a loss at nationally-ranked Williams in mid-January where the Cardinals outshot their hosts 45-10 for the game and 19-1 in the first period alone. They needed an Emmerling goal in the third period to send the game to overtime where Wiliams' David Italiano scored the game winner for the hosts less than a minute into the extra session. It was a tough loss for the Cardinals that their coach believes held some valuable lessons for the remainder of the schedule.
"The lesson was we need to take care of the puck better," said Emery, emphatically. "When you play really good defensive teams like a Williams or Middlebury, you need to be prepared to win the game 1-0. You need to treat it like a playoff game and we weren't ready to win the game 1-0. Coming into this part of the season, that is the mindset you need to bring to the ice and I think a valuable lesson learned from the game at Williams that will hopefully help us for the remainder of the season and upcoming playoffs."
During the current win streak, the Cardinals have three one-goal wins, including a 4-3 road win at Fredonia, a 1-0 road win at Buffalo State and a 4-3 overtime win over Oswego last Friday night on home ice.
Now, just three games remain on the schedule, including this weekend's final road contest at Potsdam before closing out the regular season at home against Brockport and Geneseo. Emery expects his team isn't taking any opponent lightly, especially conference foes.
The Cardinals are a perfect 9-0 on home ice this season and are outscoring their opponents by a 48-12 margin.
Numbers like that are hard to beat, but look for the Cardinals to continue to fly high and with a specific destination in mind at the end of February and into March.