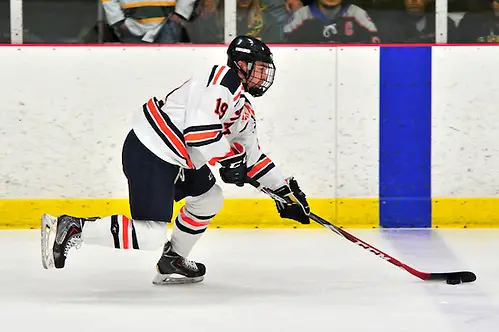 The ECAC West named its year-end award-winners on Wednesday, in addition to two All-ECAC West Teams, a team of honorable mentions and the All-Rookie Team.
Hobart took three of the four individual honors, as Mac Olson was named player of the year, Ben Gamache took home defensive player of the year honors and Mark Tyalor bagged coach of the year laurels.
Olson tallied 13 goals and 24 points in 25 games, while Gamache posted seven goals and 25 points over 21 contests.
Taylor led the Statesmen to a 19-4-2 overall mark, including 12-3-0 in the conference to finish atop the ECAC West in 2015-16.
Utica freshman Hayden Dawes was named rookie of the year after a 17-point season with the Pioneers and leading the team in scoring.
2015-16 All-ECAC West First Team
| Player's Name | Position | Class | School |
| --- | --- | --- | --- |
| Mike Davis | F | So. | Neumann |
| Brad Robbins | F | Sr. | Hobart |
| Mac Olson | F | Sr. | Hobart |
| Scott Dawson | D | Sr. | Nazareth |
| Carl Belizario | D | Jr. | Hobart |
| Lino Chimienti | G | Sr. | Hobart |
2015-16 All-ECAC West Second Team
| Player's Name | Position | Class | School |
| --- | --- | --- | --- |
| Carter Shinkaruk | F | Sr. | Elmira |
| Stephen Gaul | F | So. | Manhattanville |
| Brian Depp | F | Sr. | Elmira |
| Jon Neal | D | Jr. | Hobart |
| Anthony Ragone | D | So. | Manhattanville |
| Michael Fredrick | G | Fr. | Utica |
2015-16 ECAC West Honorable Mention
| Player's Name | Position | Class | School |
| --- | --- | --- | --- |
| Ben Gamache | F | Sr. | Hobart |
| Nolan Marshall | F | Jr. | Manhattanville |
| Scott Andler | F | Sr. | Nazareth |
| Jake Davidson | D | So. | Neumann |
| Steve Low | D | Sr. | Neumann |
| Ed Zdolshek | G | Sr. | Nazareth |
2015-16 ECAC West All-Rookie Team
| Player's Name | Position | School |
| --- | --- | --- |
| Hayden Dawes | F | Utica |
| Cory Anderson | F | Manhattanville |
| Matt Lippa | F | Manhattanville |
| Tanner Shaw | D | Hobart |
| J.R. Wojciechowski | D | Nazareth |
| Michael Fredrick | G | Utica |