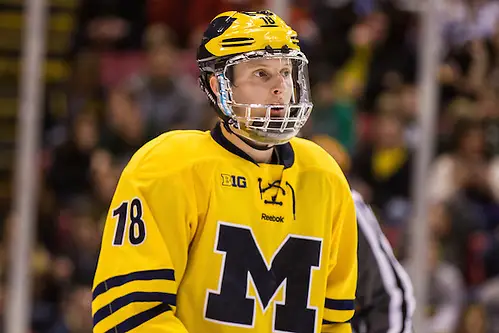 One top-notch line doesn't make a good team, but having three players combine for 140 points in late February certainly doesn't hurt.
Chances are if one picks out a box score from any Michigan game this season, Kyle Connor, JT Compher or Tyler Motte's name will be on it, possibly multiple times. Since coach Red Berenson put the trio on the same line in December, the "CCM" line has become a force to be reckoned with in college hockey.
"We found some chemistry as soon as we were put together," Connor said in an interview this week. "We all have the ability to score goals, but we also make plays so that really complements each other."
Connor, a highly touted freshman coming into this season, has lived up to the hype this season and leads the NCAA with 51 points. Motte leads the country with 28 goals and has 45 points. Compher leads the nation with 34 assists and has also lit the lamp 11 times.
New Hampshire's Andrew Poturalski and his 48 points this season is the only thing standing between Michigan having the top three scoring players in the NCAA on its roster.
"Once we get the puck out [of the defensive zone], I think we all complement each other offensively," Connor said. "Tyler Motte is just a natural goal-scorer, he's a great shooter. JT, he can do it all, he can score goals and he's got great vision on the ice and can pass the puck very well."
The trio will lead the No. 6 Wolverines into Mariucci Arena for a Thursday-Friday series against the Gophers, a team that has a one-point edge over Michigan in the Big Ten standings.
With their line becoming more of a story as they keep putting the puck in the net, the trio has had to deal with teams focusing their game plan around them. Connor said they try to keep the focus on themselves and not on what the opponent is doing.
"We just stick to what we do best and work hard," he said. "It starts with our work ethic and battling, winning battles in the defensive zone and offensively in the corners."
So what's the No. 1 thing that has led to success for the line? According to Connor, the answer is pretty simple: speed.
"It's three guys that can all play the game with a high pace; we like to play really fast," he said. "We play with a lot of tempo, so we like to push each other in practice."
Connor also said that Motte and Compher have helped him on and off the ice, especially with positioning.
Michigan's offense is great, averaging 4.79 goals per game. So far the Wolverines have defied the logic that you need a good defense to win, as they are averaging 2.96 goals allowed per game. The goals allowed number has gotten smaller as the season has progressed, but the progress has been slow.
Whether Michigan can defy the logic that defense wins championships remains to be seen, but right now the Wolverines are simply outscoring their opponents.
There is also the possibility that a team can stifle Connor, Compher and Motte, but Michigan does have some decent options as secondary scorers in Alex Kile, Justin Selman, Boo Nieves, Cooper Marody and Tony Calderone.
"We have a great group of forwards, we have a lot of depth," Connor said. "Any given night, any of the lines can have a good [game] and get one or two goals."
The Gophers and Wolverines split their first two games this season at Yost Ice Arena in December. The regular season series will conclude this week in Minnesota. Michigan owns a 6-1-3 road record this season.
"We like to feed off the crowd," Connor said of playing on the road. "At home it's a little easier to do so, but when we're in that hostile environment we all kind of come together and come as a team and play really well."
Gophers look to dig in and preserve lead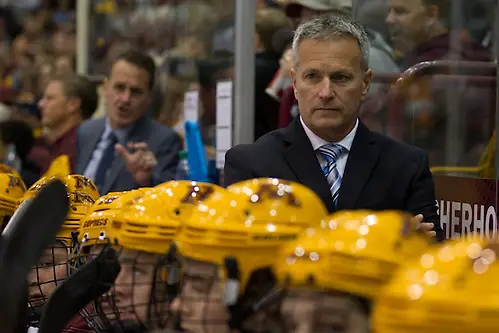 Before Minnesota faced Michigan in December, coach Don Lucia said that he wanted to leave Ann Arbor in the same position that the Gophers went into it: ahead of Michigan in the standings.
The Gophers rebounded after dropping the first game of that series and gained a road split. This week, Lucia plagiarized himself.
"We're one point up and the goal is to be ahead of Michigan when the two-game set ends," he said at Minnesota's weekly news conference on Tuesday. "Obviously, they're playing really well. I didn't realize it, but we're the last team to beat them in regulation. They've only lost one game since we beat them in December."
Minnesota does have the nation's No. 9 offense, averaging 3.38 goals per game, but Lucia said that he doesn't want to get into a track meet with the Wolverines.
"For us playing Michigan, we're not going to beat Michigan 5-4, we're not going to beat them 6-5," he said. "We have to beat them 3-2 or possibly 4-3.
"We don't have a dominant line like they do," Lucia added. "Not many teams in college hockey do."
How does Minnesota's bench boss plan on slowing down that dominant line? He said that he doesn't want to get carried away with thinking about which line goes out against Connor, Compher and Motte.
"Throughout the year we haven't been too caught up about who's out against who," Lucia said. "It's just going to be if you're out against that line, you better not be taking 50-50 chances. Sometimes in a shift you have to live to fight another day."
Wisconsin's one step forward, two steps back, season continues
A good weekend against Michigan State would have pulled Wisconsin out of the familiar confines of last place in the Big Ten standings. Simply put, it just didn't happen.
The Badgers fought back to tie Michigan State on Friday night before giving up the game-winner to Matt DeBlouw with a little more than five minutes remaining in the third period. The Spartans broke a 1-1 tie at the 18:24 mark of the third period on Saturday and added an empty-net goal to get the 3-1 win and weekend sweep.
This week, the Badgers will try to once again right the ship when they head to Ohio State for a pair of games. The Buckeyes took four of six conference points when the two teams met at the Kohl Center in early January.
"It's interesting, over the last 24 hours I've had several people, alumni, guys that know hockey, reach out and said they saw the games this weekend and said we deserve better," Wisconsin coach Mike Eaves said at the school's Monday news conference. "We're doing good things. Sometimes that's an important message to carry to the kids because they, as we do, are measured by wins and losses, and the fact that people are reaching out to say, 'Hey, you're doing good things and you've just got to keep pounding away' is a message that we'll carry to our kids today and get back to work and keep forging the kind of hockey team we want to become."
Three stars of the week
Three schools are represented this week.
First star — Michigan freshman forward Kyle Connor: The aforementioned Connor netted two goals and added an assist in Michigan's 5-2 victory over Ferris State last Friday.
Second star — Ohio State junior forward Nick Schilkey: Schilkey had one goal and four helpers in the Buckeyes' split at Penn State last weekend. He scored Ohio State's lone goal in the loss on Friday and had a career-high four assists during the Buckeyes' 7-4 victory on Saturday.
Third star — Penn State junior forward David Goodwin: Goodwin had two goals and two assists during the Nittany Lions' split with Ohio State. He had a goal and an assist in each game.
B1G in the poll
No. 20 Minnesota joins No. 15 Penn State and No. 6 Michigan in this week's USCHO.com Division I Men's Poll
.
My ballot
1. St. Cloud State
2. Boston College
3. Quinnipiac
4. North Dakota
5. Providence
6. Michigan
7. Yale
8. Boston University
9. Denver
10. Notre Dame
11. Massachusetts-Lowell
12. Harvard
13. Michigan Tech
14. Penn State
15. Omaha
16. Cornell
17. Minnesota State
18. Rensselaer
19. Bowling Green
20. Minnesota
This week's matchups
Michigan at Minnesota (Thursday and Friday, Mariucci Arena)
Wisconsin at Ohio State (Friday and Saturday, Value City Arena)