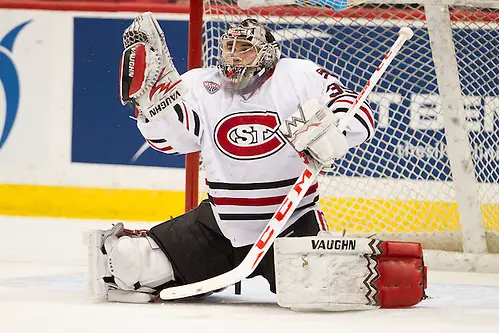 Two weeks ago, North Dakota had two games in hand on St. Cloud State and the two were even in points in the NCHC standings. Given that, it looked like North Dakota had a fairly solid shot at repeating as Penrose Cup champions.
However, a surprise sweep of North Dakota by Denver meant St. Cloud State found itself tied in points with North Dakota, and owning the tiebreaker between the two as of today.
If you ask St. Cloud coach Bob Motzko, however, it's still not the focus of his team.
"Our guys know that it's there, but I think our focus will remain the same right now," Motzko said. "Because we all know that no matter what, if we all keep doing what we want to do, it's going to come down to the last weekend.
"Our focus is to take care of it one week at a time and give ourselves the best position to finish strong. You don't want to change anything right now. What we've been doing is working, so maybe we'll talk about it next week."
Last weekend, St. Cloud traveled to Omaha to face the Mavericks. The two had split their series at St. Cloud earlier in the year, but with a chance to maintain control of the Penrose Cup race, the Huskies came up big, sweeping the Mavericks 4-1 and 6-3 in two very different games.
"The biggest thing for Saturday for us was I thought it was one of our best games since Christmas," Motzko said. "From start to finish, we stayed consistent the whole night in our work ethic and our puck pursuit. It turned out to be a great hockey game.
"[Omaha's Jake] Guentzel scored an incredible goal with under a second to go in the second period, and all we talked about was it was a highlight-reel goal, and how cool was it to see a goal like that, and not defuse the moment. We got into the locker room and that's what we talked about, what an unbelievable goal, and we're in a great game and let's just keep doing what we're doing. Our guys just stuck with it."
Goaltender Charlie Lindgren continued his strong play of late, making 32 saves in Friday's win and another 29 in Saturday's. Motzko put Friday's win squarely on Lindgren's play, but said it's something his team has come to expect from the junior from Lakeville, Minn.
"Friday night, there was no question he was the reason for the victory," said Motzko. "Start to finish, in many moments that game could have come apart on us, and he just stood tall in the net. Omaha clearly had an advantage in the game with energy and taking it to us. We were having a hard time getting on top of our game that night, and Charlie was the difference.
"I just think he's been doing it since Christmas a year ago. He's gaining more confidence, he's gotten stronger. His work ethic and his focus on how to deal with all situations, he's maturing as he goes through this whole process. I think he's been so consistent and so strong from Christmas a year ago, just that experience he's gaining from being in all these situations, he's grown with it."
The Huskies had multiple positives in the wins. For one, St. Cloud's vaunted offense, ranked second in the country, got scoring from people other than the top line. Freshman Robby Jackson had a goal and three assists, and sophomore Blake Winiecki had two goals and an assist.
For another, only one of St. Cloud's 10 goals was on the power play. The Huskies have the second-best power play in the country, but in the postseason, power-play chances often decrease and so does power-play scoring.
"We've got some depth offensively, and confidence is such a huge part for athletes," said Motzko. "Winiecki has had a real strong year and he's been real consistent all year; we're starting to see him on the score sheet more and more. A couple of our freshmen, like Jacob Benson and Robby Jackson, are really taking steps since Christmas. You could see it coming.
"It's kind of a strength of our team, the offensive part of our game. Our power play, as with all power plays, goes in streaks; they always do. You're going to go through a streak where no matter what, you go through a few difficult weeks, and then you work through it, and then they get hot again. I think that's the evolution of all great power plays. So the confidence to score without it has to be there with your team."
This weekend, St. Cloud faces another stern test in its road to reclaiming the Penrose Cup from North Dakota when it hosts Minnesota-Duluth. The Bulldogs were swept last weekend in Grand Forks and are fighting for home ice in the NCHC playoffs, tied with two other teams, so Motzko knows they will come out flying.
"Three teams are battling for the league championship and three more are battling for home ice, and everybody is battling to play their best at the end of the year," said Motzko. "The intensity of many of the leagues right now in these last two weekends is playoff hockey.
"Duluth, they're a heck of a hockey team. They have a lot of pieces there. We always have great games with them. You're going to get everybody's 'A' game this time of year."
North Dakota finding ways to win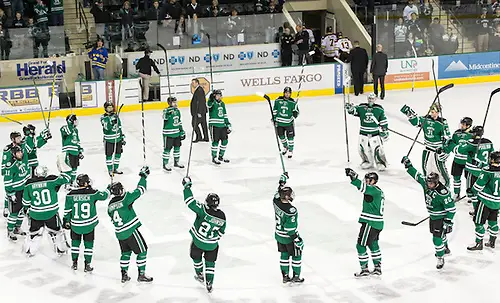 After getting swept by Denver two weeks ago, No. 3 North Dakota found itself needing a win with Minnesota-Duluth coming to town. The Fighting Hawks battled to two hard-fought 2-1 wins, the first in overtime.
Friday, after falling behind in the first, Coltyn Sanderson tied the game in the second and Austin Poganski won it in overtime on a penalty shot.
North Dakota had to rally again Saturday, with Paul LaDue tying it in the second and Brock Boeser scoring the game-winner in the third.
"We need to have consistency in our game to have success," said North Dakota coach Brad Berry. "We drilled down into things in that week following Denver and we wanted to make sure we got back on the rails against Duluth.
"When we played Duluth, that's a very good team, a senior-laden team with experience and depth at all positions. In the NCHC, the combination of how tough it is, the parity, and again having a strong team like Duluth, it was a good test for our guys."
Both victories will help North Dakota as it prepares for the postseason, according to Berry.
"This past series against Duluth was pretty indicative of what you are going to see down the stretch in the NCHC. Postseason play is very good teams playing structured and well defensively and away from the puck. Games are going to be one-goal games, and usually low scoring, so it was a good experience going through that this past weekend."
In its last six games, North Dakota has had scoring troubles, failing to score more than two goals in five of them. Ironically, the one game where the offense did succeed turned into a 6-4 loss to Denver.
Despite the dearth of scoring, North Dakota has won four of its last six games, scoring two in each victory, which is something the team can use to build confidence.
"The one thing that we gauge success at on scoring is scoring chances, and if you are not getting scoring chances, there is a concern," said Berry. "We are getting scoring chances but not capitalizing on them. I think you can go back to our league and how tough it is. The thing our staff talks about is structure, and it's getting better with every team in the league the second half of the year. Teams are getting better defensively.
"You look at Duluth too, the other programs in the NCHC, scoring is tough to come by. We are going to have make sure we drill down and try to capitalize on opportunities, whether it's power play, five-on-five or four-on-four."
The offensive struggles have coincided with a rough stretch for the power play, which went 0-for-7 against Duluth and has scored only twice in its last 24 chances over this six-game stretch.
"I think it goes along with structure again," Berry said. "The biggest thing for us is we haven't capitalized on scoring chances on the power play as much as we have wanted to, but we have been getting a lot of good looks and a lot of opportunities.
"As the scoring chances dry up, that is a concern. Like I said, we are doing the right things; it's just a matter of getting on a roll and putting a few together. With the power play, our penalty kill has been very good, but the important thing is winning those special teams battles every night."
The sweep by Denver dropped North Dakota into a tie with St. Cloud for the Penrose Cup, the trophy for the NCHC regular season winner. North Dakota is the defending champion, while St. Cloud won it in the inaugural year; the Huskies also own the tiebreaker, so North Dakota will need a little help to recapture the cup.
"You know what, we talk about it internally, but we break our goals down into very small increments, meaning there is a very short-term focus on what we have to do in front of us, and that's about winning games," said Berry. "If you do win games weekend to weekend, things take care of themselves."
This weekend, North Dakota travels to Omaha; the two played in Grand Forks in January, splitting the series, with Omaha winning one in OT.
"I think it will be a very competitive, very fast-paced series, just like it was here a few weeks ago," said Berry. "Dean Blais, his teams are always very competitive and structured, and they bring their best every single night, so we have to make sure we are the same way. We are going into their building, where they have a very good fan base and following, and it should make for a great weekend."
NCHC players of the week
Offensive player of the week — Danton Heinen, Denver: Heinen continued his red-hot scoring, notching four points in Denver's sweep of archrival Colorado College. In Thursday's 4-1 win, he had an assist on the tying goal in the first period and then scored the final goal of the game late in the third while posting a plus-2 rating. In Saturday's outdoor game at Coors Field, he scored on a power play early in the third period and then set up another power-play goal 15 seconds later. On the weekend, he won nine of 14 faceoffs.
Defensive player of the week — Will Butcher, Denver: Butcher contributed both offensively and defensively in Denver's sweep of Colorado College. He had two assists Thursday, including one on the game-winner in the third period, and posted a plus-1 rating. Saturday, he had two more assists on the two power-play goals in the third period that put Denver in control of the game and was named the game's third star while again posting a plus-1 rating. He also helped Denver kill four of five penalties on the weekend while limiting CC to 53 shots on net in two games.
Rookie of the week — Dylan Gambrell, Denver: Playing on Denver's top line, Gambrell had five points in the wins over Colorado College. He scored Denver's first goal Thursday to tie the game, assisted on the game-winner in the third, and then had another assist on the final goal while posting a plus-2 rating and being named the game's third star. He assisted on a power-play goal in the third period Saturday and scored a power-play goal 15 seconds later that put the game out of reach and was named the game's second star.
Goaltender of the week — Cam Johnson, North Dakota: Johnson helped key North Dakota in a sweep of Minnesota-Duluth, posting a 0.97 GAA and .967 save percentage on the weekend. On Friday, he made 32 saves in a 2-1 OT win, including three in the extra session, and helped kill three of Duluth's four power plays. On Saturday, he made 27 saves in another 2-1 win. He has upped his save percentage on the year to an outstanding .940.