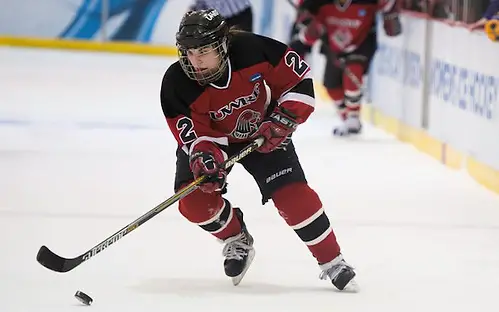 Andy Williams had it right when he sang, "It's the most wonderful time of the year."
And while the holidays certainly are a joyful time, some can argue that hockey playoffs also fit that mold.
In Division III circles, the women get underway this weekend, with some games starting as soon as Wednesday night.
Here is a breakdown of the seven conference championships.
Colonial Hockey
Stevenson University claimed the conference's inaugural regular-season title and will receive a bye into the semifinal round of the postseason tournament. Second-place Endicott also steps into the semis.
The quarterfinals go Saturday and have No. 3 Morrisville hosting No. 6 Johnson and Wales and No. 4 Canton playing host to fifth-seeded Becker.
The skinny: This appears to be Stevenson's conference to lose. Chelsea Blackburn scored 17 goals for the Mustangs and Sarah Modzelewski went 17-2-1 with a 1.20 GAA and a .948 save percentage.
ECAC West
Plattsburgh is the one seed and will receive a bye into the semifinal round. The Cardinals boast both the league's top offense and defense, having scored 109 goals, while allowing just 13 goals in 18 conference games. As the league's top seed, Plattsburgh will host the tournament's semifinals and final at Stafford Ice Arena, where the Cardinals have not lost since Feb. 1, 2015.
Elmira gets the second seed and will also receive a bye into the semifinal round on March 5 against the second-lowest remaining seed. The Soaring Eagles enter the postseason winners of six straight games and outscored their opponents 53-10 away from home on the way to recording a perfect 12-0-0 mark in road games in 2015-16.
In the quarterfinals, No. 3 Utica hosts Cortland Thursday night and then No. 4 Buffalo State hosts No. 5 Oswego Saturday afternoon.
The skinny: Plattsburgh. That is all. Utica is the '1' in the Cardinals' 24-1-0 record, but better to lose two weeks ago than in the tournament, right? Count on the tournament coming down to Plattsburgh and Elmira. Plattsburgh goalie Camille Leonard makes brick walls look paper-like.
MIAC
Though they tied for the regular-season title, St. Thomas receives the No. 1 seed and home-ice advantage throughout the MIAC playoffs thanks to its 1-0-1 record against Bethel in the regular season. That puts the Royals at No. 2.
Thursday's quarterfinal has No. 5 St. Mary's at No. 4 Concordia (Minn.). The semifinals on Saturday then have that game's winner at top-seed St. Thomas and No. 3 Augsburg at Bethel.
The skinny: Wow. Looks to be a competitive conference one through four. St. Thomas has Kathryn Larson and her 13 goals and goalie Mackenzie Torpy. Could be a special season for the Tommies.
NCHA
The battle for the Slaats Cup begins with the semifinals Friday — No. 3 St. Norbert at No. 2 Lake Forest in the first of the best-of-three series.
Then Saturday, St. Norbert and Lake Forest play again and if the series is tied, a deciding mini game goes right after Game 2.
Top-seeded Adrian hosts No. 4 St. Scholastica on Saturday and Sunday, with a potential mini game after Game 2 as well.
The skinny: Is a mini game the right way to decide a playoff series? Hoping none of these series get to that point. Wouldn't shock us to see Michelle Greeneway's offense carry Lake Forest.
NEHC
Norwich claimed its sixth straight regular-season title to gain home-ice advantage throughout the postseason and hosts No. 8 New England College on Saturday.
The other Saturday quarterfinals have second-seed Castleton hosting No. 7 Plymouth State, No. 3 Massachusetts-Boston hosting Manhattanville and No. 5 Salve Regina traveling to No. 4 University of New England.
St. Anselm, Holy Cross, Franklin Pierce, and St. Michael's will participate in the NEHC Women's Open postseason tournament. Holy Cross is the defending NEHC Open tournament champion. The Crusaders have won the tournament five times in program history (2003, 2009, 2010, 2011, 2015).
The play-in game has No. 4 Sacred Heart hosting No. 5 St. Michael's Wednesday night. The semifinals on Saturday (played at St. Anselm) have top-seed Holy Cross hosting the play-in winner and No. 2 St. Anselm playing third-seed Franklin Pierce.
The championship and consolation games are set for Sunday, also at St. Anselm.
The skinny: This has to be Norwich's year, right? When you have a 1-2 punch in goal with Celeste Robert and Laurie King, both can steal games. As for the Open, my theory is that the defending champ is the favorite until proven otherwise.
NESCAC
Middlebury captured the top seed for the sixth straight season following a 7-0 win over Williams on Saturday night. The Panthers are looking for their eighth conference title.
Quarterfinal action starts on Saturday as Middlebury, Amherst, Connecticut College, and Williams will host games. The highest remaining seed following the quarterfinal round will host both semifinals and the final from March 5-6.
On Saturday, No. 8 Colby is at Middlebury, No. 2 Amherst hosts No. 7 Bowdoin, third-seed Connecticut College hosts No. 6 Hamilton, and No. 4 Williams brings in No. 5 Trinity.
The skinny: Amherst and Middlebury. Middlebury and Amherst. Those two are the class of the league this season, but in what order after next weekend? Too close to call at this point (and we'll cover that in a subsequent picks blog), but Middlebury has the inside edge right now. Just right now.
WIAC
The four-team semifinals run Friday and Saturday with No. 4 Wisconsin-Eau Claire at No. 1 Wisconsin-River Falls and No. 3 Wisconsin-Superior at second-seed Wisconsin-Stevens Point.
The skinny: Well, each team's odds are 25 percent, but River Falls is the dominant team here. Chloe Kinsel, Carly Moran, and Dani Sibley accounted for nearly half of Wis.-River Falls' scoring this season, and Angie Hall won 19 games between the pipes this season.