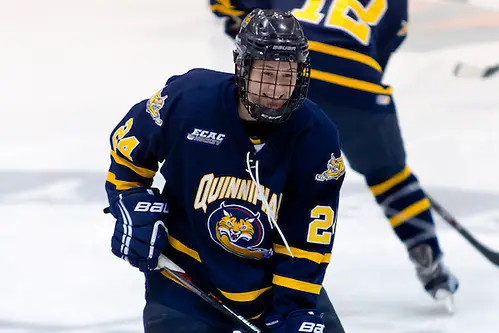 The season is nearly five months old, and of the 35 teams, only four have earned the right to call themselves champions. For the Quinnipiac Bobcats, it's the first time they've finished on top.
"I said it after our game on Friday night, this has been an accumulation of even years, getting ourselves to this point and getting this program into a position where it can compete for championships like that," coach Cassandra Turner said. "I think it really was, being the first, a huge, huge moment for our program and excitement from people that have been here before us. I've heard from so many alums and so many supporters that are just so excited about where the program is."
That's atop ECAC Hockey, earning the title by three points over Clarkson. Quinnipiac won 16 conference games, one more than its previous best. Overall, the Bobcats have already equaled the 26 victories posted last season, a program high. With only two losses thus far, they are guaranteed to set a new program low for losses in a season, as the previous best of six came two years ago, and mathematically, a team won't lose more than three postseason games.
"Everyone is obviously very excited with what we've accomplished thus far, but we kind of celebrated last weekend, and now, we're looking forward to what we can accomplish in the future," senior forward Nicole Kosta said.
The Bobcats locked down the title with a 9-0 romp over Union, scoring three times in each period.
"There's no question our team was pretty excited," Turner said. "They played that game Friday night from beginning to end with a lot of passion. They knew what it was all about and they wanted to know that they were going to feel good at the end of it about how they played the game. That was fantastic, but just like I've been impressed with our kids all year, they were great Saturday in getting back to business and understanding that they have more that they want to accomplish. That wasn't the end of the road."
It was only the end of the season road, and now the playoff road begins, but sometimes, it's nice to glance in the rearview mirror at the road already traveled.
"We're not focusing on that too much right now," Kosta said. "We're just looking toward the future and doing what we can to accomplish another championship in the future."
I can see where Quinnipiac has to look ahead; the biggest game is the next game and all that, but I don't have any game to win this week, so I'm going to permit myself to dwell on the past for a bit.
Before she joined the Bobcats, Kosta played for the Mississauga Junior Chiefs and had a 60-point, 31-game season. The offensive production has continued at Quinnipiac — she's the active points leader with 123. Had her career in Hamden played out differently, it could easily be over at this point. Two years ago, an injury kept her out of the lineup all season.
"It was definitely tough to miss that season," Kosta said. "It's hard to sit on the sidelines and watch your team. They obviously had a great season that year, too, so that was difficult."
Quinnipiac lost only the six games that year, but came up a goal short too many times, settled for nine ties, and just missed out on the NCAA tournament.
"At that point, I was just trying to do what I could that year to get better for the next season and help my team be successful last season," Kosta. "Obviously, it was surreal to come in first this year in my senior year. I'm thinking that everything happens for a reason. The opportunity that we have this year to accomplish great things is amazing, and missing that junior year is obviously worth it now."
While Kosta remains an offensive contributor, she's a different player on the other end of the ice.
"In juniors, I think offense is a lot more prevalent," Kosta said. "Here, we can't get away with as much or other teams will capitalize. There's a lot better players and what not, so we're a lot more detail oriented in college. I think that was one of the main adjustments that I had to make. I know that I thought I could get away with kind of leaving the defensive aspect to the defense, but what I've learned from being here is that it is a full-team effort on defense. Every little detail matters. I had to conform to that, and if not, it would hurt our team."
Over the years, the Bobcats' success has been built on a defensive foundation, and this season is no different. Quinnipiac's scoring defense is ranked second in the country, allowing only 0.91 goals per game.
That's down from what it was last season, when a stingy defense that yielded only 1.18 goals per game was enough to get the Bobcats to their first NCAA tournament via an at-large berth, in spite of an offense that ranked just above average.
"I think last year we were satisfied just to make it to the NCAA tournament," Turner said. "We played three tight games, 2-1 losses with Harvard last year, and then we got into that NCAA quarterfinal game and I think it finished 5-0. We were just content to be there, a little nervous of the moment, and that has been something that has hit home with our kids."
After last season, Quinnipiac had to fill some holes offensively after graduating three of its top seven scorers. However, the top three point producers were back, including T.T. Cianfarano, who led the team with 30 points as a freshman.
"It's just so neat to see where she is this year," Turner said. "She has grown as a defensive player. She played center for us most of last year, and we put her on the wing, and she figured it out real quickly. It's the first time she's played wing in her life. She just had a very good growth mindset this year. 'What can I do to be better?' She's continued to impress her teammates and us this season, because she responds so well when things don't necessarily go her way. I think that's been a big step for her. To be able to do that and to still consistently find a way to put the puck in the net, she's really been pivotal."
Cianfarano leads the squad once more with 48 points, including 27 goals, also tops on the team. Quinnipiac has been strengthened by the arrival of another talented freshman this year, Connecticut native Melissa Samoskevich.
"Samo' leads the country in game-winning goals," Turner said. "For a freshman, we really have worked this year to put her in positions to be successful. She has played on different lines and with different people, different combinations, and all those things have helped her to really understand what college hockey is all about, to be adaptable. We're really happy with what she's able to contribute in all the zones. That's the way she really grew over the course of the year. Her defensive game has gotten so much better, and her ability to play off the puck has gotten a lot better."
Samoskevich is second on the team with 16 goals, and she's added 16 assists.
The other key question on the ice that needed an answer was how would the team's new starting goaltender fare.
"Syd Rossman, for us and the people that were involved in our practices last year, we knew that this was going to be a great year for her," Turner said. "That may be where some of my confidence came from at the beginning of the season about our team. I talk a lot about mental makeup of goaltenders, and she has it."
While Rossman had talent, she only made two starts as a sophomore.
"Playing under Chelsea Laden last year, she was improving and ready whenever the moment was going to come, and Chelsea was on a great run," Turner said. "We were in a position where we had a great goaltender last year and a great goaltender moving into this season. It hasn't been that surprising for me to see that here she is, sitting as a junior with only two losses in her career, because she's a competitor. She's made those plays when we've needed her to make them."
The transition has been seamless. After Laden posted 16 shutouts last year, second most in NCAA history, Rossman already has 15 this year, with a .950 save percentage, a goals-against average of 0.90, and a record of 26-2-5, as she's handled every minute of the goaltending duties.
As Rossman has proven herself under fire, so has her coach. Turner took over for Rick Seeley, who resigned under controversy after building Quinnipiac to national prominence. Turner served seven years on Seeley's staff, and when I spoke with her before the start of this season, she was confident that good things were ahead this year. To state the obvious, she was correct.
"I feel pretty lucky," Turner said. "It wasn't a false belief; there's a lot to back it up. You look at this group of seniors that we have: their resumes are really strong. They've done a lot in their time here at Quinnipiac in terms of building this program. Now, we've been able to trickle in some great scorers and some great key players for us, some goaltending, some role players, some important defenders. I really felt at the beginning of this year that we had the pieces, and it was just a matter of getting everyone on the same page. Just like any group, we've had different challenges as we've gone through the year, but it's been the way that our team has responded and believed, and what the bigger picture has been for this group that's really been a testament to their character."
The team got off to a solid start, going 6-1-3 over its first 10 games, and then caught fire when it posted a 17-0-1 mark as part of a 21-game unbeaten stretch.
"I'm kind of glad the year started that way," Turner said. "We were trying to get ourselves playing as hard as everyone expected, and it took some time. The girls on our team, they really wanted to ask for more. They wanted to play for pride, and the slogan they've had all year is 10 letters. There's 10 letters in Quinnipiac, and just to have pride in every play they make. Pride in how they support their teammates, pride in how they respond to mistakes, and that was something that had to be learned a little bit from some of our players, and they learned it."
The key moment may have come off the ice in the wake of a 4-2 victory at Princeton.
"It was really going into that Clarkson-St. Lawrence weekend on the road that was the pivotal moment for this team," Turner said. "Our juniors are a really neat group of people, and they had some good conversations with different people on our team, different classes. They really talked about opportunity, and they talked about how are we going to do this for the senior group; how are we going to support them. I think it was that right unifying moment that we needed at the right time, and then to go in and shut out Clarkson, 3-0, with T.T. getting a hat trick, and shut out St. Lawrence. That's the first time that's ever happened in ECAC Hockey history to have two shutouts in the North Country. That's really neat, and I think the fact that they consciously came together that weekend and decided to take their game to the next level, that was the step that they needed."
In her fifth season at Quinnipiac, Kosta says the approach is different under her new head coach.
"We're a lot more processed-based this year, as opposed to results-based," Kosta said. "Every period, no matter what the score is, we're just trying to play our best hockey. It doesn't matter what team we're playing. That's really helped us be successful this year, because even in games where we've been winning or we've been losing, we're still trying to get better to help us in the future and helps us prepare for adversity in what's to come."
Turner has a first-hand knowledge of what is to come. As a defenseman at Brown, she played in the 2002 NCAA final.
"Poised would be a good word to describe her," Kosta said. "She's very patient with us. She understands that mistakes are going to happen. She's good with that as long as we're all working our hardest. She cares about each of us as individuals outside of hockey. If she knows, for example, we're all stressed out because of a busy time in school, like exams, she'll adapt our practice schedule to that. I think that's helping us kind of decompress mentally and giving us time to focus on hockey. It kind of makes us less stressed out and makes coming to the rink more enjoyable."
While some things may be different, much of the mentality remains the same.
"We talk about being hard to play against, having good sticks and keeping our sticks on the ice," Turner said. "It's just disrupting passes, disrupting plays, eliminating second shots, creating second shots for ourselves, details around the net, how we're winning battles. There's so many little things that our kids take so much pride in and have over the course of the year."
Next up, the Bobcats host Rensselaer in an ECAC quarterfinal series. The team's played a scoreless tie back in January in addition to Quinnipiac's 4-0 shutout win on Saturday.
"There's no question that we're comfortable in a tight game, if that's what happens with us this weekend," Turner said. "RPI is a team that's going to battle and compete, and we know that. We expect them to play a little harder than the game this past weekend, and our players are ready to respond to that."
Leading the way will be the team's veterans.
"We don't just have six seniors, we have six seniors who are pivotal to our success and all play important roles," Turner said. "That's kind of a coach's dream at this point in the year, because it lessens the stress on some of our other players and it puts those players in the limelight that are ready for it."
Kosta is one of three senior forwards for Quinnipiac, interestingly enough, all named Nicole. Nicole Connery is second on the team with 33 points, and Nicole Brown has passed the 20-point mark. Perhaps the backbone of the club is its blue line, anchored by seniors Kristen Tamberg, Cydney Roesler, and Lindsey West.
This year, those seniors and the rest of the Bobcats are armed with knowledge that they've lacked in past postseasons.
"The experience that we've had with already winning a championship, knowing how great that feeling is and keeping that with us, but also being humble and remembering what it took to get there," Kosta said. "Just continuing to do what's needed to be successful and worrying about the details, like defense and what not, and carrying that into the games to come."