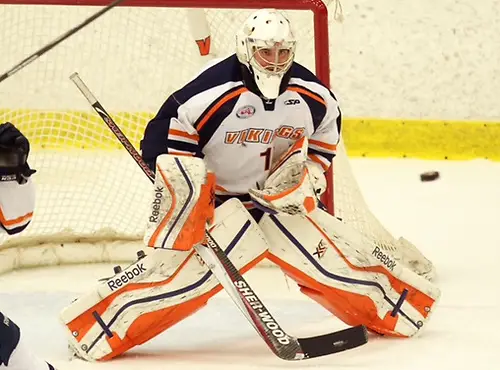 Salem State junior goaltender Marcus Zelzer has been named the 2015-16 MASCAC Player of the Year.
Zelzer finished the regular season first in the MASCAC in both GAA (1.76) and save percentage (.932). He also tallied a 16-1-0 record, which was the best winning percentage in the conference at .941 and recorded four shutouts on the year.
Earning the 2015-16 MASCAC Rookie of the Year honor is Matthew Volonnino of Plymouth State. He tallied 10 goals and nine assists for 19 points during his first year with the squad.
For his efforts in leading his team to 20 conference wins, the top seed in the tournament and a first-round bye, Salem State's Bill O'Neill has been named the 2015-16 Coach of the Year.
Additionally, the conference coaches also selected a pair of All-Conference Teams.
2015-16 First Team All-MASCAC
| Player's Name | Position | Class | School |
| --- | --- | --- | --- |
| Andrew Wigg | F | Sr. | Plymouth State |
| Cam Moniz | F | Sr. | Salem State |
| Dalton Jay | F | Sr. | Westfield State |
| Gabriel Cromp | D | Sr. | Salem State |
| Kyllian Kirkwood | D | Sr. | Westfield State |
| Marcus Zelzer | G | Jr. | Salem State |
2015-16 Second Team All-MASCAC
| Player's Name | Position | Class | School |
| --- | --- | --- | --- |
| Michael Economos | F | Jr. | Plymouth State |
| Brandon Platt | F | Jr. | Salem State |
| Casey Shea | F | So. | Massachusetts-Dartmouth |
| Brad Jones | D | Jr. | Salem State |
| Jerry Laasko | D | So. | Massachusetts-Dartmouth |
| Gordon Ceasar | G | Sr. | Plymouth State |