At least one ECAC Hockey first-round playoff series going to a Game 3 has been something of a given recently.
To find the last time all four opening-round series were decided in sweeps, you have to go back to 2004. (Make a note of that. We'll be going back to 2004 a few times here.)
So which teams are going to be extended to the limit this weekend as the postseason begins?
How about Cornell and Union? The Dutchmen will be on the road, but they were 1-0-1 in their games against the Big Red this season.
Maybe Dartmouth and Colgate? The Big Green swept the season series against the Raiders, but the latter showed signs of new life last weekend in going into the playoffs with a pair of victories.
It could be 11th-seed Brown forcing Rensselaer to the edge if the Bears are able to hold a lead against the Engineers this time. Brown led by three goals in the teams' first meeting this season and by two in the return match, only to collect a tie and loss.
You wouldn't think it could be last-place Princeton against Clarkson, but the Tigers blanked the Golden Knights in November, so it can be done.
When the 2016 ECAC Hockey playoffs open Friday night, there will be teams looking to reverse trends. Rensselaer hasn't won a home playoff series since 2004, with five series losses since then and a 4-10 record at Houston Field House.
The Engineers are battered and bruised but they entered the postseason with a hint of a positive sign after a late Milos Bubela goal earned a 3-3 tie at Cornell last Saturday.
"We're not a work of art and I don't know who we'll be able to play, we were down to 11 healthy forwards tonight, we had five guys out," Rensselaer coach Seth Appert said last Saturday. "But I do know that our guys will compete their tails off and all year they've put us in position to win games in the third period."
And there are teams hoping that a recent development starts to become a trend.
Last season, Harvard became the first team that didn't earn a first-round bye to win the championship since 2004. In both 2004 and 2015, the Crimson won as the sixth seed.
Eight teams look to this weekend to be the start of a successful three-week journey ending in Lake Placid.
Closing time at Starr Rink
Jake Kulevich scored the last Colgate men's hockey goal at Starr Rink, the game-winner in a 2-1 victory over Union last Saturday in front of a crowd of 2,115.
For 56 years, the Raiders have called Starr Rink home, but they're scheduled to move into the new Class of 1965 Arena next season.
"Starr Rink has so much history, so many great players have come through here," Kulevich said, "it's neat to go out that way."
Here's a look at the final seconds of the last Raiders men's hockey game in the rink:
[youtube_sc url=https://www.youtube.com/watch?v=_kWGJdQdE80]
Colgate's women's hockey team had a memorable Starr Rink finale a day later, beating Harvard 3-2 in overtime of Game 3 of a ECAC Hockey quarterfinal series.
February's best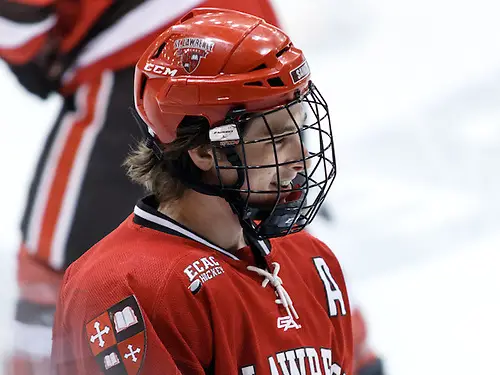 St. Lawrence defenseman Gavin Bayreuther was named ECAC Hockey's player of the month for February, while teammate Jacob Pritchard was the top rookie and Yale's Alex Lyon took top goaltender honors.
Bayreuther became the first defenseman to lead the Saints in scoring, finishing the regular season with a nine-game point streak. The junior is also the first defenseman to be named the league's player of the month.
Pritchard led league rookies with five goals in February and, like Bayreuther, scored at least a point in all eight Saints games in the month.
Lyon went 7-1-1 in February with a 1.38 GAA, .945 save percentage and two shutouts. The junior didn't allow a power-play goal in the month.
The champions
Harvard and Quinnipiac players swept the top five spots in the scoring stats for conference games.
The Crimson's Jimmy Vesey won the goal- and point-scoring titles with 17 and 32, respectively, in 21 games.
Quinnipiac's Tim Clifton (29 points), Sam Anas (25) and Travis St. Denis (24) and Harvard's Alexander Kerfoot (23) rounded out the top five for points.
Lyon won the goaltending championship, posting a 1.50 GAA and .943 save percentage. Quinnipiac's Michael Garteig had the best record, 16-1-5.
Watch the postseason online
ECAC Hockey announced that the playoffs will be available to view on the web through the league website.
Using BoxCast technology, games will be streamed for desktop and mobile viewing for $9.95 per game.
The tournament championship from Lake Placid, N.Y., on March 18-19 will be broadcast by American Sports Network.
Contributing: Will LeBlond, Nate Owen