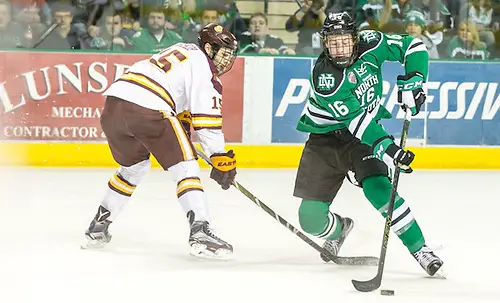 A year ago, North Dakota picked up its first NCHC regular season championship, finishing six points clear of second-place Miami.
A few days from now, the Fighting Hawks hope to find themselves alone atop the hill again.
Two UND wins on the road last weekend against Omaha and a pair of losses elsewhere for St. Cloud State saw the Fighting Hawks wrap up at least a share of the Penrose Cup. That trophy goes to whichever NCHC team finishes first in the standings.
Sole ownership of the trophy hasn't yet been ensured. If North Dakota coach Brad Berry has his way, however, sorting out logistics will become easier.
"We talked about it right after the game in Omaha when we got a share of it," Berry said Wednesday at his weekly news conference, referring to the Hawks' 4-1 win over UNO last Saturday. "We said, you know what, first of all, we got a share of it, we want it all and we don't want to share it, and then the second thing is we're not done.
"We've got other things we want to get to here. It's just another thing we talked about in August that we wanted to get to, and we want to make sure that we get to that ultimate goal and hang that banner."
A banner is set to go to the Ralph Engelstad Arena rafters regardless. What Berry wants to see happen is St. Cloud State or Denver, tied for second place, not getting to do the same in their home arenas.
One point for UND this weekend at home against Western Michigan would make that happen. The Hawks hold six-point leads over both St. Cloud and Denver, the latter of which swept UND in Denver on Feb. 12-13.
St. Cloud split its only two games against UND so far this season at home in November.
UND will celebrate its four seniors this weekend against Western Michigan. The Hawks will do so, however, while also keeping an eye on the big picture.
"There is business to take care of this weekend," Berry said, "and obviously last weekend getting a share of the Penrose, obviously very honored and grateful to do that, but there's a lot of things going into this weekend.
"We want to get the outright Penrose Cup as far as that, I want to make sure we keep playing well going into the playoffs, and this is our last regular season home weekend with our fans and our seniors here, and we want to make sure they go out the right way."
RedHawks looking for another big push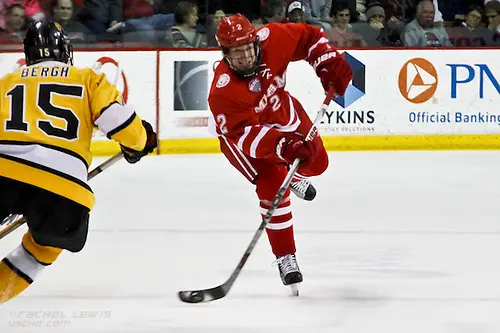 Miami is also on the market for a big weekend, with home ice in the first round of the playoffs at stake in a series at Minnesota-Duluth for a RedHawks team that struggled mightily earlier this season.
They have won five of their last six games, including a sweep last weekend at home against Colorado College. That recent run has Miami tied for fourth place in the NCHC despite holding a sub-.500 league record at 9-11-2.
Miami's 31 points are matched by Minnesota-Duluth, which hosts the RedHawks this weekend. These won't be the teams' first two meetings of the season, as the Bulldogs picked up a win and three-on-three overtime loss in Oxford, Ohio, on Jan. 8-9.
RedHawks coach Enrico Blasi remembers it well.
"We know Duluth's a very good hockey team," Blasi said. "We saw them earlier in January and they had the better of us here at home.
"Our focus is on preparation and making sure we're ready to go and that we go into Friday's game prepared and focused on playing well and playing for each other, and we know we have to play our best to give ourselves an opportunity, and that's what we're going to do."
Minnesota-Duluth did North Dakota a major favor last weekend in picking up a sweep at St. Cloud State, but the Bulldogs will have to prove themselves at home again this weekend. Duluth hasn't defeated a current top-four NCHC team at Amsoil Arena since picking up a three-on-three overtime win over Denver on Nov. 14.
If the Bulldogs are to be thwarted this weekend, Miami will have to keep doing what got the RedHawks into contention for home ice.
"At the end of the day, I think our team's in a much better place, a much better mindset," Blasi said, "and I think all those things combined allow you to get good looks at the net and second-effort looks and things like that.
"There's really no secret to scoring goals: You have to pay a price and you have to make good decisions and you have to put yourself in position to be able to, as I would say, maybe get some greasy goals just from hard work."
Players of the week
Offensive player of the week — Karson Kuhlman, Minnesota-Duluth: The sophomore forward had his best weekend of the season in picking up four points during a sweep on the road against then-No. 3 St. Cloud State.
Defensive player of the week — Taylor Richart, Miami: The senior scored one goal in both of Miami's victories last weekend against Colorado College. Before last week, Richart had just one goal in his past 127 games.
Rookie of the week — Dylan Gambrell, Denver: If this name sounds familiar in this spot, there's a reason for that. Gambrell picked up the league's rookie honor for the third week running after he collected four points last weekend in a sweep over Western Michigan.
Goaltender of the week — Jay Williams, Miami: The senior saved all 55 shots he faced last weekend against CC. Eighteen of those Tigers shots came in the third period of Miami's 3-0 victory on Friday.