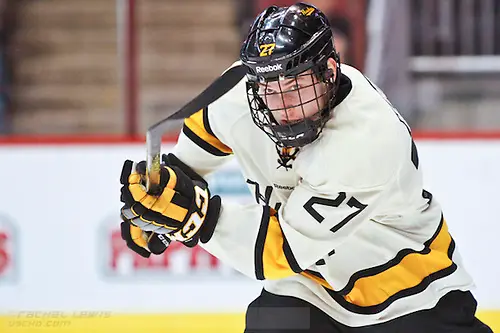 Between Marquette and Houghton on U.S. Highway 41 in Michigan's Upper Peninsula lies the town of Champion.
This, according to Michigan Tech coach Mel Pearson, was about where the Huskies' team bus was on Saturday night when the team got the news, via text message: Bemidji State had defeated Minnesota State 1-0 in Mankato, which meant that the Huskies were co-champions of the WCHA.
"It was a weird way to find out and celebrate a championship, but it doesn't deter from it," Pearson said. "I'm really proud of the players and the job they did the second half."
The Huskies were returning to Houghton after finishing off a sweep of archrival Northern Michigan. And maybe their celebration in a place called Champion is apocryphal — it's a bit on the nose. But considering it's their first MacNaughton Cup since 1975-76, Pearson might be forgiven for adding a little flair to an already pretty good story.
The Huskies were three points behind co-champions Minnesota State at the holiday break. They lost just one conference game since then.
"We've been in playoff mode for the whole second half," Pearson said. "We were just battling to get home ice. Then once we got that, we realize, 'Wow, we have a chance to get first place.'"
Tech has Bemidji State to thank for that. Minnesota State thumped the Beavers 6-1 in Friday night's series opener — then celebrated on the ice with the MacNaughton Cup. On Saturday, the Beavers stole a 1-0 win to deny the Mavericks the outright title.
Pearson said the Huskies celebrated a little when they got back to Houghton, but all of that is over for now.
"You have to put it in your rearview mirror," Pearson said. "That's easy for coaches, but as a player you have to encourage them to do that because there's a bigger prize that we're looking to get."
Bemidji State's win on Saturday also gave the Huskies the No. 1 seed in the playoffs, and they'll take on eighth-seeded Alaska in first-round action this weekend in Houghton.
The Nanooks have been in playoff mode for the past month, as they needed a series sweep against instate rivals Alaska-Anchorage to even get into the playoffs.
"It's Game 7," Alaska assistant coach Lance West told the Fairbanks Daily News-Miner of the Nanooks' eventual 3-2 win over the Seawolves. "That's what it is. It's Game 7 of the regular season to move on to the playoffs. You live for those games, everybody does."
Meanwhile, Minnesota State earned the No. 2 seed in the tournament and will try to shake off a loss that could have given them the outright league title. They take on Lake Superior State in a rematch of last year's first round.
"It's over," Mavericks coach Mike Hastings said. "The regular season is over. Nobody's got a win or a loss."
Here's a look at the playoff matchups:
1 Michigan Tech vs. 8 Alaska
These teams met two weeks ago in Houghton. Although the Huskies swept the Nanooks, both were closer calls than the Huskies would have preferred. Tech won 6-5 on Friday but blew a 4-0 lead. The Huskies won 3-2 in overtime in the series finale. Overall, Tech is 4-0 against the Nanooks this season, as they won both games in Fairbanks on Nov. 27-28.
About the Huskies
Record: 21-8-5 (18-7-3 WCHA)
Top scorers: Alex Petan (17-13–30), Tyler Heinonen (15-10–25), Malcolm Gould (8-16–24), Joel L'Esperance (13-10–23)
Top defensemen: Matt Roy (7-12–19), Shane Hanna (3-15–19)
Top goalie: Jamie Phillips (21-7-5, .921, 2.00)
X-factor: The Huskies are going to score — their 111 goals in 34 games are most in the conference and they're the only team in the league averaging more than three goals per game. The biggest question is how good Phillips and the defense are going to be. They gave up seven goals against Alaska two weeks ago but just one last weekend against Northern Michigan.
That's a fact: Michigan Tech has won the MacNaughton Cup eight times, but before this season all of those titles were before 1976. The Huskies are still looking for their first Broadmoor Trophy title, which they can do by winning the WCHA tournament.
About the Nanooks
Record: 10-20-4 (8-16-4 WCHA)
Top scorers: Tyler Morley (16-12–29), Nolan Huysmans (7-14–21), Peter Krieger (4-16–20), Marcus Basara (7-10–17)
Top defensemen: Zach Frye (3-12–15), Josh Atkinson (3-11–14)
Top goalies: Davis Jones (5-12-1, .899, 3.15), Jesse Jenks (5-8-3, .911; 2.70)
X-factor: Morley missed the entire month of February with an upper-body injury suffered in a game at Wisconsin. It's not a coincidence that the Nanooks won just one of those games — a 2-1 decision against Bowling Green on Feb. 19. Morley returned to the ice last weekend against Alaska-Anchorage and recorded four points (2-2) as UAF got the sweep.
That's a fact: The Nanooks missed out on the playoffs last season after some minor academic violations turned into a one-year playoff ban and vacated wins for the program. They're still looking for their first playoff series victory as a member of the WCHA: In 2013-14 they were upset by Alaska-Anchorage. Alaska's last playoff series victory was 2011, when it swept Michigan State in a CCHA first-round series.
2 Minnesota State vs. 7 Lake Superior State
This is a rematch of a first-round matchup from a year ago, one in which the Mavericks swept the Lakers 9-2 and 4-2 to move on to the Final Five. The two teams met once this season, in Mankato with Minnesota State winning 8-0 and 5-1. The Mavericks, who are the defending WCHA tournament champions, have won all 10 games in the all-time series.
About the Mavericks
Record: 18-11-7 (16-5-7 WCHA)
Top scorers: Teddy Blueger (10-23–33), Bryce Gervais (14-8–22), C.J. Franklin (14-7–21), Michael Huntebrinker (7-12–19)
Top defensemen: Casey Nelson (4-16–20), Jon Jutzi (4-7–11)
Top goalie: Cole Huggins (10-9-2, .912, 1.94)
X-factor: Gervais, who has 65 career goals, comes to play in the postseason, it seems. In 15 career playoff games in his first three seasons, the senior forward has racked up nine goals and five assists.
That's a fact: When it comes to puck possession, the WCHA's regular season co-champions are unmatched. They lead the nation in shots on goal allowed per game at 20.92 and outshoot their opponents by 13 shots per game, also best in the country.
About the Lakers
Record: 13-20-5 (10-13-5 WCHA)
Top scorers: J.T. Henke (9-11–20), Gage Torrel (8-11–19), Mitch Hults (8-10–18), Anthony Nellis (4-12–16)
Top defensemen: Owen Headrick (4-7–11), James Roll (1-6–7)
Top goalie: Gordon Defiel (10-12-4, .924, 2.44)
X-factor: How ready are the Lakers' freshmen for the playoffs? Led by Torrel, the group includes six of the team's top eight point scorers. Including Henke, a sophomore transfer from Maine, the Lakers' 11 newcomers had 121 points.
That's a fact: Lake Superior State enters the postseason on a good run, going 4-3-1 in its final eight games. That includes a road victory at Alaska-Anchorage and another, on the final day of the regular season, at Ferris State.
3 Bowling Green vs. 6 Bemidji State
Bowling Green was still in contention to make the MacNaughton Cup a three-way tie until Friday night, when a wild 7-5 loss to Alabama-Huntsville knocked the Falcons out of the running. Instead, they'll have to settle for the No. 3 seed and a series with Bemidji State, a team that they swept Dec. 11-12 in Bemidji.
About the Falcons
Record: 20-12-6 (16-7-5 WCHA)
Top scorers: Mark Cooper (14-14–28), Brandon Hawkins (12-14–26), Matt Pohlkamp (7-15–22), Kevin Dufour (13-6–19)
Top defensemen: Sean Walker (4-17–21), Mark Friedman (4-16–20)
Top goalie: Chris Nell (16-9-6, .930, 1.90)
X-factor: Cooper, the Falcons' leading scorer, has come on strong down the stretch. The senior has at least a point in each of Bowling Green's last five games, including three assists in Saturday's 5-0 win over Alabama-Huntsville.
That's a fact: With 83 goals allowed on the season, Bowling Green has a chance to break the program record for fewest goals allowed in a season. The 1975-76 team allowed a program-low 90 goals in 32 games.
About the Beavers
Record: 16-14-6 (11-12-5 WCHA)
Top scorers: Brendan Harms (8-17–25), Gerry Fitzgerald (13-10–23), Markus Gerbrandt (7-16–23), Cory Ward (8-10–19)
Top defensemen: Graeme McCormack (6-14–20), Ruslan Pedan (3-6–9)
Top goalie: Michael Bitzer (12-14-5, .918, 2.07)
X-factor: McCormack, the senior captain, has been an underrated part of the team's offense this season. His 20 points are tied for second in the league, but if the Beavers can get on the power play, watch out: Fourteen of those 20 points were on the man advantage, which is best among all players in the league this season.
That's a fact: The Beavers have been a much better road team this season than they have been in Bemidji. They're 10-6-2 away from the Sanford Center. They'll be looking for their first playoff series victory since 2010-11, when they upset Omaha on the road and made it all the way to the Final Five semifinals.
4 Ferris State vs. 5 Northern Michigan
Getting the fourth and final home-ice spot came down to the last weekend of the season, and the Bulldogs (who split with Lake Superior State) leapfrogged the Wildcats (who were swept by Michigan Tech), winning the right to be the host of this series by just one point. The teams played four times this season, splitting each series. Ferris State had the scoring advantage, 13-9.
About the Bulldogs
Record: 15-14-6 (13-11-4 WCHA)
Top scorers: Gerald Mayhew (11-20–31), Corey Mackin (9-14–23), Chad McDonald (9-12–21), Kyle Schempp (7-14–21)
Top defensemen: Brandon Anselmini (1-14–15), Simon Denis (7-6–13)
Top goalie: Darren Smith (12-9-5, .920, 2.30)
X-factor: As predicted by the league's coaches in the preseason, Mackin has been the top freshman in the WCHA this season. He led league rookies with nine goals and 23 points overall, 21 points in conference play. The next-closest first-year player was four points behind him.
That's a fact: The Bulldogs have one victory in their last six games, a stretch that followed an eight-game unbeaten streak (6-0-2). Ferris State was swept in just one WCHA series this season, Feb. 26-27 at Bowling Green.
About the Wildcats
Record: 15-14-7 (12-11-5 WCHA)
Top scorers: Darren Nowick (13-17–30), Dominik Shine (14-15–29), Gerard Hanson (3-18–21), Robbie Payne (11-7–18)
Top defensemen: Brock Maschmeyer (5-8–13), Barrett Kaib (4-8–12)
Top goalie: Mathias Dahlström (7-3-1, .914, 2.37)
X-factor: Dahlström, a senior, recovered from injury and returned between the posts in the second half of the season, playing in 12 games. But waiting in the wings if the Wildcats need him is freshman Atte Tolvanen, who played in 24 games and has a .929 save percentage.
That's a fact: Northern Michigan's finish was its best since 2009-10 when it finished fourth in the CCHA with a 13-9-6 conference record. The Wildcats advanced to the conference title game that season where they lost to Michigan but earned a spot in the NCAA tournament.
Ice chips
• Alaska-Anchorage and Alabama-Huntsville are sitting out the WCHA playoffs. The Seawolves are out for the second year in a row after getting swept by Alaska on the final weekend of the season. Although they were unable to climb out of last place, the Chargers finished the season strong, scoring league points in all but one of their final seven series.
• WCHA players of the week were Alaska forward Morley (offensive), Michigan Tech goalie Phillips (defensive) and Bowling Green forward Stephen Baylis (rookie).