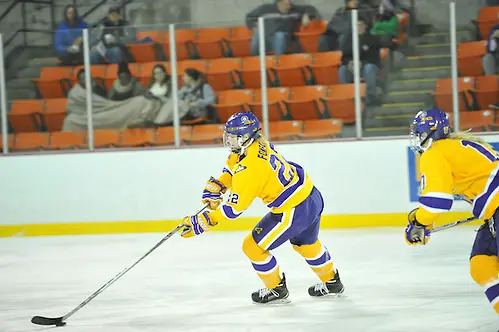 Two weekends left. Eight teams.
Game on.
The NCAA Division III women's tournament gets underway this weekend as the top four teams in the country host quarterfinal matchups on home ice.
In the lone game Friday night, No. 3 Wisconsin-River Falls hosts No. 7 St. Thomas at the Hunt Arena.
The two teams tied the season series with the home team winning each — St. Thomas 2-1 on Oct. 31 and Wis.-River Falls 3-0 on Jan. 27. The Falcons are riding a six-game unbeaten streak, going 5-0-1 in their last six games, while the Tommies are in the midst of a seven-game unbeaten streak, compiling a 6-0-1 mark in that span.
WIAC playoff champion River Falls boasts WIAC Player of the Year Chloe Kinsel, who led the team with 24 goals and 43 points, while Dani Sibley and Carly Moran also combined for 40 goals this season. Goaltender Angie Hall has been dazzling: 21-5-2, a 1.63 goals-against average, and a .919 save percentage speak for themselves.
For St. Thomas, the MIAC playoff champs, Kathryn Larson has netted 13 goals and 28 points this season. Kaylee Druk has posted 10 goals and in goal, Mackenzie Torpy is 20-3-2 with a 1.55 GAA and a .930 save percentage.
Saturday, top-ranked Plattsburgh hosts No. 6 Amherst at the Stafford Ice Arena, No. 4 Middlebury plays host to the lone unranked team in the field, Massachusetts-Boston, at the Kenyon Arena, and then the Arrington Ice Arena is the venue as No. 2 Adrian brings in fifth-ranked Elmira.
Plattsburgh goalie Camille Leonard has mind-boggling numbers for the ECAC West titlists: 24-1-0, 0.61 GAA, and a .966 save percentage. She only allowed 15 goals all year and rang up 14 shutouts. Up front, six players tallied more than 10 goals, with Melissa Sheeran leading the way with 26.
Amherst was the NESCAC tournament runner-up and is led up front by the Alex Toupal-Erin Martin-Eileen Harris trio and the 57 goals the three scored this season. In net, Sabrina Dobbins has been phenomenal with a 16-2-3 mark, 1.40 GAA, and a .946 save percentage.
NESCAC champ Middlebury has sniper and conference Player of the Year Maddie Winslow and her 40 points (17 goals), Jessica Young's 11 goals, and steady defender Julia Wardwell to go along with netminder Julia Neuburger's 12 wins, 1.48 GAA, and .931 save percentage.
Massachusetts-Boston upset the favored Norwich team in the NEHC finals and has goaltender Rachel Myette (13-7-0, 1.55 GAA, .942 save percentage) and Jenny Currie's 17 goals guiding the path to the tournament. Alexandra Karlis led the club with 16 assists.
In Adrian, the NCHA champion Bulldogs have a strong 1-2 punch in net with Jade Walsh and Brooke Gibson and either one is capable and ready this time of year. Kristin Lewicki notched 32 goals this year and Kaylyn Schroka 19 for the 25-2-1 Adrian squad.
On the other side, Elmira's offense is topped by Olivia Nystrom's 15 goals and 10 goals each from Maddie Evangelous and Meghan Fonfara. The Soaring Eagles, who lost to Utica in the ECAC West semifinals, also have a tough combo in goal with Kelcey Crawford and Kyle Nelson.
Then again, none of these stats matter all that much once this weekend arrives.
Expect hard-fought games and each player leaving it all on the ice. This is when it all matters.
Game on.