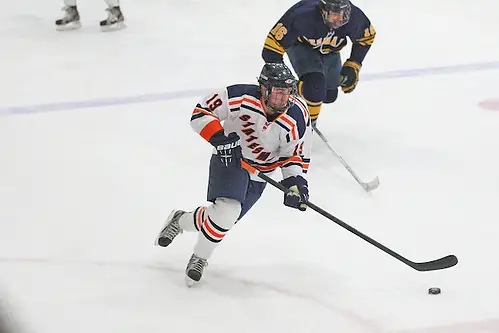 With an overall record of 21-4-2 and second consecutive ECAC West championship in their firm grasp, the Hobart Statesmen have taken nothing for granted this season dating back to the season opener at Babson.
The goal has always been to play on a national stage and make sure that Hobart did everything possible to ensure an at-large bid coming from a conference that does not have an automatic qualifier.
"We have always put a premium on winning the league first," said head coach Mark Taylor. "We play a challenging schedule and the only thing we can control is what we do in our games. You just focus on winning as many as you can and hope everything else takes care of itself."
The Statesmen got their bid after dispatching Utica in the conference final by a 5-0 score and now as the top-seeded team in the East, must await the outcome of the Trinity-Massachusetts-Boston matchup to determine their quarterfinal opponent scheduled at home on March 19.
The Statesmen have received great leadership and output from a trio of seniors, including the Conference Player of the Year Mac Olson. Brad Robbins leads the team in goals with 19 and points with 31, while Ben Gamache matched the 19 number on the assist side to lead Hobart in that category. Overall, Hobart has outscored their opponents by a 111-50 margin with 19 different players recording goals.
"Our seniors have been great, especially after we graduated eight that were a big part of our team last season," noted Taylor. "They also had to overcome the loss of our leading scorer Bo Webster from last season who would have been a senior with Mac and Benny. The group has been terrific and as my mentor Bill Beaney says, 'You give kids with character a challenge and you will be surprised with what they can achieve.'"
On the back end, Hobart boasts two No. 1-caliber goaltenders in senior Lino Chimienti and sophomore Frank Oplinger. Both have split time this season and have put up very similar numbers in support of a team that has not posted consecutive losses the entire season.
Hobart has reached the Frozen Four twice in 2006 and 2009, but has not reached the title game in any of their four previous trips to the NCAA tournament. For Taylor, the focus has always been using the season, tough conference and nonconference games to prepare the team to earn a bid and play their best hockey with a chance to win the biggest prize of the season.
"We play the schedule we do to make sure we can win our conference first," noted Taylor. "We schedule challenging nonconference opponents to help us get better and because those games have such a big impact on our chance for a NCAA bid without the automatic qualifier for our conference. It is all preparation for where we want to be in the spring."
Hobart will host their quarterfinal matchup next weekend and that should scare any opponent traveling to upstate New York to play. The Statesmen are a perfect 13-0-0 on home ice this season, including 6-0-0 against nonconference opponents. One more home win will put them in Lake Placid and chance to get beyond the semifinal round in the Frozen Four.