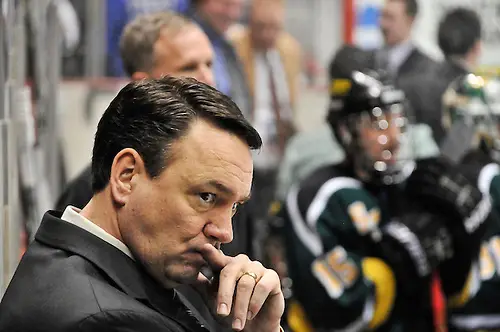 Eleven coaches have been named finalists for the Edward Jeremiah Award, given annually to the Division III men's Coach of the Year.
Named in honor of the former Dartmouth head coach, the Jeremiah Award will be presented during the AHCA Convention on April 27, in Naples, Fla.
The nominees represent any coach who won or shared Coach of the Year honors in his conference this past season, along with coaches whose teams have advanced to the 2016 semifinals of the national championship.
Of this year's finalists, two are past recipients in Tim Coghlin of St. Norbert (2008, 2011) and Chris Schultz of Geneseo (2014). All four NCAA semifinalists are coached by conference Coach of the Year recipients this season.
The winner will be announced Thursday evening at the student-athlete banquet at the Division III tournament being played this weekend at Herb Brooks Arena in Lake Placid, N.Y.
The nominees:

| Coach | School | Criteria |
| --- | --- | --- |
| Peter Belisle | Massachusetts-Boston | NEHC Coach of the Year, NCAA semifinalist |
| Lance Brady | Assumption | NE-10 Coach of the Year |
| Chris Brooks | Wisconsin-Stevens Point | Co-WIAC Coach of the Year, NCAA semifinalist |
| Chris Brown | Augsburg | MIAC Coach of the Year |
| Tim Coghlin | St. Norbert | NCHA Coach of the Year, NCAA semifinalist |
| Steve Freeman | Wisconsin-River Falls | Co-WIAC Coach of the Year |
| Bill Kangas | Williams | NESCAC Coach of the Year |
| Bill O'Neill | Salem State | MASCAC Coach of the Year |
| Chris Schultz | Geneseo | SUNYAC Coach of the Year, NCAA semifinalist |
| Mark Taylor | Hobart | ECAC West Coach of the Year |
| R.J. Tolan | Endicott | ECAC Northeast Coach of the Year |