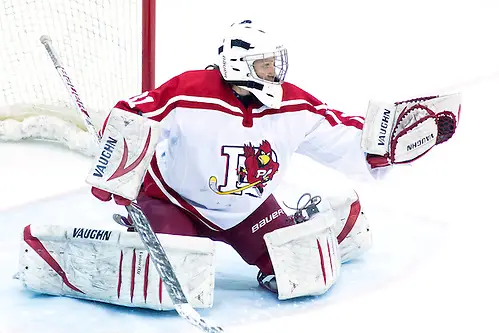 To say that Camille Leonard had an unbelievable season would be doing a disservice to the word "unbelievable."
The junior Plattsburgh goalie finished the 2015-16 year with a 27-1-0 record, a 0.69 goals-against average, and a .962 save percentage — all tops in D-III women's circles.
And oh, 15 shutouts that also led all D-III women's goalies. She only allowed 19 goals. Total. Period.
Needless to say, the Oakville, Ont., native is the USCHO.com Division III Women's Player of the Year.
She was also a major component to the Cardinals' third straight Division III national championship this season.
"As a goalie, I first look at the team's success rather than tradition," Leonard said in a recent USCHO.com feature. "I want to win every game for the girls I play with. I want to make them proud, then myself. Added pressure comes with being a goalie. We are the last line of defense, so regardless of traditions, every goalie feels the pressure."
In the classroom, Leonard is majoring in social work with a minor in psychology and hopes to work with foster children or become a social work officer in the Canadian military.
That said, Leonard isn't quite ready to call her hockey career complete after the 2016-17 season.
"I plan to go to Europe to play hockey for a year or two —- I can't fathom the thought of hanging up my skates," said Leonard in the USCHO.com feature. "Hockey has been a part of my life since I was four years old and it has given me the best experiences of my life. It has consistently given me a group of girls I call my second family and teammates that become best friends.
"I am not ready for that to be over."