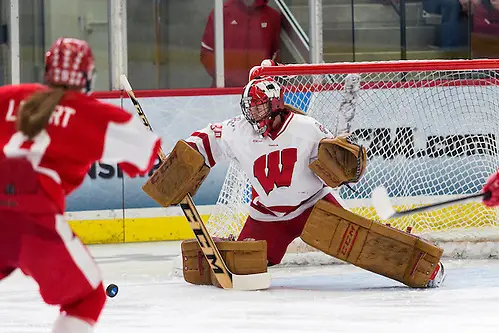 A season ago, I asked Wisconsin's Ann-Renée Desbiens a question at a media conference which contained a phrase along the lines of, "They were throwing the kitchen sink at you." She had no idea what I was talking about, and she was probably not alone in that regard.
This season as a junior, it was hard to throw anything Desbiens' way for which she was unprepared. Now at the end of such conferences, she'll teasingly ask me, "What, no kitchen sink?"
Opposing skaters learned something similar; as a junior, Desbiens was ready to handle anything.
Some may claim that Desbiens completely rewrote the NCAA record book, but that's untrue. She hasn't come close to touching Meghan Agosta's mark of 303 points in a career, the Natalie Darwitz total of 114 points in a season, or Nicole Corierro's 59 goals in a season. She is, however, pretty handy with her goalie stick, so who knows what she has planned for her senior season.
In terms of more conventional goaltending achievements, Desbiens' season was unparalleled.
Her season save percentage was .960, a new record. Along the way, she lowered her career save percentage to .958, which is lower than the previous season record for save percentage.
Desbiens' goals-against average for the year was 0.76, also a record. The previous mark for shutouts in a season was 17; she smashed that, posting 21 shutouts. A year from now, she'll have her name at the top of the list for career shutouts, save percentage, and goals-against average.
Some will offer the opinion that her numbers are the product of playing behind a strong defense. I'll concede that nobody can excel to that extent playing behind a lousy team. However, this isn't a case of being able to plug any goaltender into the Wisconsin net and getting similar results. The Badgers' skaters play very good defense. Because Desbiens is in their crease, they are a great defensive team.
In the interest of full disclosure, I did not vote for her for the Patty Kazmaier Memorial Award, for which she finished as a top three finalist. The award has different criteria, and, just as importantly, different timing.
After an incredible regular season, Desbiens backed it up with an even better postseason, earning five shutouts in six games while posting a goals-against of less than 0.5 with a save percentage better than .978. It simply became impossible to recognize anyone else as having enjoyed the best season in the country.
Congratulations to the Badgers' Ann-Renée Desbiens, USCHO's Player of the Year.