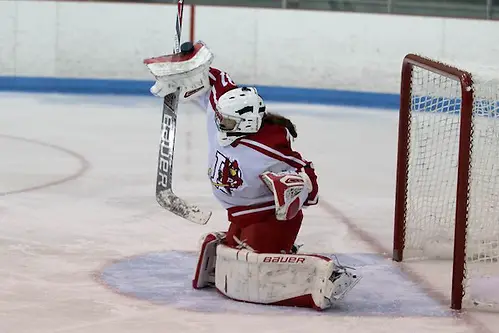 Being the top-ranked team in the country doesn't mean shifting into cruise control.
In fact, it's quite the opposite.
Take Plattsburgh, for example.
The Cardinals are a perfect 10-0-0 thus far and have been a unanimous No. 1 team in five of six USCHO.com Division III Women's Polls this season (St. Thomas received a first-place vote in the Oct. 29 preseason poll).
That said, Plattsburgh is tasting success due in large part to junior goaltender Camille Leonard, who is 9-0 with a 0.69 goals-against average and a .964 save percentage with four shutouts to her credit.
Ask the Oakville, Ont., product, though, and she says it's all about staying humble.
"It's quite easy to keep a level head regardless of our team's success," said Leonard. "Coach [Kevin Houle] is always very adamant that at any point, things can change, as we saw last year. Sure, we have had a lot of success so far, but there is still a lot of the season left to play. We have to continue to prove ourselves every single day. We are not perfect — there are always things to work on."
Leonard even said that back-to-back national titles mean there is not only added pressure on her to perform, but on the entire team.
"As a goalie, I first look at the team's success rather than tradition," Leonard said. "I want to win every game for the girls I play with. I want to make them proud, then myself. Added pressure comes with being a goalie. We are the last line of defense, so regardless of traditions, every goalie feels the pressure."
She also explained that having the record the Cardinals have is the result of the team playing as one unit, with no individuality.
"We get along so well off the ice that the chemistry carries on into games," said Leonard. "Also, we have a common goal. We understand what is at stake every single game. This season will be a success if our team continues to play disciplined, selfless, and relentless. We have to continue to be good teammates to each other and give support. We can never be satisfied with anything less than a successful season, and everyone understands that. We must never underestimate our opponent.
"Plattsburgh always has a huge target, but only our team can defeat ourselves."
Still, Leonard's individual game has been getting noticed as well.
"Personally, I have been feeling great thus far this season," Leonard said. "I worked hard over the summer with Christina Kessler (former Harvard and Team Canada goalie) to perfect certain aspects of my goaltending style and to work on my weak points. Last year gave me a lot of experience necessary to give our team the chance to win every single game. [This year], I have a great team in front of me every single game and I just have to stay focused on the job I have to do."
In 2014-15, Leonard finished second in Division III in GAA (1.22) and win percentage (.909) and led the country in shutouts with seven, including two against nationally-ranked teams (Elmira and Norwich).
Committing to Plattsburgh three years ago, Leonard said she had never heard of the school until her teammates from junior hockey, Caitlin Gilligan and Andrea Ziesmann, chose to play for the Cardinals. Mia Favretto (Plattsburgh 2011-15) also played hockey with Leonard's sister for a very long time, so through those three players, she learned of Plattsburgh and the school's winning tradition.
To stay on the positive track, Leonard, in what has become the norm for goalies, has her share of superstitions and unique quirks, though she says the whole team likes to believe that "we just have routines, not superstitions, but really, we all have superstitions that we pass on to the freshmen every year."
"The day before a game, at the end of our practice, I have a specific routine where Caitlin Gilligan shoots three shots on me from each side and then I end with a save — always have to end the practice with a save," explained Leonard. "On the day of the game, I have to receive a text from my mom telling me to 'Play hard, play smart.' That's it. Nothing else. If I don't receive this text at least two and a half hours before the game, I get anxious and call her to send it, although I must admit she's only forgotten once or twice."
Once at the rink, it's a bit more simplified.
"I do some hand-eye coordination warm-up, followed by our team warm-up and of course, some soccer ball keep ups with Andrea Ziesmann and Caitlin Gilligan," Leonard said. "I have the same song set list I have to listen to before every game. It is all about being comfortable, calm, and confident when playing. These are all things I do to keep focused, yet not thinking too much about the game."
Off the skates, Leonard is majoring in social work with a minor in psychology and hopes to work with foster children or take a completely different route and become a social work officer in the Canadian military. She said she would like to travel around the world while providing humanitarian services prior to getting her career going.
"One of my sisters and I have a goal to open up a private practice in human services back in Canada," added Leonard.
That said, Leonard isn't quite ready to call her hockey career complete after the 2016-17 season.
"I plan to go to Europe to play hockey for a year or two — I can't fathom the thought of hanging up my skates in a year and a half," said Leonard. "Hockey has been a part of my life since I was four years old and it has given me the best experiences of my life. It has consistently given me a group of girls I call my second family and teammates that become best friends.
"I am not ready for that to be over."
NOTEBOOK
Five teams have yet to win a game this season — Daniel Webster, Johnson and Wales, Finlandia, St. Olaf, and St. Catherine. … Finlandia has scored just four goals in seven games, while allowing 52. … Plattsburgh's Kayla Meneghin, Lake Forest's Michelle Greeneway, and Utica's Morgan Reed all lead the nation with 11 goals. … Endicott freshman goalie Vendela Jonsson leads the country with a 0.33 GAA, .978 save percentage and five shutouts. … Buffalo State's Erin Gehen has popped five short-handed goals to lead all of D-III.