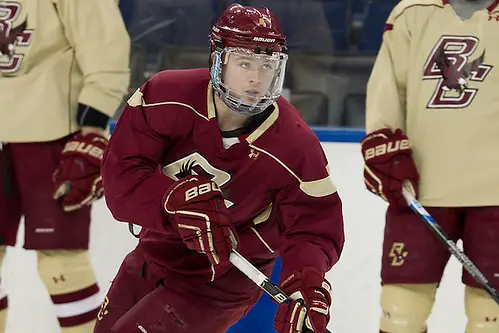 TAMPA, Fla. — Seven minutes remained in the Northeast Regional championship game and Boston College held a comfortable 3-0 lead over Minnesota-Duluth. Another BC trip to the Frozen Four was in the bag.
A fait accompli.
Sick a fork in Duluth; the Bulldogs were done.
Until a Duluth power-play goal made it 3-1.
And then another goal with 4:26 remaining narrowed the margin to 3-2.
Uh-oh.
Things got really scary in the final minute when a BC penalty allowed a six-on-four and an oh-so-close opportunity that required video replay to be sure overtime wouldn't be required.
A valuable lesson learned just in time for the Frozen Four and a semifinal matchup with Quinnipiac? Maybe, maybe not.
"You have to play a 60-minute game complete to make sure that you're going to win," BC alternate captain Steve Santini said. "And I think throughout the course of the season we've learned a lot of lessons.
"That game, in particular, really showed us we can't let our
guard down and we've got to make sure we're fully engaged for a full 60 minutes, no matter what."
Senior captain Teddy Doherty echoed the 60-minute theme.
"Minnesota-Duluth is a pretty good team, or else they wouldn't have gotten that far," he said. "We kind of took our foot off the gas there a little bit, and they executed a few plays we'd like to have back.
"This week we focused on bearing down on the defensive zone. We know how explosive Quinnipiac's offense is. It's going to be a major factor in the game. Make sure we play a full 60."
BC coach Jerry York, on the other hand, chose not to focus on the final minutes in his staff's analysis of the game, but rather on the plusses and minuses of the entire contest.
"Winning is hard," York said. "We're never going to go through a year winning 5-0 or 6-0. The opponents are too good. The players are too good on other teams. The coaches are too good. And Duluth was as good
a club as we played all year.
"So we didn't dwell on the last three minutes or first three minutes. [We looked at] how we played over 60 minutes and broke down some pluses and minuses in that game for us.
"I love to play 60 minutes of flawless hockey, but the other teams don't let you do that."