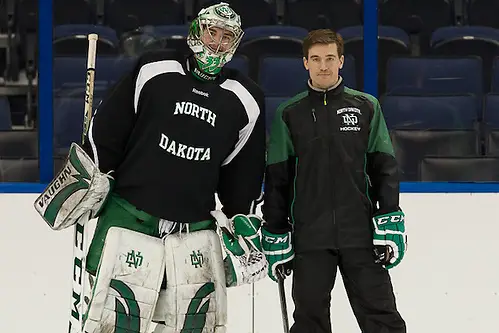 TAMPA, Fla. — If you win a shootout in a North Dakota practice, you're going to pay the price — and you know it.
"It's kind of tradition here at North Dakota when we do a Thursday shootout before the weekend series," said junior defenseman Troy Stecher. "At the end, when there's a winner, we all sort of dog pile him. Luke Johnson was the lucky victim this week.
"If it ain't broke, don't fix it. It's a tradition that we have and we're going to continue to do that."
Said Gage Ausmus, another junior defenseman, "That's why I never win shootouts, so I never get dog piled."
Stecher delivered the explanation of the dog pile in the most businesslike manner, sounding as though he was defending the practice after the Fighting Hawks left the ice Wednesday afternoon. By contrast, Ausmus played the moment for laughs.
And that, in a nutshell, is this North Dakota team — absolutely focused on the business at hand but able to enjoy any given moment.
In Wednesday's practice, the Fighting Hawks looked loose but not unfocused. That, said coach Brad Berry, was part of the plan.
"I think there's a balance," said Berry. "This is a very special group. We've said it all year long. The three guys that were to the right of me and a bunch of juniors and seniors in that locker room, we've been here before. We've experienced a little disappointment the last couple of years in Philadelphia and Boston.
"They're hungry, but they're focused, they're committed, they're dialed in. But at the same time, there's a little bit of levity there as far as being a human being, too, and enjoying it. We're all about that. Tomorrow is the game day and they'll be ready to go."