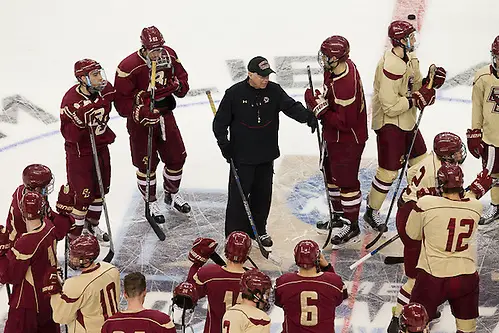 TAMPA, Fla. — In college hockey's "good old days," the Frozen Four was held in places like Minnesota, Boston, Milwaukee and Providence. Players arrived on campus from similar locales along with Michigan, New York and, yes, Canada.
In today's "even better days," however, the Frozen Four not only ventures to places like Tampa, it returns there a mere four years after it provides a smashing success in 2012. Players walk through the corridors in T-shirts, shorts and sandals.
And a team like Boston College returns to the venue with a roster that includes a Sunshine State native (Austin Cangelosi of Estero), and two from California (Thatcher Demko of San Diego and Scott Savage of San Clemente).
From thermal underwear to suntan lotion.
"It speaks to how much the game has grown," BC alternate captain Steve Santini says. "You look at the U.S. National Team and festival camps and there are players from California, Florida, Texas and a bunch of different states that aren't your 'traditional hockey powers.'
"It's great for the game."
It's also been pretty phenomenal for Boston College. This year, Savage has contributed 18 points from the blue line and is a plus-15. Cangelosi has scored 20 goals along with 17 assists. And Demko earned Hockey East co-player of the year honors along with advancing to the Hobey Hat Trick, a relative rarity for goaltenders.
The Sunshine State was good to BC in 2012 when the Eagles won the national championship; sunshine, in general, shines down on this year's team.
"Hockey is just getting bigger and better throughout the country," BC coach Jerry York says, pointing to the NHL's expansion into warm-weather climates as the critical step forward. "The [Los Angeles] Kings with the Triple Crown line [Marcel Dionne, Dave Taylor and Charlie Simmer] were exciting and kids wanted to grow up and become hockey players.
"Kids aren't thinking of being the next John Elway all the time. If they're living in an area that has an NHL team, they're thinking about being, maybe, a Coyote in Arizona."