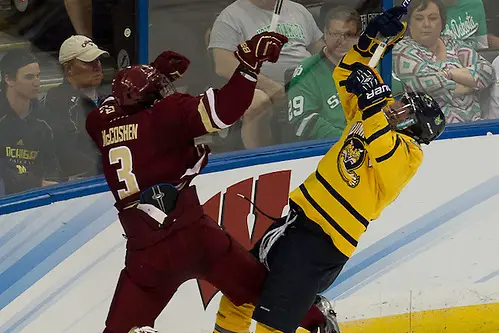 TAMPA, Fla. — Quinnipiac killed all but one Boston College power play in Thursday's Frozen Four semifinal.
The Bobcats were sent to the box six times and BC's Ryan Fitzgerald was the only one to capitalize with the man advantage in the third period. With four BC penalties, Quinnipiac nabbed a power-play goal of its own by Landon Smith in the second stanza.
As a team, the Bobcats' 45 power-play goals rank third in the country to Robert Morris' 49 and Michigan's 48.
"I thought the compete was great on the PK tonight," said Bobcats coach Rand Pecknold. "The willingness to block shots, and our neutral zone was really good in kind of denying them entries."
A tough critic, Pecknold said there's still room for improvement on special teams.
"The only issue we had was we lost more faceoffs than we normally do on the PK and had some failed clears where guys just have got to have a little more poise. We've got to rip that puck down and kill some time off. Again, we found a way, and I think our PK is better than what we showed tonight. But it was good enough."
BC's Steve Santini's perspective was a bit different.
"We've got to give a lot of credit to Quinnipiac," Santini said. "They did great in the penalty kill and unfortunately ended our season. But that's hockey, and we're going to be gracious in victory and defeat."
Bobcats come sprinting out of the gate
Quinnipiac and BC never played each other before, and it's clear the former wanted to win that new race to victory. The Bobcats clawed their way to the net, dominating the first period with two goals in the first 10 minutes of regulation.
The first came at 2:31 by Kevin McKernan and the second tally was a few minutes later at 7:20 by Andrew Taverner.
Fifteen different players have scored in the postseason for Quinnipiac. When leading after the first period, Quinnipiac boasts a 20-1-2 record. Boston College trailed after the first period for just the seventh time this season, falling to 3-3-1 in those situations.
The Bobcats' aggressiveness making good plays combined with some BC turnovers made for an exciting first period for them … and end result.
BC's Teddy Doherty put it simply: "They just came out faster than us," he said. "There's no other way to explain it. Two goals in the first 10 minutes — unacceptable. And, it ultimately cost the game."
Get your head in the game
Pecknold not only credited his players' work ethic for getting to the national championship game, but he acknowledged the team's sports psychologist for being an intricate part of their success this season.
"We have had a sports psychologist work with us, Dr. Wayne Halliwell," said Pecknold. "He's been great; I think he's a big reason for our success. I want to kind of acknowledge what he's done for our team this year. He met with our team earlier in the year, gave us some really good ideas about the reset button, being resilient and how to handle adversity."
If Quinnipiac can keep those tactics up and keep its head in the game for one more night, the Bobcats have the chance to become the fourth consecutive team, and fifth in the last six years, to win the NCAA title for the first time in school history. That list includes Providence (2015), Union (2014), Yale (2013) and Minnesota-Duluth (2011).
Eagles fly together — back to Boston
Despite winning the national title the last time Jerry York and Co. were in Tampa for the Frozen Four in 2012, they couldn't pull it off this time. The players may leave without hardware, but the Eagles are flying back to Boston with virtually no regrets.
"I thought our team was an excellent team, capable of winning the national championship, as the three other teams here in the field," said York. "Going into it, there's no guarantees, but I like the effort our kids had after the slow start. I thought we battled hard and wore the uniform very proudly. So, no regrets. We played hard. The only regret, really, is we're not staying over to play in the championship game."
Added captain Doherty, in tears: "I'm so proud to be a Boston College hockey player and represent the school. I can't say enough how important that is to me and how special that is to me. So, no regrets, like coach said."