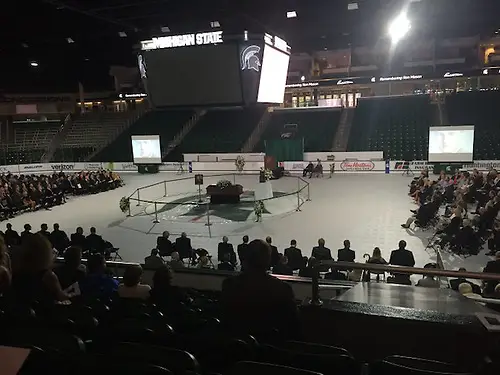 How do you eulogize a legend? The answer is that you don't. You gather with those who knew him, tell the stories you knew about him, laugh with people who loved him and cry the tears he deserves.
That is exactly how those of us who knew Ron Mason, even a little, remembered him as we gathered in Munn Ice Arena on Thursday during a public memorial service for a man who did more to shape college hockey in his lifetime than arguably another other individual coach and a man who made anyone he talked to feel like a friend.
There was a formal ceremony on the ice in Munn, with a service that began with the American and Canadian national anthems and "Victory for MSU," the Spartans' fight song, and ended with closing remarks by Rev. Mark Inglot and there were many fitting tributes in between. The most moving, appropriate tribute to Ron Mason was the gathering of people near center ice before the ceremony — family and friends and too many hockey people to mention, so many people whose lives Ron touched.
And they were all telling stories. Stories about Ron and his family. Stories about Ron and fishing — lots of stories about fishing. Stories about Ron's competitive nature, especially off the ice. Stories about Michigan State, MSU hockey and the CCHA.
I knew Ron Mason for 21 years, so I have a few stories of my own — all larger than life, many of which are funny, some of which are off the record. This story, my favorite Ron Mason story, goes to the very heart of who he was.
Like many good narratives about Ron, the story involves two key elements that will surprise no one who knew him — The Mayfair, a little bar about six miles from Munn Ice Arena, and Grand Marnier, Ron's aperitif of choice. It also involves The Cold War, the game played between Michigan and Michigan State in Spartan Stadium on Oct. 6, 2001, a game that set attendance records for ice hockey at the time with 74,544 spectators, plus a cold press box full of reporters. It was a game for which the ceremonial first puck was dropped by another legend we recently lost, Gordie Howe.
Like Ron, the night was larger than life.
After the game, my friend Neil Koepke — then the Michigan State hockey beat writer for the Lansing State Journal — suggested that we go to The Mayfair. "Ron will be there," he said. I had driven to East Lansing from Columbus, Ohio, that afternoon to cover the game and had planned on driving back that night, and I was leery about what I thought might be perceived as an invasion of privacy, but Neil persisted. "Ron won't care," he said. "In fact, he'll be happy to see us."
So we went to The Mayfair and when we walked in, Neil and I made our way to the area near a pool table where Ron was consuming what clearly wasn't his first Grand Marnier of the night, accompanied by his friend Jeff Sauer, who was the head coach at Wisconsin at the time. Ron lit up when he saw Neil and talked about how relieved he was to have the event over. It hadn't occurred to me until that moment the pressure Ron had been under because of The Cold War game. Not only had he and Michigan coach Red Berenson worried about the logistics of the game — how the ice would be, whether the game would be a good one, all the challenges of an outdoor game in an era when such events were novelties — but the nation was still in shock from the attacks of Sept. 11, 2001, and there was palpable tension at the event.
Of course, the game concluded without a proverbial hitch. The competition was excellent, a 3-3 overtime tie between fierce rivals, with the Spartans scoring two third-period goals to even things up. The event was uneventful in all of the right ways. And Michigan State glowed as the center of attention in the eyes of the sporting world.
When Ron turned to talk to me, he greeted me warmly and kissed my cheek. It was USCHO's sixth season and I was our CCHA columnist, and Ron Mason was Ron Mason, and he greeted me like an old friend.
Then he did something that blew me away. "Thank you for being here," he said. Then he paused and added, "It means a lot that you're here."
I must have looked confused because he clarified. "You kids do so much for college hockey," he said, "and make no mistake about it — a lot of this is because of you kids."
By "this," Ron meant The Cold War Game and the "kids" was the USCHO staff. I was flabbergasted. Here was this amazing coach hours after helping to create yet another amazing piece of college hockey history, and he was thanking me and the USCHO staff because he thought we were drawing attention to the sport that he loved.
It's impossible not to be overwhelmed by this memory, 15 years later. It's impossible not to shed a tear. Ron Mason was a generous man, and there were countless stories told Thursday to honor his generosity. Ted Sator, who played for Ron in Bowling Green in the early 1970s and went on to a long coaching career of his own, said Thursday that a better measure of Ron Mason's life "is the circle of friends he helped along the way."
That is the perfect summation of the life of a man whose legendary presence influenced so many people and a perfect way to describe the hundreds gathered to celebrate Ron Mason's life, a phrase that Ron himself would have loved — a circle of friends.