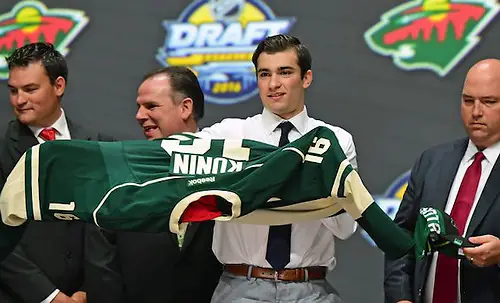 Being cut from his first team — by his own father — is Luke Kunin's earliest hockey memory. On Friday, however, his newest memory was formed — and one of his dreams came true with his family by his side.
The Wisconsin center was selected 15th overall by the Minnesota Wild in the 2016 NHL Draft.
"It's a pretty funny story that my dad cut me at a pretty young age," said Kunin, remembering the fact that his mother made his father sleep on the couch that night. "For him to be there with me, to get a good hug from him was pretty special."
Kunin — the second-ranked college skater coming into the draft (and 11th overall by NHL Central Scouting) — has built his whole life on the foundation of what he learned from that early "life lesson," as he calls it.
"Nothing is ever going to be given to you in life," he said. "You have to work for everything you want to get."
He credited his father, mother and brother as being a vital support system in helping him get to where he is now — on a path to the NHL and having just wrapped up a standout year as a freshman college hockey player.
"They have been there for me through the whole ride and they've sacrificed a lot," Kunin said. "It will be great for them to be with me through it all."
Working hard and striving for success are the fundamental traits forming the backbone of Kunin's character. He's determined and confident, yet not presumptuous in the least — a lethal combination for any athlete.
Although the draft can be nerve-racking for some, the Chesterfield, Mo., native didn't feel pressure going into it.
"I think the way I played this year [19 goals, 13 assists with the Badgers], I did everything I could to show the NHL teams what I'm about and what kind of player I am," he said. "Once the draft is over, it's exciting to know what team you're with, but it's back to work."
As the second-youngest player in the NCAA in 2015-16, Kunin tied for third in goals among all rookie skaters to make the Big Ten all-freshman team. His 32 points were one shy of tying linemate Grant Besse (selected 147th overall by Anaheim in 2013) for the team lead.
The 18-year-old didn't take anything for granted, especially his first year playing, growing and learning while on the Badgers.
"Wisconsin was a place I wanted to play since I was a little kid, so just playing against older guys, especially me coming in here as a young guy, made me mature a little quicker," Kunin said. "I like a challenge, so college hockey is something I wanted to do and I thought I had a pretty good year individually. Strength and conditioning coach Jim Snider really puts in a lot of effort with guys and that's big for me to get to the next level — to keep getting stronger off the ice. It's just an all-around great atmosphere."
The 6-foot, 193-pound forward — with highlight-reel playmaking ability — said there's always room for improvement.
"I pick something I want to focus on each year and just try to get better at certain things," he said. "I'm never satisfied with where I'm at; I'm always trying to get better and be the best player I can be."
Kunin captained the U.S. 2015 Under-18 World Championship team to a gold medal, scoring six goals in seven games. Boston University's Charlie McAvoy, drafted a pick before Kunin at No. 14, and childhood friend Matthew Tkachuk, the son of former NHLer Keith Tkachuk who was selected sixth overall, also were part of that team.
As much as collegiate and pro careers in hockey have been personal dreams of Kunin's, the friendships he's made along the way have made it that much more worthwhile.
"I have a bond and a relationship with those guys that will last a lifetime," he said in regard to his fellow skaters on Team USA and the Badgers. With Tkachuk, they played together as kids and "being around Matt's dad Keith, watching him play, and learning the ropes from him was something pretty special."
The relationship with Kunin's dad seems to be one of the strongest of them all.
"When I was little, my dad would always share motivational quotes with me that he thought I would like. Whether it was a Michael Jordan one or Wayne Gretzky one, we have always had a pretty special thing going."
To this day, if Kunin's father finds an inspirational quote, he'll send it to Kunin before a game. One of Kunin's favorites?
"Success doesn't come to you, you go to it," he said without hesitation.
The rising sophomore added, "I could sit here all day and rattle off all the ones dad sends to me, but I just think anything for me that's about being successful is great. I strive to be successful and I will be successful, so whatever it takes for me to get there, that's what I'm going to do — I truly believe that."
Contributing from Buffalo, N.Y.: Jim Connelly