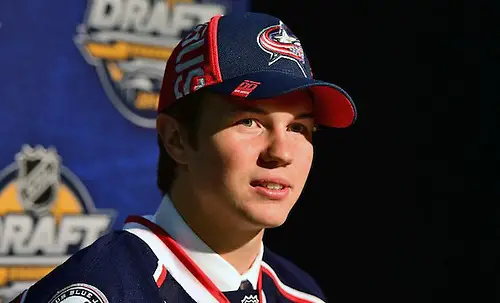 BUFFALO, N.Y. — One day after a record-tying 11 current and future college players were selected in the opening round of the 2016 NHL Draft, college players continued their march to the stage in Saturday's second round.
While only seven players with college ties were selected in the second round, 50 players became NHL property on Saturday, bringing the grand total for the two days to 61, or about 29 percent of the total selections.
Two incoming freshmen at Notre Dame led the way in the second round. Andrew Peeke, who was the USHL's scholar athlete of the year last season in Green Bay, was the first collegian selected in the second round, going to Columbus with the 34th overall pick.
Selections: College players and recruits picked in the 2016 NHL Draft
Just six picks later, Colorado tabbed Peeke's Notre Dame teammate Cameron Morrison, a Canadian-born forward who a season ago played in Youngstown in the USHL.
Both players emphasized their reason for choosing Notre Dame over major junior was the school's strong academics.
"Academics is important to me," said Peeke. "[Notre Dame] is top 15 school academically."
"It came down to me deciding that the college route is right for me," said Morrison, a draft choice of the North Bay Battalion in the Ontario Hockey League who instead chose to go to college. "I feel like I can excel there."
One day after four Boston University had four current and future players selected in the opening round of the draft, incoming freshman Chad Krys continued the banner weekend for the Terriers when he was selected 45th overall by Chicago.
"I was kind of sitting there expecting not to be picked [for a while]," said Krys, whose stock fell this year with his Central Scouting ranking slipping from 30th in January to 53rd in April. "When I was, I was really excited. It's a real emotional thing for my parents and all my family."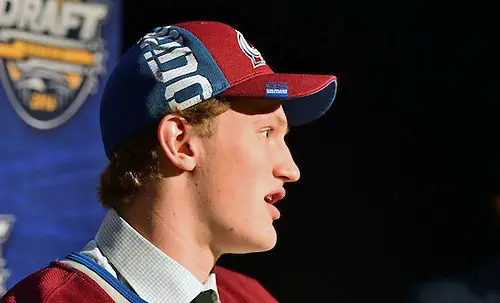 Ryan Lindgren, who will play for Minnesota in the fall, was selected 49th overall by Boston. Lindgren is the brother of former St. Cloud State standout Charlie Lindgren, who plays for Boston's most hated rival, the Montreal Canadiens.
"We were talking that if I got picked by Boston, there would be a little rivalry there," Lindgren said. "So it's pretty cool."
Wade Allison, who is headed to Western Michigan in the fall, was the 52nd pick, by the Philadelphia Flyers. He played things cool on Saturday, saying he had paid little attention to rankings and draft rumors heading into the weekend.
"I never really put a whole lot of thought into it," said Allison, who ranked near the top of many categories at the recent NHL Scouting Combine. "It was kind of out of my control. I was just hoping for the best and definitely am very happy to be drafted by Philly."
Denver forward Dylan Gambrell and Providence incoming forward Kasper Bjorkqvist closed out the second round for collegians. Gambrell went 60th overall by Stanley Cup runner-up San Jose while the Stanley Cup champion Penguins chose Bjorkqvist.
Early in the third round, BU's three Beanpot rivals — Boston College, Harvard and Northeastern — each had players selected. Adam Fox, who is headed to BC in the fall, was the second goaltender overall and first with college ties taken when he went to Toronto with the first pick of the third round.
Four picks later, Calgary chose Harvard freshman-to-be Adam Fox. And one pick after that, at No. 67, Carolina picked Matt Filipe, who will play for Northeastern in the fall.
Two of the biggest jumpers — players who are selected well in advance of their Central Scouting ranking — were William Lockwood and James Greenway. Lockwood, who will attend Michigan in the fall, was ranked 108th among North American skaters but was chosen 64th by Vancouver. Greenway, who is headed to Wisconsin, was ranked 121st but went to Toronto with the 72nd pick.