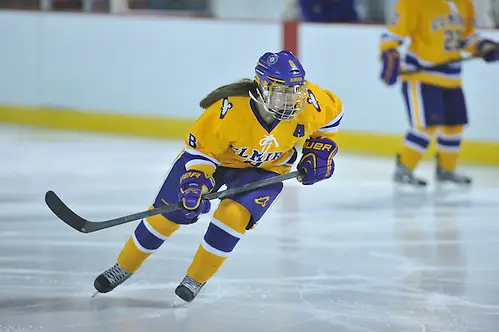 The Northeastern women's program announced Thursday the hiring of Ashley Ryan as the team's operations coordinator.
Ryan joins the staff after a standout playing career at Elmira, where she won the 2013 Division III national championship and was named a two-time First Team All-American.
"Ashley is a great addition to our staff," Northeastern coach Dave Flint said in a statement. "Her energy and passion for hockey, along with her knowledge of the game, will really complement what we have in place here at Northeastern."
As a senior at Elmira in 2014-15, Ryan racked up 61 points in only 30 games en route to earning the Laura Hurd Award for the top player in Division III women's hockey. Ryan's 42 assists broke the Elmira single-season record and tied the NCAA Division III mark for most helpers in a season. She led Elmira in scoring in three of her four collegiate seasons and finished her career with 158 points, which ranks third all-time at the school. Ryan also earned All-Academic distinction from 2012 to 2015 and served as a team captain in 2014-15.
In addition to her on-ice exploits, Ryan has also gained professional experience in a number of different capacities over the years. From 2010 to 2012, Ryan served as an assistant manager in food service with the Rochester Red Wings – the top minor league affiliate of the Minnesota Twins. Ryan also completed a community service project with the Elmira Youth Jackals hockey club from 2011 to 2015, during which time she helped aspiring hockey players develop basic game skills. She then went on to an internship with the Elmira Heights Police Department in 2015 before serving as a resident counselor for the Villa of Hope group home in Rochester.
Ryan earned a Bachelor of Science degree in Criminal Justice with a minor in Sociology and Anthropology from Elmira in 2015.