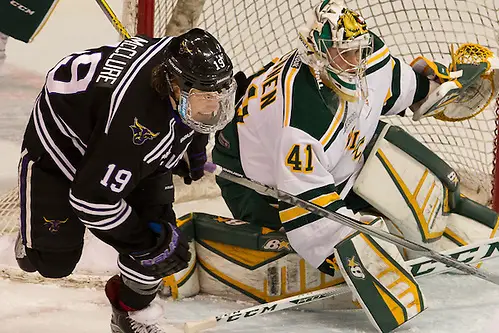 When Northern Michigan coach Walt Kyle thinks about the WCHA, he thinks about quality goaltenders.
"I think everyone has a guy that is a real go-to guy, really we have six or seven that could be first-team all-league in any league," Kyle said. "I really think whichever guys stays healthy and consistent will really be a difference in the race and help their team come out on top."
With that in mind, Kyle is happy he has sophomore goalie Atte Tolvanen.
The Finnish goalie made his mark this past weekend in a nonconference tilt with Wisconsin. Tolvanen stopped 27 of 29 shots in a 3-2 win on opening night, he then made 13 saves in relief during a 6-5 loss — finishing with 40 saves on 44 shots this weekend.
"He really is a game changer for us," Kyle said. "We learned last year he was ready for this level and I think he's ready for the next step this season."
While Tolvanen is from Finland, Kyle said the goalie has fit in well in Marquette.
"He played in the NAHL and he's always been interested in playing college hockey," Kyle said. "He's fit in well with our team and he really helped us solidify the position when he came in as a freshman."
Tolvanen and Northern Michigan will host Bemidji State this weekend in its WCHA opener.
Bowling Green looking for fight
Bowling Green head coach Chris Bergeron isn't happy after his team lost a pair of games on the road against Bemidji State.
The Falcons scored just two goals in the weekend and in both games Bergeron felt like his team didn't look like it wanted to be on the ice.
"That's the most concerning part," Bergeron said. "I think we got outcompeted for six periods."
It made it even more frustrating that the Falcons were missing players in the season opener because of suspensions.
"That was an opportunity for other guys to play and that should have nothing to do with the level of competition," Bergeron said. "Obviously this time of year, you're going to make mistakes, but we should be able to control our competition level, and what we saw is not acceptable."
Bergeron said he wants the players to lead a change and make the opening weekend an exception, not the norm when Bowling Green plays a home-and-home series with Western Michigan this weekend.
"I need them to be the catalyst," Bergeron said. "I can yell and say what I want to happen, but it really needs to happen with the players. They need to know that and step up."
Penalties pile up, for the better
During the league's annual conference call at the beginning of this season, league supervisor of officials Greg Shepherd said that officials were going to start cracking down hard on interference and obstruction.
The reason for this: The perception that the WCHA was just a "clutch-and-grab" league. The general thought is that this allowed the less-talented teams to win more often.
And it's true that scoring was down for the league last season — only Michigan Tech averaged more than three goals per game. WCHA league games averaged just 4.97, according to BGSUHockey.com.
This season, officials are going to better police things like hooking and holding along the boards. And although the new mandates for obstruction aren't confined to the WCHA — Shepherd said it's an NCAA point of emphasis for everyone — the league seems to be the one that needs it most.
So far, it has resulted in a ton of penalties two weeks in. There have been just six total league games played so far this season but a total of 80 penalties. That's 13.3 penalties per game, and if we're rounding up to 14, that's seven per team per game.
In Northern Michigan's series with Wisconsin — not a conference game, but one judged by WCHA referees — the Wildcats and Badgers combined for 33 penalties alone. Wisconsin had eight power-play chances in each game.
In Bemidji State's series with Bowling Green last weekend, there were "just" 25 penalties.
BSU head coach Tom Serratore said the new points of emphasis are a positive, and will force teams to either get better on special teams or play better during 5-on-5.
"I don't think it's easy for the referees either," he said. "Sometimes there's going to be some calls where you're standing there saying, 'What? That looked extremely harmless.' But for them, they need to call the standard, and they're going to get the feel down in the first month or so. They're going to have a feel for what they should call — is that a stick infraction? Or maybe it didn't have any bearing on the play. They'll figure all that stuff out. Everybody right now is trying to figure that stuff out. The best thing for the players is just to try and keep your stick on the ice.
"Also the referees need to coach the players, talk to the players the whole time. I think that's going to be very beneficial for both the referees and the players."
Thompson too much
Connecticut sophomore Tage Thompson was the difference maker as Alabama-Huntsville beat was swept and outscored by a combined 10-0 in two games this weekend.
Thompson, the 26th pick in the 2016 NHL Draft by the St. Louis Blues, had five points (three goals, two assists) in two games.
"Tage Thompson is my eyes is one of the best players in college hockey," Huntsville coach Mike Corbett said. "We had no one to match up. There aren't going to be too many guys better than Tage out there. He's one of those kids that everyone needs to watch, he's good as advertised."
While Huntsville lost both games to Connecticut, the Chargers are still undefeated in the WCHA and return to league play this weekend with a road trip to Michigan Tech.
"We're in a good spot still, we'll take what happened this weekend (in Connecticut) and we'll move forward on this trip to (Michigan) Tech," Corbett said.
Ice Chips
— Alaska started its season with a non-conference road game against instate rivals Alaska Anchorage The Nanooks took the game 4-1, and both Justin Woods and Ryker Leer both had a goal and an assist to keep the Nanooks' three-game winning streak against the Seawolves alive. They also lost to Minnesota 6-3 the next day; the Nanooks will now host UAA, Omaha and Canisius this week in the annual Brice Alaska Shootout.
— Alaska Anchorage opened the season with a 6-0 loss against Minnesota and the aforementioned 4-1 loss to Fairbanks. Jarrett Brown was the lone goalscorer for the Seawolves, who at 0-2 are off to their worst start since 2000-01.
— In Bemidji State's season-opening sweep of Bowling Green, the Beavers found scoring from all across the lineup. Six different Beavers scored all six of BSU's goals in the series (forwards Charlie O'Connor, Brendan Harms, Gerry Fitzgerald and Myles Fitzgerald and defensemen Zach Whitecloud and Brett Beauvais). In all, nine different players recorded at least a point for BSU.
— Ferris State is still looking for its first victory after dropping back-to-back games against Western Michigan. The Bulldogs are 0-4 and 0-2 in the WCHA after losing to Alabama-Huntsville the prior week.
— Lake Superior State is the lone conference team which has yet to play a regular-season game. The Lakers open their season this weekend with a home series against former Central Collegiate Hockey Conference rival Michigan State.
— Michigan Tech's 0-4 start is their worst since 2004-05. However, the Huskies host Alabama Huntsville this weekend hoping to turn things around in their home opener. Tech is 10-0 all time against the Chargers, including 6-0 at MacInnes Ice Arena in Houghton, Mich.
— Minnesota State's 2-0 start has been propelled in part by senior netminder Cole Huggins. He stopped 45 of 46 shots last weekend against Michigan Tech, including a 4-0 shutout in Saturday's game. The shutout was the 11th of his career — a school record — and gives him 40 career victories.
Players of the Week
This week's players of the week are: Northern Michigan junior forward Robbie Payne (offensive), Minnesota State senior goaltender Cole Huggins (defensive) and Bemidji State freshman defenseman Zach Whitecloud (rookie).