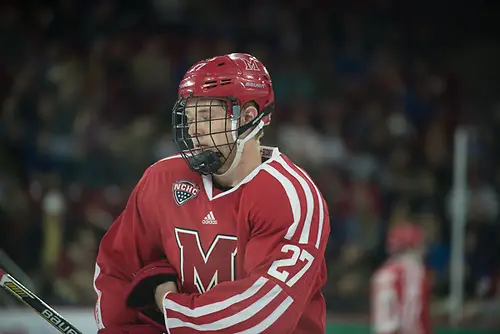 Checking in with the latest from the NCHC:
Minnesota-Duluth's tough opening
Last weekend, No. 6 Minnesota-Duluth traveled to Lowell to play No. 8 Massachusetts-Lowell. It's part of a tough schedule that sees the Bulldogs start their season with five consecutive weekends against ranked teams, four of whom are currently in the top 10.
"I enjoy playing those types of teams," said Bulldogs coach Scott Sandelin. "Obviously for us, our first league game is North Dakota at the end of the month, but I think having these games against teams like we are playing, some of them have different styles, some of them play a little bit differently, which is good. I think our guys understand right from the get-go the importance of every game."
After opening with an impressive home sweep of then-No. 17 Michigan Tech, Duluth managed to eke out two ties against Lowell in two very different games, the first an offensive one characterized by lots of power plays, and the second a defensive struggle. The one common point was that Duluth had to rally from behind in both.
"Their goalie was good, as was ours," said Sandelin. "We expected it to be a very tough series, which it was. We did some good things, and we also found out we have a lot of things to keep working on."
Goaltending was a question mark for the Bulldogs coming into this season, as Kasimir Kaskisuo, who started most games last year, left early for the pros and backup Matt McNeely graduated. So far, Minnesota-Duluth has played two goalies, Hunter Miska and Nick Deery. The latter earned NCHC goaltender of the week honors for his play against Lowell.
"I think it's pretty unique to my time here not having any returning goaltenders coming back that have college experience and going into the season with three guys that haven't really played a lot of college hockey," said Sandelin. "They have played junior hockey, so they've been in big games, and they're here for a reason. All three of them were goalies of the year in their respective leagues, and Hunter was USA Goalie of the Year when he was in the USHL. They came with some pretty good credentials, and quite frankly, just the other day I said to them I think we should go the American Hockey League schedule where you play three games in three days so we could play each of them, instead of the two games, so it's hard.
"It's kind of a goaltending battle at times. I'm not really sure where we are going. I like the fact that some guys have gone in there and taken advantage of their opportunity, and with the three that we have, I'm sure we'll have the opportunity to put Hunter Shepard in there too."
One early sign of improvement has been on the power play, which has been a source of struggle for the Bulldogs in recent years. Last year's team only scored 24 power-play goals all year, clicking at just under 15 percent. After four games, this year's team has clicked at 24.14 percent and has seven power-play goals. The Bulldogs scored three power-play goals alone Friday in the 4-4 tie with Lowell.
"I don't think we shot the puck enough last year, and I that's been a big emphasis, getting the puck to the net more and not get too cute passing," said Sandelin. "Especially early in the year, I think simplicity is good and I think we're trying some different people too. It's still a work in progress, but it's nice to see the guys get off to a good start, get a little confidence, and hopefully we can be a little more consistent with our power play all year."
This weekend sees Duluth with its second straight series against a top-10 team, as the Bulldogs host No. 5 Notre Dame. Sandelin is expecting a defensive battle between the two, and hopes to see his team establishes more consistency.
"For us it's just building off some of the good things that we've done. I expect us to be better. I think our goal every weekend is to get better. We've had four games now, so hopefully we just play a more consistent 60 minutes. Especially in the beginning of the year, playing two periods well, or 45 minutes well, like I said earlier, we just need a little more consistency."
Miami gets split on road
Miami started the season unranked, as the team is young, and had lost last year's starting goaltending tandem. Additionally, the team had struggled with scoring last year. Playing its opening games on the road at No. 10 Providence would be a challenge for any team, but especially one for a young squad such as the RedHawks.
Coach Enrico Blasi's charges exceeded expectations, battling hard against the Friars and earning an impressive split, made all the more impressive for rallying to the win on Saturday after suffering a heartbreaking loss Friday when Providence scored a short-handed goal with six minutes left to break a tie and win the game.
"No question we are pleased with the weekend," said Blasi. "I thought we got better as the weekend went along. For us, it's an opportunity every game to get better and gain experience with a young team. These experiences are going to help us down the road. We saw some different situations on the weekend which I thought were helpful as well. Having had to go through that situation, adversity on Friday and Saturday, penalties, coming back in the game, responding to a tie game, things like that are all good building blocks for the future."
Like fellow NCHC squads Minnesota-Duluth and St. Cloud, a big question mark for the RedHawks this season was goaltending, as four-year starters Ryan McKay and Jay Williams, who had split time in net very effectively, both graduated. Freshman Ryan Larkin started both games for Miami last weekend, posting a 2.52 GAA and a .906 save percentage.
"Ryan did have a solid weekend and it's been a while for him since he's played games, and it was nice for him to get back there and play well and get the win on Saturday," said Blasi.
Special teams was a key for the RedHawks' success against Providence. Though Miami did give up the short-handed game winner Friday, all five of their goals on the weekend came on the power play, and the penalty killing was also exceptional, giving up only one power-play goal in 17 penalties.
"I think traditionally we've always been really decent on the special teams and it's just a matter of our guys buying into it and executing, whether it's on the power play, or executing on the PK," said Blasi. "I thought Ryan Larkin made some big saves for us on the PK, and ultimately your goaltender is always going to be your best penalty killer. There are a lot of guys right now that are involved with both. We've got a lot to improve on and the guys know that. Everyone is contributing."
The RedHawks got balanced scoring on the weekend, including the game-winning five-on-three power play goal Saturday from sophomore Kiefer Sherwood. Five players got two points on the weekend, including freshman Gordie Green, as did two defensemen, Scott Dornbrock and Louie Belpedio, who will be expected to provide leadership to the young blue line corps.
"I think their leadership in terms of playing their role, playing hard, preparing well, are things the younger guys are looking at and trying to emulate," said Blasi of Belpedio and Dornbrock. "Preparation is such a big part of any sport and your team, so just having that professional attitude toward having to play a high level is probably the most important thing.
"I thought all of our returning forwards did a nice job. Kiefer, (Josh) Melnick, Anthony Lewis, (Justin) Greenberg, all of our upperclassmen and sophomores that were here a year ago I thought played well. If you look back to the second half of last year, other than Sean Kuraly, those are the guys that really started to kind of step up."
This weekend, the RedHawks host in-state rival Ohio State, which had a successful weekend in the IceBreaker tournament in Denver last weekend. Blasi knows rivalry games always bring out something extra.
"They have a solid D corps, and good goaltending," Blasi said. "For us it's a rivalry game. It doesn't matter where the teams are. It's always hard-fought and well played, and I expect the same. We're going to have to play our best to give us an opportunity in the game, and that's what we'll try to do."
NCHC Players of the Week
Offensive player of the week – Brock Boeser, North Dakota:
The highly-touted sophomore forward started strong with six points in two games in a sweep of Canisius. On Friday, he had four points, including the final goal in a 6-0 shutout, and assisted on the first goal, the game winner. On Saturday, he tallied two more assists, both on the power play, including assisting on the game winner. He finished the weekend plus-5.
Defensive player of the week – Neal Pionk, Minnesota-Duluth:
Pionk notched six points in the first four games of the year as Duluth went 2-0-2. He assisted on the game winner in the season opener against then-No. 17 Michigan Tech. The next night, he scored a power-play goal and again assisted on the game winner. Last weekend against No. 9 Massachusetts-Lowell, he scored in each game, the second of which ended up as a 1-1 tie, and assisted on another goal in the 4-4 tie Friday. He has a plus-2 on the season and has blocked five shots.
Rookie of the week – Ben Blacker, Western Michigan:
Blacker backstopped the Broncos to a home-and-home sweep of in-state rival Ferris State. On Thursday, he made 31 saves in a 5-3 road win, 12 of which game while Ferris had a power play, and the lone power-play score he gave up was a five-on-three. On Friday at home, he made 17 saves and only gave up one tally, a power-play goal, in a 2-1 win. He posted a 2.00 GAA and .923 save percentage on the weekend.
Goaltender of the week – Nick Deery, Minnesota-Duluth:
Deery helped his team earn two road ties against Lowell. On Friday he came on relief in the second period with his team trailing by three goals and made 13 saves over the last half of the game as the Bulldogs rallied for a 4-4 tie. The next night, he started and only gave up a power-play goal in a 1-1 tie. He finished the weekend with a .974 save percentage and a .63 GAA in 96 minutes of play. He was named the game's third star on both nights.