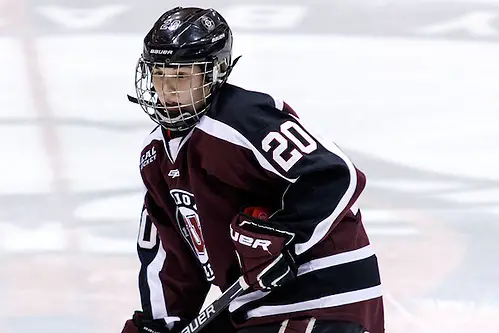 When the Union Dutchwomen left the ice on Saturday afternoon, it was as winners for the first time since December 12, 2014. The first win in 56 games was a big moment for the players and the program, but new coach Josh Sciba has never highlighted "win games" as a goal for the team or the program.
"It was our goal when we started to try and create that environment that was really positive," said Sciba. "The girls can have fun, they can grow every single day, and they just love coming to the rink because they know they're going to learn something new and they're going to get better. That was our first step."
Beyond the win-loss column, Sciba said he and his staff came on campus looking to create the culture of the Union women's hockey program.
With just 19 players and 16 skaters, it's a small roster that Sciba is working with, but his eight returning players are the leaders that are committed to turning this around and making an impact on the program that extends far beyond a single win or a single season.
To that end, the team created a set of core values that are the basis for everything the athletes are doing on and off the ice this season: team first, respect, character and commitment. Being committed to those values — and having had the agency to help choose them in the first place — has helped the team bond and become invested in the day-to-day work that it takes to be a competitive team at the Division I level. Sciba said he and his staff were committed to making sure the team felt invested and empowered in having ownership of the team and its direction.
"I think we leaned on our leaders, on our seniors, quite a bit," said Sciba. "We talked to them about how we want to change the culture of the program first and foremost. For them, I don't know what's going to happen by the end of this season, but we want their 'championship' to be the fact that they changed the culture of this program from within and really created that environment that kids want to be a part of. We want to make it contagious every day."
Having 11 freshmen means a large learning curve, but it also means those players are free from any of the baggage that came before this season. They know Union's history, but they're on campus to create their own story. Sciba thinks that blank slate is part of what allowed them to succeed so early in the season.
"…You have a group of eight returners that were just hungry for the change — they wanted a fresh start, a clean slate. The freshmen don't know anything previous that's happened, but they're coming in and just want a good experience. That makes our job a lot easier. Having that young team has really helped us instill the kind of culture we want right away."
In some respects, it's as though everyone on the team is starting anew with Sciba. They're not focusing on the past, nor on the win-loss column.
"We don't talk about winning games; we're just focusing on our process day-to-day, getting better, coming to practice, working to be the best we can on a daily basis," said Sciba. "We believe that it's going to give us more success long term. … It's going to take our entire team. We have a small roster. We have three freshman goaltenders. We don't have any superstars. When we win, it's going to be a collective effort. That really goes in line with what we're trying to create, that family environment. Everyone serves a purpose."
It would be impossible for the returning skaters to completely forget about their winless season, but Sciba really wants his team to focus on "playing free," something he knows most players have to learn how to do.
"Hockey is a game of mistakes, " he said, adding that learning how to respond to mistakes, in practice or in games, is something he hopes the Dutchwomen are learning how to do. "Hopefully, we can develop that resiliency that I want our team to have so when we go into games, we know how to handle adversity so it makes us better down the road."
Though having three freshman goalies is a challenge no other program in the country has to face, Sciba is loving the opportunity to create a culture of competitiveness and support via his young goaltenders. Though all three are competing with each other for playing time, they are also supporting, pushing, and motivating each other to be better every day.
Senior captain Alli Devins was part of the selection committee that chose Sciba to lead the Dutchwomen. From the beginning, she's been the player that saw him in the formal committee interviews and the more informal team interview. And she was the player that sat down with him when he came to campus and helped him to learn the program and the roster.
Sciba says Devins is the team leader that's patient and passionate, committed and energetic. Complementing her is Kathryn Davis, the leader that Sciba says holds her teammates accountable and leads by example.
It's possible no one was more excited — and relieved — about Saturday's win than Devins.
"I think it was a monkey off all of our backs," she said. "We wanted it so bad, we were working toward it and I think every game we got better. … I don't know if I can describe the feeling of winning. A lot of people were crying and very emotional, but rightfully so. It's a hurdle that any team has to get over. Winning like that made it so much better."
On the ice for the last shift of the game, Devins was across the ice when the final horn blew, but she said she'd never skated as hard as she did to get back to the bench and celebrate with her teammates.
Though the win was nice, Sciba is much more concerned with the small "wins" he sees from his players each day in practice. The team is loose and having fun. They are smiling and enjoying coming to the rink. Though it was nice, this season was never about one win.
"We know we can win here; there's no reason that we shouldn't be a playoff team every single year," said Sciba. "That's our goal. We're not there yet today. But we're going to get there. And we know that we have the right formula to be able to get there eventually."