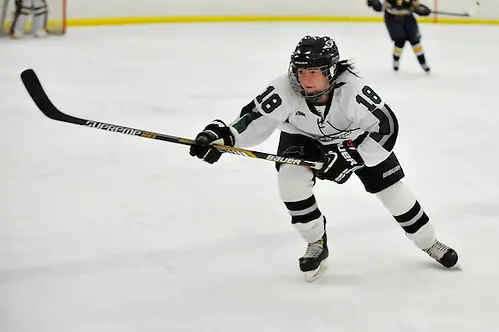 Last year's champion
Stevenson was the inaugural regular season and CHC tournament champion.
Favorites
Endicott topped Stevenson in the conference preseason poll by just two points. The Gulls return most of their roster, while Stevenson graduated 13 players.
Dark horse
If anyone will unseat the top two, it's Morrisville State College. They made a great showing in the inaugural season and have nothing but room to grow.
Players to watch
Endicott returns conference co-Rookie of the Year and USCHO All-Rookie team goalie Vendela Jonsson, who had eight shutouts and a 1.36 goals-against average in her freshman year. They also return 90 percent of their offense, including the top five scorers, led by Lexi Klein, who had nine goals and 10 assists.
Having graduated most of the roster, Stevenson will be looking to Conference Player of the Year Chelsea Blackburn to lead the squad. Her 19 goals and 14 assists led the team and the conference in scoring. Caitie DaRosa, Annie Smyth-Hammond and Brittany Rose will all be fighting to become the new starting goaltender. Figuring out a solid situation in net is crucial to Stevenson's postseason hopes.
Morrisville State College returns four of their five all-conference players, including Kali Rutka, who was on USCHO's All-Rookie Team, as well. Sophomore Stephanie Strymecki averaged almost a point per game last season, was in the top 15 in the country in goals, and has already netted a hat-trick to start this season.
SUNY Canton returns seven players, including team-leading scorer Tess Adams, who amassed 25 points in just 20 games played. She was the CHC co-Rookie of the Year. Seniro Lora Ardoin is a four-year captain for the Roos.
Becker College sophomore Gina Beth Manganiello was a second-team All-CHC pick. She led the Ice Hawks with 13 goals and 10 assists.
Johnson & Wales returns CHC Goalie of the Year Kami Weiner. She led the country and set an NCAA D-III single-season record with 1,202 saves. The Wildcats return their seven top scorers while bringing in 10 new players.
Katherine Crane saw just five games in net last season, but is the likely starter for Salem State. She's going to have a major impact on the Vikings' season.
Notes
Formerly known as the ECAC NE, last season was the first these teams competed under the umbrella of the CHC.
Stevenson was a perfect 13-0 at home and finished the season on a 12-game winning streak.
Nichols College will join the league for the 2017-18 season. The will also be the first year the league earns an auto-bid for the NCAA tournament after they fulfill the mandatory two-year waiting period.