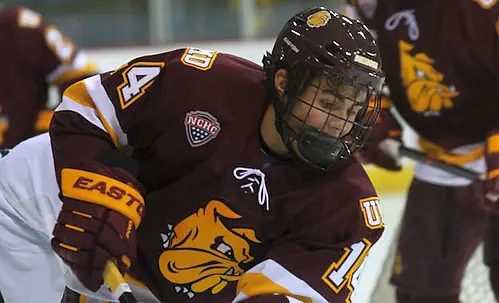 Each week during the season, we look at the big events and big games around Division I men's college hockey in Tuesday Morning Quarterback.
Paula: Well, Jim, we were both looking forward to the match between Minnesota-Duluth and North Dakota, and it appears as though the Bulldogs made a statement in that series, sweeping the Fighting Hawks decisively and earning all 50 first-place votes in this week's poll.
There are a number of impressive stats to emerge from that series for the Bulldogs: three power-play goals, two shorthanded goals, senior Alex Iafallo's hat trick Friday night, freshman Hunter Miska's 30-save shutout Saturday. Iafallo scored eight goals in 40 games last season. Miska is now 4-0-0 and Saturday was his second career shutout. Miska and the Bulldogs' defense also fought off eight power plays Saturday, including almost a full minute of a two-man advantage.
And this was the first time in 21 years since Duluth swept North Dakota. It's hard to imagine a more definitive weekend than that.
Jim: Certainly hat's off to Scott Sandelin and his club for an incredible weekend. There is a part of me deep down that believed this could happen. I had seen Minnesota-Duluth play earlier in October when they faced UMass Lowell. In that series, the Bulldogs never led for a single second, yet walked out of Lowell with two ties.
What I learned that weekend is a Minnesota-Duluth team that played with a lead could be dangerous, because this team plays very well in the third period. This weekend, each night the Bulldogs scored the game's first three goals and the result was a very good one.
What is probably most settling for Sandelin is the play of Hunter Miska. Friday was his first start since getting pulled in the second period against Lowell and he made the most of it, as you mentioned earning both wins and getting a shutout as well.
The Bulldogs weren't the only team to impress me from afar this weekend. Vermont, which we talked about their games against Michigan and Northeastern, earned two impressive wins and now sit 19th in the USCHO.com poll. And Union, the other newcomer to the poll at 20, swept cross-town rival Rensselaer. I always take notice at the new teams in the poll each week and what each accomplished. For both of these teams, I'd say the accomplishments were impressive.
Paula: I completely agree about the statements made by Vermont and Union. I've seen Michigan play and the Wolverines have a lot of talent, although I did expect a more poised Vermont team to come out ahead in that game. What I didn't expect was for the potentially explosive Michigan offense to be completely stymied – and kudos to Catamount freshman goaltender Stefanos Lekkas for his 3-0 shutout against the Wolverines, his second consecutive shutout.
Union's been a little under my radar – and maybe everyone else's – because I can sometimes suffer from a bit of scheduling bias. I saw them in their opening weekend split against Michigan and I thought the Dutchmen looked really good, but when they followed that with a close win over American International and a tie with Sacred Heart, I admit I was still a little on the fence. Now they're 6-1-1 after their weekend against the Engineers, and I was particularly impressed with how they won the game 1:06 into overtime after allowing the last goal in regulation and being unable to capitalize on nine power-play opportunities.
I'm going to blow the horn for a couple of Big Ten teams for a minute, while we're on the subject of being impressed.
Ohio State is the only team that remains undefeated after playing at least six games, and the manner in which the Buckeyes have won lately has been impressive. Again, I know that many of us have a kind of schedule bias, especially early on, when it comes to perceived quality of wins, so I know how this works. But Ohio State outscored Niagara 16-4 on the road this past weekend, and in their last four games, the Buckeyes have outscored opponents 27-9 and 22-5 in their last three lopsided wins. Good teams not only beat opponents they should beat, but they often handle them as well.
Then there's Penn State (4-1-1), a team that everyone thought would be rebuilding this season. The Nittany Lions' two home wins over Canisius come at the start of a 10-game run inside Pegula Arena.
Jim: I want to switch gears a little bit here to talk about someone completely different (well, different from the last few hundred words or so, but not for this column). I want to talk about the ongoing topic of officiating.
This time, I'm not going to harp on the sheer number of penalties, something we've almost covered ad nauseam in this space. I'm actually growing to accept the new standard of play that officials are enforcing. What I wanted to get your opinion on, instead, is something this standard may be recreating and that's the temptation of players to dive or embellish in hopes of drawing a penalty.
Many around the NCAA have worked tirelessly in recent years to try to eradicate diving, something one supervisor of officials once referred to as "embarrassing." I thought that in recent years, at least games that I have seen, there was less diving.
But with players knowing that officials are almost looking for penalties to call, I feel like I've seen a few who call attention to the play by falling to the ground.
I believe a couple of weeks ago we referred to the new emphasis of a standard of play as a delicate line. Does part of that line include making sure that increased diving and embellishment doesn't creep back into the game?
Paula: Oh, yes it does. I enjoyed that article from 2012 and particularly remember how Hockey East's coordinator of officials, Dan Schachte, said that the league was concerned with players who flop around "much like a fish that has fallen out of its bowl."
Back in the CCHA day, there was a popular phrase in the press box, uttered by reporters and league observers alike: two minutes for bad acting.
I'm so glad that you brought this up, because it seems like there is a new dimension to embellishment in sports culture. We have become such consumers of melodrama in our popular media that we have come to expect a bit of embellishment in nearly everything we view. That doesn't mean that we like it, necessarily, in college hockey, but we are seeing players who have grown up with this kind of behavior not only paraded in front of them frequently but sometimes lauded through all kinds of media outlets – especially social media – for the embellishment's overall comic effect. Not only does it appear to be more prevalent in sports culture, but there's more of an opportunity to see it and comment on it.
The last thing we need in college hockey is to tolerate a culture of embellishment. There is already a little bit of subtle theatrics built into the game – very subtle, but we all see the chirping, retaliation and a bit of exaggeration for officials. An excellent use of officiating energy would be to ensure that players don't engage in bad acting.
Jim: Like I said, I'm becoming accepting of the enforcement of the standard of play, but what I wouldn't want to see is anything that increases diving in the sport. When I spoke with Steve Piotrowski, the secretary of rules for the NCAA and Frank Cole, who heads up officials for the NCAA, each said that this will be an ongoing educational process. And a major part of that education could be making sure officials are vigilant of any sort of embellishment and players are quickly made aware that there will be a lack of tolerance. Listen, the last thing we want to see is even more penalties, but a few power plays caused by penalties for diving would certainly be a quick cure.
Thumbs Up/Thumbs Down
Thumbs up to Wisconsin for the 4-2-0 start to the season. This past weekend, the Badgers traveled east and defeated St. Lawrence and Clarkson. The Saints were the second ranked team the Badgers have beaten this weekend, and the four wins that Wisconsin has earned in six games is half as many as the Badgers recorded for the entire 2015-16 season. And even though it's too early to think seriously about the PairWise Rankings, at this point in the season, Wisconsin is a team under consideration, 10th in the PWR.
Thumbs down to an injury that is keeping the best coach of the game off the bench. It was announced last Tuesday that, for the third time in recent years, BC coach Jerry York will miss time because of a detached retina in one of his eyes. York is not only the all-times wins leader in college hockey but last year became the first coach to reach 1,000 wins. The school couldn't tell us the severity of this injury or how long York will miss, but here's hoping he's back behind the BC bench soon. Get well soon, Coach!