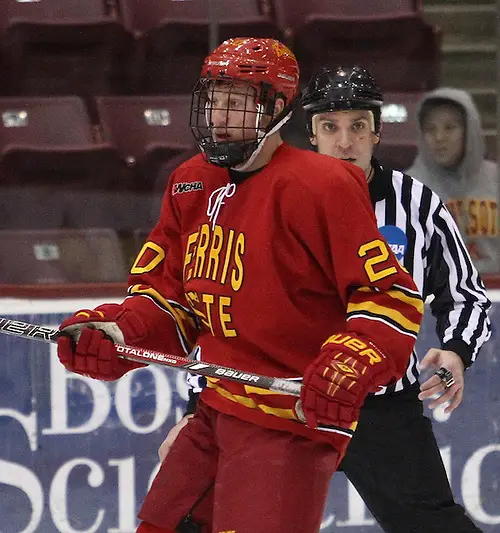 It was a frustrating three weeks for Ferris State coach Bob Daniels.
Each day he'd show up to the rink and have to watch his best player, the WCHA Preseason Player of the Year, walk around like nothing had happened.
But Gerald Mayhew still couldn't put on a skate.
He couldn't practice, he couldn't play.
That's the unfortunate nature of a high ankle sprain
"The nature of Gerald's injury is frustrating," Daniels told the Ferris State Torch last week. "It's difficult to see him walk around just fine but not be able to skate because of the twisting that is required of his ankle. It's going to take a little while to heal, but we're hoping to get him back on the ice as soon as possible."
After missing four games — three of those losses for Ferris State — Mayhew returned to the lineup this past weekend against Minnesota State. Mayhew helped the Bulldogs pick up a split with a pair of goals in a 4-3 win Saturday. The night prior, he had a pair of assists in a 4-2 loss.
For his efforts, Mayhew was named the WCHA's Offensive Player of the Week.
It was the offensive catalyst Ferris State had been missing this season.
With Mayhew out of the lineup, Ferris State averaged just two goals per game. With him in the lineup, the Bulldogs are averaging 2.6 goals per game.
"He's a game-changing player," Daniels said earlier this season. "He makes other players around him better. In this league, that's the type of thing that can be a difference for one team. Everyone is so close together, that one difference maker like Gerald can win you a handful of games."
Through five games, Mayhew has seven points (four goals, three assists) this season. He was held scoreless on opening night, but has had at least two points in three of his past four games and pieced together a four-game point streak. Over the past two seasons, the Michigan native has 48 points in 46 games.
While he has more goals than assists this season, Mayhew is a passer first who effectively sets up his teammates. He creates open space for the rest of the Bulldogs, and his ability to make the smart decision is an asset according to Daniels.
Mayhew and Ferris State play in what should be one of the WCHA's more exciting weekend series at Bowling Green. A pair of teams that were WCHA preseason favorites, the Bulldogs and Falcons have combined for just two regulation wins, both of those coming this past weekend. So there should be a bit of desperation in the air, while Ferris State should be in a good spot with one of the WCHA's most dynamic players back in the fold.
Bitzer keeps chugging
He's only a junior, but Bemidji State goaltender Michael Bitzer has already etched his name in the Beaver record books.
On Saturday, Bitzer made 17 saves in a 4-0 shutout of Alaska-Anchorage in Bemidji.
The win was already Bitzer's third this season, and it gave him 13 for his career. With it, he also surpassed former Beavers goaltender Matt Climie in the record books.
Climie, who played for the Beavers from 2004 to 2008 before going on to play in a handful of NHL games for the Dallas Stars and Arizona Coyotes, had 12 shutouts in his 95 career games for BSU. Bitzer has already played in 70 career games and still isn't even halfway through his junior season.
BSU coach Tom Serratore has already ranked Bitzer as among one of the best to wear the Beaver uniform.
"We've had so many great goaltenders here," Serratore said. "Just take a look at the All-Americans we had (in Division II), then you take a look at the goalies at the Division I level from Grady Hunt to Matt Climie to Matt Dalton to Danny Bakala. We've had some great goaltenders here and 'Bitz' is right there with all of them."
Bitzer currently leads the country in minutes played (478:27), shutouts (3) and wins (6), is fifth in GAA (1.38), and is ninth in save percentage (.941) and saves (176). He's also the NCAA's active career shutouts leader.
In league play, he's been even better — .975 save percentage and 0.50 GAA. He also leads the WCHA is save percentage and GAA. He's a big reason why the Beavers are 6-0 in the conference — they lead the way with 18 points in the league standings.
Ice Chips
– Alaska Anchorage's offense continues to struggle early in the season. The Seawolves, who were swept by Bemidji State 2-1 and 4-0 last weekend, have been held to four goals in their first six games and are 1-5-0. They managed just 15 shots on goal in Friday's game and 17 in Saturday's. According to the Alaska Dispatch News, UAA's scoring rut is historic — there are just three other instances program history in which they were limited to four goals in six games.
– Bowling Green finally won its first game of the season and picked up a split with in-state rival Miami. The Falcons were off to a horrendous start this season, and a lot of it had to do with effort. Bowling Green returns to WCHA play this week, and coach Chris Bergeron is hoping the hard lessons paid off.
– Lake Superior State, which is 5-1-0 overall and 3-1-0 in league play, meets Minnesota State this weekend with a chance to pass them in the league standings. The Lakers, however, are just 1-12-0 against the Mavericks since joining the WCHA. The lone win, though, came last season in the WCHA quarterfinals in Mankato. LSSU goaltender Gordon Defiel made a career-high 57 saves in a regulation 1-0 shutout.
– Michigan Tech, which started the season 0-4, has now gone unbeaten in five of its last six games. The Huskies swept Upper Peninsula rivals Northern Michigan last weekend, winning 2-0 Friday and 5-1 Saturday. Seven different players scored Tech's seven goals. Jake Lucchini and Jake Jackson scored Friday. While Dylan Steman, Tyler Heinonen, Brent Baltus, Michael Neville and Mitch Reinke scored Saturday.
– Minnesota State earned a split against Ferris State last weekend. As a group, the Mavericks have the highest-scoring defensive corps in the country, earning 9 goals and 21 assists for 30 points in eight games this year. Sophomore Daniel Brickley leads the way with 10 points (one goal, nine assists) so far.
– Last week's WCHA players of the week were Mayhew (offensive), Bitzer (defensive) and Michigan Tech freshman goaltender Angus Redmond (rookie).
– The WCHA player of the month for October was Lake Superior State sophomore forward Mitch Hults, while the WCHA rookie of the month for October was Ferris State freshman forward Craig Pefley.