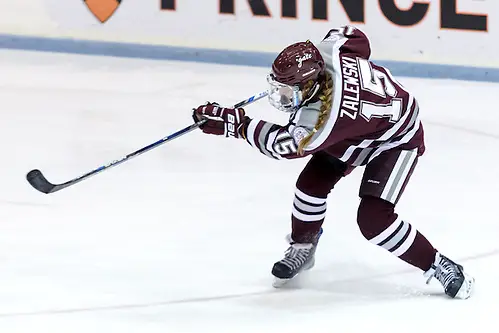 Last year was a breakout season for the Colgate Raiders. They won 22 games and made it to the ECAC tournament semifinals. It was an incredible turnaround from the 2014-15 season, where the team finished 7-25-2.
The Raiders weren't done. This season, they are thus far undefeated and are currently ranked fifth in the D-I Women's USCHO.com Poll. Having graduated just three seniors, the Raiders have benefited from returning 18 players to the ice that tasted what success could look like. That gave the team the confidence to hit the ice eager to find more.
"It raised the level of expectations coming into the season. Having gone through what was our program's first winning season in a long time was great, but everyone's expectations within the program just raised up another level," said coach Greg Fargo.
Chemistry and trust among teammates can be nebulous and sometimes difficult concepts to attain. They can't be forced, nor can they be taught. However, when the Raiders took the ice for preseason workouts this season, those things were already in place for them. It has given them an advantage, taking the ice with the feeling of a fully gelled squad while others are still figuring out line pairings and getting used to their teammates.
That chemistry would have only taken the Raiders so far, but Fargo said each of his players came back as fit and ready to play as he's seen. They'd seen what the team could do last season and they put in the off-season work to make sure they could come back and be better than ever.
Colgate plays a quick game. Fargo says they are fast all over the ice. They wouldn't be so successful at their game if the players weren't so in tune with each other. Stick-to-stick passes and quick, unified rushes work because the players are so in sync with how their linemates move. This part of their game excels because of the cohesiveness the team carried into this season.
"When we're playing connected as a unit of five in all three zones, we're really tough to play against," said Fargo.
Though it appeared to be a quick change — a swing of 15 additional wins from one season to the next — Fargo said this is a change that's been four years in the making. Creating a positive team culture — and a winning squad — aren't things that happened quickly at Colgate.
In the beginning of his fifth season with the Raiders, Fargo said he's the last person left that was there when he took over, but even the seniors on the current squad have been around for most of the transition to see the program turn over and change and work toward this goal.
The Raiders focus on four themes and Fargo said everything in their program comes back to them: team first, work ethic, attitude, and family form the basis of the culture that Fargo credits with the team's success on the ice.
"The expectation is to maximize our potential and usually when we do that it ends up in resulting in good things on the ice," he said.
Thus far, it's been working for the Raiders. With a much more veteran club that they've had in year's past, they were able to hit the ice and pick up right where they left off last season and work to make improvements for this one.
The difference shows on the score sheet, but Fargo said it's also showing with recruiting and the program's reputation. In a short time, he's built Colgate into a program with national recognition that players are interested in and want to be a part of, meaning this rebuilding has not only been successful, but should be able to continue for years to come.
In the meantime, the current team is just trying to focus on each game as they come. Despite their undefeated record, Fargo said there have been plenty of instances so far where his players have been unhappy with how the team played for 60 minutes. Instead of focusing on the long term, they're looking to fix those small mistakes and get better each day.
The Raiders are heading into the meat of their ECAC schedule. They've got four games against conference opponents in the next 10 days and it's only going to get more difficult from there. In just over a week in January, they'll play Quinnipiac, Princeton, Cornell, St. Lawrence, and Clarkson.
It'll be a tough test, but Fargo has faith in his team.
"I like how our team's playing week to week," said Fargo. "We get better every day that goes by. That's what we're looking to do, is continue to improve as the season goes on. We know that there's going to be some tough challenges ahead, but we're pleased with our progress here to this point."