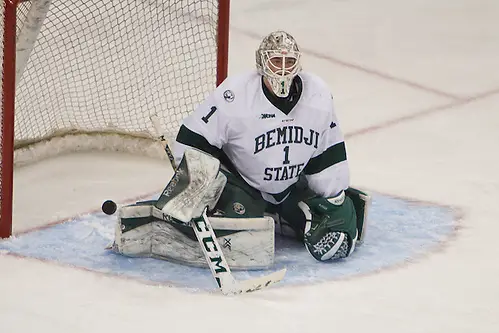 If one were looking ahead on the schedule a month ago, before the start of the season, this week's Minnesota State-Bemidji State matchup would likely have been important only to Minnesotans.
It's a nice rivalry, a healthy one that dates back to the programs' Division II days, but in recent years, the Mavericks have been a dominant force in both the national scene in the WCHA.
That rivalry might move to the forefront of the national college hockey conversation this week.
The Beavers, ranked No. 15 in the country and on top of the WCHA with an 8-0 record, travel to Mankato to take on the No. 11-ranked Mavericks in a battle of the WCHA's No. 1 and No. 2 teams.
The Beavers' start might have been something of a shock considering they were picked to finish sixth by both the coaches and the media before the season started.
But Minnesota State coach Mike Hastings — who is 11-4-0 all-time against Bemidji State — said he's not surprised.
"Their start, in my opinion, is well-earned," he said. "They've played 10 games and they've been in every one of them. They've not only been in every one of them, but they've led in every won of them and played well from behind to where it was a coin toss at the end of the game.
"What they're doing right now, power-play wise and penalty-kill wise, then defensively and with the goaltending, you stack all that up and that's why they're 8-2 and undefeated in the league."
Although the WCHA standings have been somewhat topsy-turvy so far — preseason favorite Bowling Green has just one league win and is in ninth place while Bemidji State and Lake Superior State are in the top three — the Mavs' current place isn't a shock. After sharing the MacNaughton Cup title with Michigan Tech last season, the Mavericks were picked to finish third and have plenty of talent back.
A solid group of veteran offensive players in C.J. Franklin, Brad McClure, Jordan Nelson, Zeb Knutson and Michael Hunterbrinker have helped MSU score 3.60 goals per game (second in the conference). Senior goaltender Cole Huggins, who has started in 68 games for the Mavericks in four years, is 6-2-0 with a 1.99 GAA.
But with eight freshmen on the roster, Hastings has said he still doesn't think the Mavericks have reached their full potential.
"For us, I think we're definitely still a work in progress," he said. "We have an eight-person freshman class. At times, I've been happy with where we're at, but at times, I think we could be better."
Case-in-point: the Mavericks opened the season with consecutive sweeps against Michigan Tech and instate rivals St. Cloud State, but followed those sweeps with three straight splits — against Alaska, Ferris State and Lake Superior State.
For Hastings, the series against Bemidji State will be a litmus test.
"We have some peaks and valleys that we're dealing with," he said. "I just think it's a great opportunity to judge ourselves against a very well-coached and talented hockey team."
Re-Charging
As mentioned earlier, Bemidji State and Minnesota State are the class of the WCHA right now.
But, surprisingly Alabama-Huntsville is sitting in the second row behind the nationally-ranked Minnesota-based programs.
Well, let's rephrase that.
It's a surprise to everyone outside of the Charger hockey program.
Head coach Mike Corbett said his team doesn't get wrapped up with key wins or losses. The team celebrates the good and dwells on the bad in a short-time span before moving on, it's a winning approach that hasn't always been present in Dixie.
"I'm not throwing any parades, I'm also not going to kill myself either," Corbett said. "We understand what we need to do. And I think in the past we'd get too low after a loss, and way to up after a win. We couldn't manage that, and now we can."
Corbett has helped redefine expectations for the Chargers after being named the fifth coach in eight seasons. He's in his fourth season in Huntsville and he's built a program that relies on solid goaltending, and goes after the players that want to be Chargers.
"If you never buy a lottery you'll never get those big-name players, but you can't spend all your time lottery dreaming," Corbett said. "So you have to be smart about recruiting and you have to find the players that others are overlooking. Swing big, but always be realistic while building a program up."
Alabama-Huntsville came up with a key sweep this past weekend against Alaska-Anchorage, and they should get an emotional boost this week when goaltender Carmine Guerriero returns after missing the first 12 games because of NCAA age limit rules. The Chargers appealed and the goalie was able to rescue his fourth season of college hockey.
Guerriero took a slight dip statistically last season (from a .928 save percentage to .902), but he has a history of playing big games for the Chargers and holds the WCHA record for saves in a game with 76 against Michigan Tech in a five overtime game in 2015.
Ice Chips
– Alaska-Anchorage still has yet to win a conference game, but the Seawolves have taken their last two opponents — Bemidji State and Alabama Huntsville — to the brink with a pair of overtime games in the past two weeks. Last weekend against the Chargers, UAA scored a total of four goals — equaling the output they scored in their first six games combined.
– Alaska hasn't been able to find a consistent answer in goal. Jesse Jenks and Davis Jones have each played well at times this season, but the moment either looks poised to grab the starting role his next game is a dud. Jenks entered this past weekend on a hot streak after beating Lake Superior State on Oct. 29, but allowed six goals on 32 shots Saturday. Jones started the Sunday game and stopped 17 of 20 shots in a 3-1 loss, leaving the goaltending situation in Alaska as a toss-up.
– Of the three goals Bemidji State allowed last weekend in its sweep against Alaska, two were power play goals. Those were the first two the BSU penalty killers had allowed in league play all season. Currently the Beavers are killing penalties at a 42-for-46 clip overall (.913) — that's No. 6 nationally.
– Bowling Green finally picked up its first WCHA win in a 4-1 showing against Ferris State this past Friday. For a moment, BGSU looked like the team that was picked as WCHA favorite and limited Ferris to 15 shots. Those positive feelings disappeared in a 3-1 Bulldog victory on Saturday.
– Freshmen provided the spark Ferris State needed in a 3-1 win against Bowling Green. Freshman goalie Justin Kapelmaster picked up the win, while freshman Taylor Fernandez got the Bulldogs on the board first with a goal six minutes into the opening frame.
– Lake Superior State's split with Minnesota State — they won 5-1 before falling 2-1 — put them in the USCHO.com rankings at No. 20. It's the first time since Jan. 6, 2014, that the Lakers have been ranked. Their 36 goals through eight games remain No. 1 in the nation — tied with Harvard for the NCAA lead.
– With one more victory, Michigan Tech head coach Mel Pearson will win his 100th career game. He is 99-83-24 in his sixth season as Huskies head coach. A win against Upper Peninsula rivals Lake Superior State this week would give him the milestone; Tech is 40-21-5 all-time against LSSU and 25-9-1 in Houghton, Mich.
– Through 10 games, Northern Michigan has allowed only 11 goals while skating at even strength, with four of those tallies came during their four non-conference games against Wisconsin. But, Northern Michigan has struggled on special teams and given up 15 power-play goals, the second most in the WCHA, and three shorthanded goals, tied for the second-highest in the league
Players of the Week
This week's WCHA players of the week are Bemidji State senior forward Phillip Marinaccio (offensive), Alabama Huntsville sophomore defenseman Kurt Gosselin (defensive) and Ferris State freshman goaltender Justin Kapelmaster (rookie).