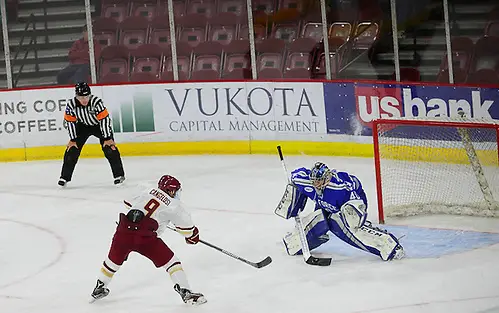 Eight games in 19 days.
That's simply not something that resembles a college hockey schedule.
But that's exactly what Boston College, after finishing Tuesday night's game against New Hampshire, had played. And the Eagles came through that stretch with a 7-0-1 record.
Add in a Sunday win five days prior to the stretch beginning and Boston College has run its unbeaten streak to a nation's-best nine games (8-0-1).
You also have to forgive the Eagles if on Tuesday night that didn't exactly have much left in the tank by game's end. In fact, the Eagles watched an early 3-0 lead disappear against UNH before J.D. Dudek scored the game-winning goal with 2:27 remaining.
"Not everybody had their legs," said BC associate coach Greg Brown. "Sometimes when you don't have your legs you're just trying to be smart.
"You hope your legs show up, but sometimes they don't. [Tuesday] we had a few guys like that.
"When you don't have your legs, you use your head."
The Eagles have certainly played smart hockey over this unbeaten stretch. Offense has not been a problem, averaging 4.89 goals per game over the nine-game unbeaten streak. Twice the Eagles have exploded for seven of more goals. And at the same time, Tuesday was just the third time in the stretch that the Eagles allowed more than two goals in a game.
Boston College having success shouldn't come as any surprise to people. But given the fact that the Eagles lost so much talent last offeseason with seven players leaving for the professional ranks, few believed this early success was possible.
But the Eagles are getting contributions from the right place. Jon Woll has been a stabilizing factor in net. Casey Fitzgerald and Michael Kim have each found on offensive touch on the blueline.
And offensively, the goals have come from plenty of sources. Leading that has been Austin Cangelosi, particularly in the last week. After potting a hat trick last Friday against Maine, he tacked on three assists on Tuesday.
"He's played well all season, but he's really sharp right now," said Brown of Cangelosi. "It's his willingness to work hard every day. He treats every practice like 'I have to get better.'"
After such a tough schedule stretch, BC will get a bit of a breather. They will play just three games in the next 16 days and this weekend will play a single game against Arizona State at home on Sunday.
Certainly, that will be a welcome breather. Though sometimes when you're hot like these Eagles, all you want to keep doing to playing games.
River Hawks finding success against tough opponents
Many teams have faced difficult schedules early in the season. At the end of the season, it's possible we'll recognize that some weren't as difficult and other, if October and November opponents go on runs in January and February, some schedules were more difficult than others.
That may be the case for UMass-Lowell. The River Hawks didn't realize when they faced Minnesota-Duluth that the Bulldogs were just a few weeks away from becoming the nation's top team. Clarkson and Omaha, the two losses on the River Hawks schedule, could go on to be consistent top-20 teams as the season crawls along.
And then there is last weekend's opponent, Vermont. Come season's end, maybe the Catamounts aren't the top 20 team they were coming into last weekend. But for the River Hawks, they faced a red-hot Vermont team and were successful in slowing that momentum down, sweeping the weekend in Lowell.
That's a fact that wasn't lost on coach Norm Bazin.
"We were concerned about [Vermont]," said Bazin. "They've been playing so well and they're hard to play against as a whole, so you have to be very happy with your performance when you can squeeze out four points against a team in Hockey East, particularly a team that is that hot."
Bazin said there were a number of tough stretches, particularly in Saturday's 4-2 victory. The game was played largely in the neutral zone for long periods, but each team is dangerous on counterattack, and Bazin realized either game could have been tilted the other way.
"That's what was most encouraging about [the weekend]," said Bazin. "They had to work through a lot of tough stretches. There's going to be some of these games and I'm glad they were able to work through it."
Quick hits
— Of the top 10 goaltenders in save percentage nationally, three hail from Hockey East and all of that trio are freshmen. Boston University's Jake Oettinger has the best in the league at .941 (sixth nationally). Connecticut's Adam Huska and Lowell's Tyler Wall and ranked ninth and 10th, respectively. Another freshman, Vermont's Stefanos Lekkas, ranks top 10 in goals against, joined in that category by Oettinger and Wall.
— BU's penalty kill until has been nothing short of amazing this season. The Terriers are 51-for-55 when down a man and at the same time have scored five shorthanded goals. Do the math, the Terriers are actually +1 in goals when killing penalties. In a year where penalties are higher than normal, it's certainly not the worst trait.
— Speaking of the Terriers, they will be the only Hockey East team locked in a battle of nationally-ranked opponents when they travel to Michigan to face the No. 18 Wolverines. Michigan is the only opponent BU has played 25 or more times without having a winning record. The Terriers are 11-14-0 all-time versus Michigan.
Remembering Bob Saunders
The college hockey world lost one of its friends over the weekend when Bob Saunders passed away. He was 84.
If you've been around Matthews Arena over the last two decades, you probably saw Bob. He made his way from the locker room to the rafters every single period, clipboard in hand. He loved the program for the school from which he graduated.
His official title was administrative assistant for internal affairs. But he easily could have had the title Northeastern ice hockey lover. Despite the fact that helped coach Rensselaer to the national title on the staff of Mike Addesa, he bled red and black.
Our thoughts are with Bob, his family and the entire Northeastern hockey family.