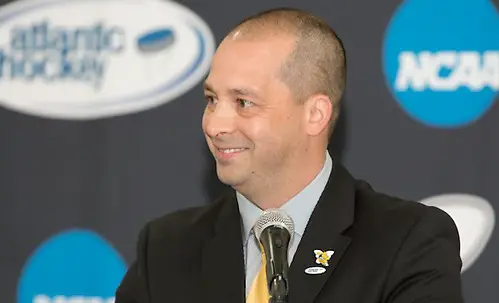 When I spoke with Eric Lang prior to this season, he talked about how the American International program found itself injected with a new attitude.
He talked about the players' buy-in with a new coach, how they wanted to improve and be pushed. At the surface, the Yellow Jackets looked the same, but the infrastructure underwent a renovation essentially from top to bottom.
One month into the season, AIC (3-3-2, 2-2-2 Atlantic Hockey) is proving all of that to be more than just words. Following Tuesday night's tie against Bentley, they sit tied for third in Atlantic Hockey with RIT, right in among league heavyweights like Robert Morris and ahead of the early results of Mercyhurst, Air Force, and Holy Cross.
"Our goal is to be competitive every night," Lang said. "So far this year, we've done that. We're consistently competitive. We're right there with every game we've played so far, and the more we do it, the more chance we have of being in games [later in the year]."
It's been a message sent from the first game of the year. Hosting Union at the MassMutual Center, AIC battled back from three different deficits, including one that was by two goals, despite eventually losing a 5-4 game. A week later, they tied a Hockey East opponent, again rallying from deficits to earn a 2-2 split with Connecticut.
Lang's first career win came with a come-from-behind, 5-3, victory over Mercyhurst. Last weekend, they took three points from Holy Cross. That's five out of a possible eight points against two of the league's preeminent teams.
Against the Crusaders, they opened up a 2-0 lead in the second period thanks to goals from Dominik Florian and Austin Orzulak. After Holy Cross rallied with two goals in the third, Janis Jaks and Johno May scored within two minutes of each other with less than four minutes left in the game to give the Yellow Jackets a 4-2 lead.
The next night, Holy Cross came back from down 2-1 in the second to take a 3-2 lead after two. In the third, they made it 4-2 in the first five minutes. Once again, though, AIC came back, earning a 4-4 tie after strikes from Orszulak and Martin Mellberg.
"We're proving ourselves to be a resilient bunch," Lang said. "We have a knack for going down to the buzzer."
That resiliency shows itself in AIC's situational scoring. Although they're -6 in the first period, they're +3 in the second and third combined. They're minus-2 in shot totals in the third period despite being minus-19 in the first, and in two overtime games, they've outshot their opponents in the extra session.
They've accomplished that with balanced scoring from their young roster. Of their eight players with five points on the year, only two are above their sophomore year and five are freshmen. Dominik Florian's eight points (four goals and four assists) leads the overall point totals, but others join him atop categorical leaders. Senior Austin Orszulak and freshman Martin Mellberg both have four goals, and junior Andrew Debrincat, sophomore Shawn McBride, and freshman Blake Christensen have five assists apiece.
"We've been very gritty," said Lang. "We play hard, and we've been accumulating a lot of video (on our play). Our guys play the game the right way, and players who play the game the right way get breaks to go their way. We still have to defend better, but these guys still have some really high buy-in, and we're committed to continuing to get better."
You're The Tops
One month into the season, let's take a look at how Atlantic Hockey is faring against some of the other names in the nation.
Holy Cross forward T.J. Moore nine goals is tied for second with UNH's Patrick Grasso and Western Michigan's Matheson Iacopelli. You may remember Moore from his back-to-back hat tricks in the season's first two games.
Moore is tied for fifth nationally with his teammate Mike Barrett, Robert Morris' Brady Ferguson, and two others. Barrett is second nationally with 10 assists, joined in the top 10 by another Colonial: defenseman Eric Israel, who has nine.
No player truly enjoys penalties and shorthanded situations, but RIT's Myles Powell might smirk at the thought. He's tied with nine other players who have two shorties on the year, but he's the only AHC player in the category.
Bentley might be the second-most penalized team in the nation, but they've made the most of their opportunities. As a team, they have five shorties from five different players. Connor Brassard, Tyler Deresky, Andrew McDonald, Alexey Solovyev, and Kyle Schmidt all lit the lamp.
On the defensive side, Army West Point is the current gold standard with the fourth best scoring defense in the nation at 1.62 goals per game. They're led by goalie Parker Gahagen, who's .947 save percentage is the best among regular starters. He stands atop a trio of Atlantic Hockey netminders ranked 1-2-3 in the category; RMU's Francis Marotte is in second at .946 and Canisius' Charles Williams is tied for third at .944.
Matinee Theater
Both Sacred Heart and AIC made major strides this year on the facilities front by moving from small municipal rinks into arenas hosted by American Hockey League franchises. The Pioneers moved into Webster Bank Arena, the home of the Bridgeport Sound Tigers. The Yellow Jackets, meanwhile, shuttled into the MassMutual Center, home of the Springfield Thunderbirds.
Sharing an arena means potential conflicts for weekend nights, so creative scheduling is needed to ensure everyone gets the right amount of time. AIC, for example, played Bentley on Tuesday and is playing them again on Thursday.
In a couple of weeks, they'll play Niagara on both Friday and Saturday, but the games are at 2:05 p.m. They'll play RIT at 2:05 in January, and the same time slot is reserved for games against Canisius on two nights. In fact, the Yellow Jackets won't play a full weekend slate of 7 p.m. games during the rest of the season.
"We monitor the calendar to make sure we're getting our guys the right rest and recovery," head coach Eric Lang said. "We know that for a Tuesday or Wednesday, we have to be ready to play. We have some awkward times with Friday and Saturday afternoons, so we have to be ready to maximize individual preparations."
USA! USA! USA!
There's a part of me that had to smirk a little bit this past weekend. In the final weekend before Election Day, Air Force played Army for the first of four games. Before nearly 5,000 combined fans over two nights, neither branch gained bragging rights with Air Force winning the first night (4-2) and Army West Point winning on Saturday (3-1).
They'll play again in late January in Colorado Springs. To me, there's absolutely nothing better than when service academies play each other. The two games came opposite Air Force's win over Army in football in West Point on Saturday.
There is no other "America's game" like when service academies play each other because the players all graduate for something greater than the sport they play in.
Players of the Week
Player of the Week: Robert Morris' Alex Tonge
Tonge scored two goals and two assists as Robert Morris handed previously undefeated Ohio State its first defeat, then its first winless weekend. In a 6-2 win on Friday, he scored the first goal, then added what was the eventual game-winner. In Saturday's 4-4 tie, he had two assists, including one that was a behind-the-back, no-look pass.
Defensive Player of the Week: AIC's Andrew DeBrincat
DeBrincat had four assists in a three-point weekend over the Holy Cross Crusaders. That included three on Saturday in the 4-4 tie where the Yellow Jackets rallied from down two goals.
Goalie of the Week: Canisius' Charles Williams
Williams tallied 84 saves over the weekend as the Golden Griffins took four points in a sweep over RIT. In the first game, he saved 41 shots in a 1-0 shutout that included 21 saves in the third period alone.
Rookie of the Week: Robert Morris' Luke Lynch
Lynch scored two goals and two assists in RMU's weekend sweep over Ohio State. On Saturday. He scored his first collegiate goal in the second period, then added his second with the game-tying goal with under five minutes remaining in the game.