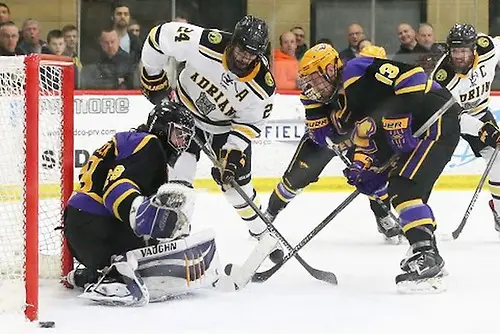 As the first half of the regular season nears the finish line, reigning national champion Wisconsin-Stevens Point finds itself in a pretty good position. The Pointers are 8-2-1 overall and 2-0 in the WIAC and are currently riding a two-game winning streak.
Wis.-Stevens Point is actually a little better off than it was a year ago when it went 7-3-1 in its first 11 games, a stretch where the Pointers lost four of their final six games during the first half of the season.
But they would lose just once more the rest of the way as they claimed the national championship for the fifth time in program history with a 5-1 win over St. Norbert.
They have two games remaining this month, both against fellow national title contender Adrian this weekend at KB Willett Arena, where the Pointers are unbeaten in five games.
The fourth-ranked Pointers have already lost once to the second-ranked Bulldogs this season, falling 6-3 in a showdown last month. Their only other loss has come at the hands of national power St. Norbert 5-3.
Two wins against the Bulldogs would give the Pointers a great deal of momentum heading into the second half and send a message that Wis.-Stevens Point is still the team to beat.
Wis.-Stevens Point scored 150 goals a year ago and allowed 68. Through 11 games this year, the Pointers have already tallied 49 goals and have given up 27.
The Pointers are balanced once again, with 16 players scoring at least one goal. Jacob Barber leads the way with eight goals while Lawrence Cornellier has come through with six goals.
One of the keys to success for Wis.Stevens Point is its willingness to share the puck. A total of 20 players have come up with at least one assist. Cornellier is the best on the team in that department, dishing out eight. Nine others have tallied at least five assists.
And then there is the defense. Max Milosek has done most of the work in goal, starting seven games and fashioning a 5-1-1 record. He owns a 2.13 goals-against average. Jesse Gordichuk is a solid backup, winning three games. He has a 2.71 goals-against average.
There is no doubt the Pointers have the pieces in place to contend for a national title again and if the second half goes as well as the first half has, Wis.-Stevens Point has a great shot at raising the trophy into the air when its season is all said and done.
Tommies thriving off balance
St. Thomas is unbeaten in its last seven games and that success is a credit to the balance the Tommies have on their team. In a two-game series with Hamline over the weekend, St. Thomas had different players score a total of nine goals.
The Tommies are 5-0-2 in their last seven and own an overall mark of 6-2-3. They have scored a 33 goals off 52 assists and a total of 13 players have scored at least one goal. Eleven of those players have tallied two or more goals, with Michael Dockry paving the way with five. He has dished out seven assists as well and leads the team in points.
Only three times this season have the Tommies scored one goal or less. They have scored at least three goals eight times and their ability to get contributions from different players makes St. Thomas one of the most dangerous offensive teams in the league.
Blue Devils back on track
Wisconsin-Stout came out of the first week of WIAC play with a 1-1 record, earning its win against Wisconsin-Superior last Friday. The Blue Devils skated to a 5-3 victory, surviving a wild third period where the two teams combined for seven goals.
The Blue Devils snapped a three-game losing streak and evened their record at 5-5.
Riley Colvard and Connor Valesano have played key roles for the Blue Devils this season, scoring five goals apiece to lead the offensive attack. Wis.-Stout has scored 31 goals in all.
Tommi Ahlgren was the winner in Friday's game against Superior and he now has three wins as the starting goalie this season. He owns a 3.08 goals-against average and has tallied 168 saves.
The Blue Devils have three games remaining in the first half of the year, and two are at home, where Wis,-Stout has fashioned a 3-1 record.
Tough time for Lions
Finlandia has struggled mightily during the first half of the hockey season, losing all 11 of its games. The Lions have lost seven of those games on the road and have been blanked three times this season.
Scoring goals has not been easy to do, with the Lions managing only 14. They have given up 61.
Thomas Clayton has been a bright spot for the Lions, scoring three times to lead the team in goals scored. Alex Rezansoff, Max Seiter, and Daniel Sarnecki have all tallied two goals and an assist for the Lions.
Alec Rounds has seen the majority of time in goal, playing nearly 400 minutes this year and making 203 saves.
Finlandia has two games remaining in 2016, both against Wisconsin-River Falls this weekend at home. The Lions could use at least a split to take a little momentum into the second half of the season.