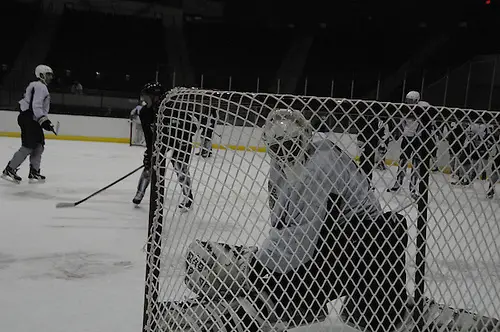 John McLean set himself up for success as a pro hockey player two years ago when he took advantage of an opportunity to play with the Pensacola Ice Flyers straight out of college.
The towering 6-foot-9 goaltender out of Gustavus Adolphus in Minnesota signed for three games late in the season and got a taste of what life at the next level was like. He finished the stint with a 2-0 record and a 3.54 goals-against average.
"One of the best things I did was come down here after college and play a few games," McLean said. "I was kind of a deer in the headlights at the time, but if I hadn't done it, I wouldn't have been prepared for last season. The experience showed me just how big of a jump it was and what I had to do to be ready for the next season."
It paid off last year as McLean went 19-10 with a 2.39 GAA and helped the Ice Flyers skate to their third Southern Professional Hockey League championship in the last four years.
Handling a challenge is something McLean is used to. In college, he played in the MIAC, a league considered to be one of the best in Division III. That experience helped him prepare for life as a pro as well. Twice during his career he won 15 games.
"It's a great conference and you have to be ready to play every night," McLean said. "We faced a lot of great competition and I feel like that experienced helped me at the pro level."
McLean hasn't had a chance to get on the ice much this year as he has battled injuries. He was placed on the 14-day injured reserve list in October but isn't going to allow injuries to slow him down in his quest to get back on the ice.
McLean has played in four games this season and owns a 2-1 record. He has allowed nine goals and has racked up 96 saves.
"Nothing is guaranteed in hockey; you have to take every day as a gift and take advantage of it," McLean said. "Injuries are part of the game. Everyone goes through them. You just have to control what you can, and for me, that's getting myself prepared to play again."
First-year coach Kevin Hasselberg has no doubt McLean can be a difference maker when he's on the ice.
"John is an inspirational player and has won over the hearts of the fans wherever he has gone," Hasselberg said. "We're excited to have him back in the fold."
McLean spent his off season working to become a better goalie. That included improving his vision on the ice.
"I did a lot of vision training over the summer with a guy in Minnesota who works with quarterbacks and pitchers on convergence and divergence. I feel good about how it went."
The Ice Flyers also feel good about their potential going forward. It's been a struggle early on, with Pensacola winning only five of its first 15 games.
"We are getting better each and every game," Hasselberg said. "The expectation level for this team is we are expected to be in the win column more often than the loss column. Our task right now is to get there."
Continuing to push forward is the way to accomplish that.
"We're focused on the next game," Hasselberg said. "We're using the challenges we are facing to make us better. Every team goes through challenges at some point in a season and ours are right now. We're OK with that. We're focused on details like communicating harder, playing harder around the puck, playing harder in front of our net. When the play gets dirty in front of the opposing team's net and cleaned up in front of ours, the results will change."
McLean is confident that will happen and he is looking forward to being part of the turnaround.
"We have a lot of faith and belief in each other," McLean said. "We are improving in every game and while the scoreboard may not say it, we're getting better and we'll continue to work toward getting better in every game."