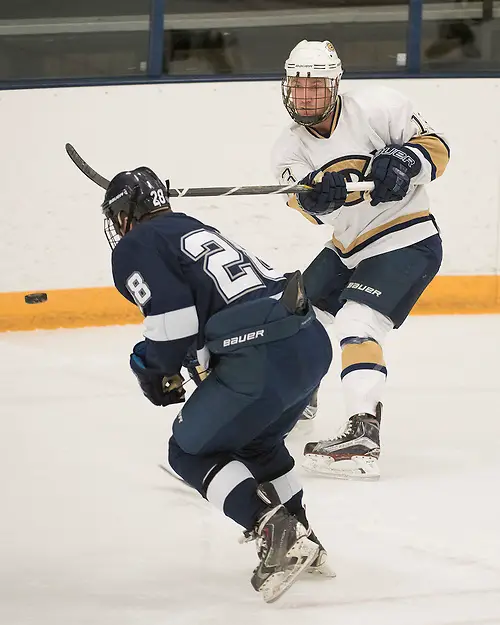 Mac Jansen is in the midst of a breakout season at Wisconsin-Eau Claire, and is actually the leading goal scorer in the WIAC. Talent has something to do with it. So does timing.
"It's just about being at the right place at the right time," Jansen said. "I'm having a lot of success and credit my teammates for putting me in a position to score."
Jansen scored a combined 10 goals in his first two seasons of college hockey, but already has 10 goals in the first 14 games of this season.
"It's easy to score goals when you shoot the puck," Jansen said. "I'm taking more shots this year. I learned a lot my first two seasons and worked really hard this past off season on scoring goals."
Jansen has played a pivotal role in helping the Blugolds once again emerge as a contender. Wis.-Eau Claire is 10-1-3 overall and 2-0 in the WIAC.
Much of that success is a result of the offensive success Wis.-Eau Claire has enjoyed. Jansen is part of an attack that has cranked out 59 goals, including 17 off the power play. Four of those power-play goals have come off the stick of Jansen, who leads the team in that category.
"My teammates have done a great job of setting up for those goals," Jansen said. "I've been fortunate enough to find the back of the net in those situations."
Wis.-Eau Claire certainly isn't a one-man show. Patrick Moore leads the team and conference in points, scoring eight goals and dishing out 15 assists, while Colton Wolter has racked up six goals and 10 assists. Garret Clement has come through with seven goals and seven assists. Seven other players have scored at least two goals.
"As a team, we've done a great job of scoring goals and I feel we are a pretty deep team," Jansen said. "We have really come together as a group and have a great bond in the locker room. We're all playing for each other."
Jansen played high school and junior hockey and quickly made an impact at Wis.-Eau Claire, scoring five goals in each of his first two seasons. He dished out 12 assists in those first two seasons as well.
To say he has adjusted nicely to college hockey would be an understatement.
"I think the big thing for me is staying in good shape and learning to win the small battles," Jansen said. "I've also learned to become a better defensive player because that leads to playing better on offense."
Wis.-Eau Claire is poised to contend for the WIAC title and compete for a spot in the NCAA tournament. Jansen plans to do what he can to help make those dreams reality.
"We feel good about the way things have gone so far," Jansen said. "Our league is tough and we play a tough out-of-conference schedule, but we feel like this can be our year if we play up to our potential."
Dockry stepping up for Tommies
St. Thomas heads into 2017 on top of the MIAC. The Tommies are 6-3-3 overall and 5-0-1 in the MIAC, putting themselves four points ahead of second place Saint Mary's.
That could change this weekend as St. Thomas plays a two-game series against the Cardinals.
The Tommies have lost only twice in the first two months of the season and are 4-0 at home. They have thrived off their balance offensively, with 11 players scoring two or more goals. Michael Dockry leads the way with five. He has also come through with a team-high seven assists.
Dockry's success isn't a surprise. He's been a steady contributor throughout his career and is on pace to make his senior season his best season. The five goals he has scored are second to the eight he scored last year. The senior forward's career-best for assists is 11, which he also tallied last season.
Dockry has tallied at least one point in all but four games and should continue to provide a boost to the offense as the Tommies take aim at winning the MIAC title and playing in the NCAA tourney.
Bulldogs eager to get back on track
Adrian is hungry to win again after dropping two of its last three games. The other ended in a tie. Both losses have been by a goal. In fact, all three of Adrian's losses this season have been decided by a goal.
However, the Bulldogs shouldn't stay down for long considering the talent they has at their disposal.
Adrian has scored 60 goals this year, including eight apiece from Trevor Boyd, Vincent Paquette, and Bryan Yim. The Bulldogs have scored four or more goals nine times and have managed to dish out 105 assists. Boyd happens to be the assists leader as well for Adrian, tallying 12 on the season.
Their defense has risen to the occasion as well behind the play of Kevin Entmaa, who is 5-1 with a 1.84 goals-against average.
Adrian heads into the 2017 portion of its schedule at 8-3-2 overall and 7-1 in the NCHA. The Bulldogs have a golden opportunity to get back on track with a pair of home games against Aurora. Adrian is 4-2-1 at home this season.
Pointers in familiar spot
Wisconsin-Stevens Point finds itself tied with Wis.-Eau Claire atop the WIAC standings, and the Pointers are hoping to be on top of the conference when the year is all said and done.
The defending national champions are unbeaten in their last four games, winning three times, and own a 9-2-2 record. They are 2-0 in the conference.
Defense has been instrumental to Wis.-Stevens Point's success. Six times this year the Pointers have held an opponent to two goals or less and two of their last three wins have come in shutout fashion, with Wis.-Stevens Point blanking Wisconsin-River Falls (3-0) and Wisconsin-Superior (4-0).
Wis.-Stevens Point has allowed only 34 goals this year, and part of that success is a credit to Max Milosek, who is 6-1-2 in nine starts. Milosek has tallied 174 saves and owns a goals-against average of 2.41.
Jesse Gordichuk has started four games in goal and is 3-1, providing depth at a crucial position. He has made 77 saves and has a 2.71 goals-against average.