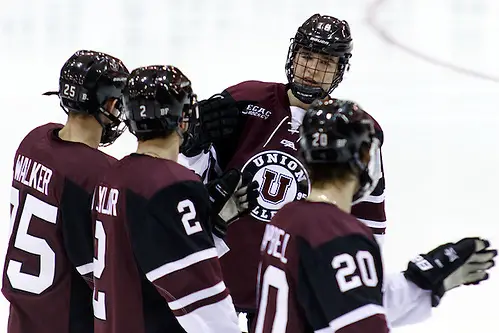 It was a homecoming for Union's Mike Vecchione last Thursday when the Dutchmen traveled to Boston to take on Boston University.
The 23-year-old, who hails from nearby Saugus, Mass., has been leading the Dutchmen in scoring 18 goals and 21 assists and his linemates Spencer Foo and Sebastian Vidmar have been the offensive catalysts this season, scoring 41 of the team's 82 goals on the year.
Last Thursday, Vecchione and the rest of the top line took a backseat the second line as Luc Brown, Cale Maier and Brett Supinski helped get the Dutchmen out of a two-goal deficit in the first period before falling 5-4 in overtime to a shorthanded Terrier squad.
Brown and Supinsk each had a goal and assist, while Maier had a goal.
The trio took coach Rick Bennett's advice at the media timeout midway through the first period while down 2-0.
"The fact we needed to settle down, we needed to keep our feet moving," Bennett said after the game. "First and foremost, we needed to start finishing checks and that's exactly what they did."
The second line line has 14 goals on the year, with Maier leading the way with eight to go along with six assists. Supinski has three goals and 14 assists, while Brown also has three goals and four helpers as a freshman.
While the top line did contribute on the power play with Vecchione having two two assists, Vidmar having a goal and an assist and Foo finished with one helper, the second line got the rest of the lines going.
"The second line really helped us out in this game," Bennett said. "They have in the past and really have played well. Not only we need the first line – they played much better [Thursday] night – you got to have a second line. I thought some of the guys who haven't played a ton played pretty well [Thursday] night."
For Boston University coach David Quinn, he knows a team that's on top of their conference more often than not has more than one go-to line.
"You don't have the record they have with one line," Quinn said. "They have good players up and down their lineup. I thought their first two goals were due to poor coverage, poor net-front coverage. We were standing next to them, but we don't pick a stick up."
Princeton trying to get back on track
It was quite the end to 2016 for Princeton as the Tigers ended the calendar on a 7-2 run and with five of those wins coming against ranked opponents.
Currently on a three-game losing streak that started with a 5-4 loss against Minnesota State on Dec. 17, Princeton started 2017 with a 5-0 loss to Dartmouth on Friday and a 5-2 loss to Harvard on Saturday.
With a three-day break between games, coach Ron Fogarty isn't using that as an excuse for the current losing streak.
"It's definitely not an adjustment period," Fogarty said. "You have to get ready for everyone on your schedule. Harvard is a very good team and Dartmouth grabbed early momentum there – Devin Buffalo had a great game for them. Now we have to concentrate on a game plan that will put us in position to have an opportunity to win a game against Cornell on Friday."
Buffalo made 32 saves for the shutout.
Cornell is another team that's on a hot streak, 9-2 in the past 11 games. The teams met on Nov. 19 where Cornell came away with a 4-2 victory. That was the Tigers' last loss before the 7-2 stretch to end 2016.
"All we see right now is Cornell," Fogarty said. "They are a very hot team right now and obviously, they are playing great. They have vetted out deficiencies plaguing them early in the season. So they are going to be very good. It will be a competitive game. Like I alluded to, we have to work on tendencies this week in practice and prepare for Cornell and give us an opportunity to win."
Princeton also plays Colgate on Saturday. The Tigers fell 4-3 to the Raiders back on Nov. 18
The Tigers sit seventh in the ECAC standings with a 3-8-1 record within the conference. They are just four points back from the No. 5 seed, which would give them home-ice advantage in the first round of the ECAC tournament.
Fogarty isn't worried about the standings as everything will sort itself out if they continue put wins on the board.
"Yeah, every point matters, but if you start to project or hoping for points, you are going to lose," Fogarty said. "So our message is to stay consistent since Day 1. Worry about your next shift, worry about what you are going to better the next time you get on the ice. If you do the things well, you will have an opportunity to win the game, but don't go into a game hoping to win – play to your potential each shift."
Cornell is two points ahead of Princeton for sixth place, while Clarkson is holding down that key fifth place slot with 11 points.
Who needs rest?
After playing in the World Junior semifinals Wednesday and the gold medal game Thursday that went 80 minutes, Adam Fox jumped right back into the lineup Friday for Harvard.
He made an immediate impact by recording two assists in a 5-2 win over Quinnipiac. In his fourth game as in as many days on Saturday night, he added a goal against Princeton.
He has recorded at least a point in 13 of the 14 games he has played this season.
Players of the Week
After a weekend sweep of Quinnipiac and Princeton, Harvard takes two of the three Player of the Week honors.
Merrick Madsen took Goaltender of the Week honors as he went 2-0 with a 2.01 GAA and a .942 save percentage. Nathan Krusko was named Rookie of the Week honors had two goals in the win over the Bobcats while scoring a goal in the 5-2 win over the Tigers.
Sam Vigneault had a big weekend for Clarkson with two goals and two helpers in the 6-1 victory over Rensselaer on Saturday.