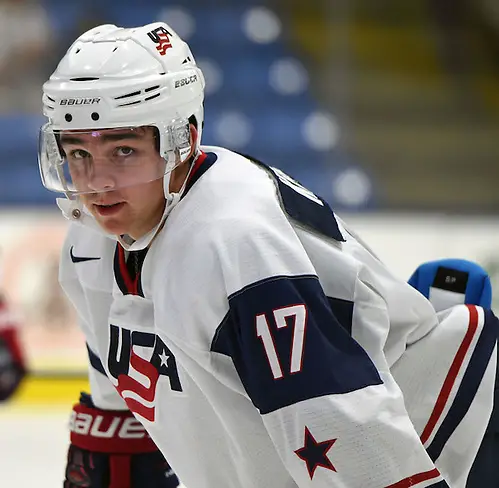 For American hockey fans, last Thursday night was a very special one.
A group of 23 players under the age of 20 – with 20 of them coming from U.S. college hockey – withstood a tournament filled with future NHL talents and brought home the gold medal from the World Junior Championship.
For Hockey East, there can be plenty of chest-thumping as well. Of those 20 college hockey players, 11 are current members of Hockey East rosters. It's been well published that six of the Americans came from Boston University (as well as one – Dante Fabbro – a member of the Canadian silver medalists). Charlie McAvoy and Jordan Greenway received plenty of praise for their performance.
But Patrick Harper, Clayton Keller, Kieffer Bellows and goaltender Jake Oettinger also donned the sweater, as did Connecticut's Tage Thompson and Providence's Erik Foley.
And then there is Boston College's Colin White. He was one of three Eagles – along with defenseman Casey Fitzgerald and goaltender Joe Woll – on the roster. White was electric throughout the entire tournament. He scored in every game except the quarterfinal contest against Switzerland. But he even made up for that, scoring twice in the semis against Russia.
"We knew that White really turned it on last year in the World Juniors," said Bob Motzko, coach of St. Cloud State who led this year's gold medal-winning World Junior team. "We were hoping he be able to do the same thing."
Motzko said that putting White on a line with Clayton Keller and Joey Anderson created a dominant – and clutch – offensive trio.
"They were our catalyst," said Motzko of the White line. "They got timely goals. That was definitely our offensive catalyst at the tournament."
Motzko couldn't help but emphasize the play of two other Hockey East players – BU's McAvoy and the 6-foot-5-inch Greenway.
"A guy like Charlie McAvoy, a guy we were going to count on the most, and he delivered," said Motzko. "In the gold medal game, the performance he put on taking on [a matchup with Thomas] Chabot from Canada, that's a heck of a matchup of two [future] NHL defenseman. Charlie was the one who won that with the goal when we're down 2-0. He scored the goal. We're down 4-2. He sets up the goal to [Kieffer Bellows]. He played 38 minutes that night.
"Jordan Greenway gave us a physical presence and an attitude. He gave us confidence up and down our lineup. It started in the Canada [round-robin] game. He stared down the whole bench as if to say, 'You've got to deal with me all night.' He delivers. He was always in the face of the defenseman on whatever team we played."
With Americans battling for gold, BU was surviving roster losses
With the Americans winning gold on Thursday, there was plenty of reason to celebrate around Boston University. But the Terriers players not participating in the World Juniors gave cause for even more excitement on Thursday as BU earned a 5-4 overtime win against another nationally-ranked opponent, Union.
Six of BU's top ten scorers heading into the Union game were playing for gold in Montreal simultaneously. That left Jakob Forsbacka-Karlsson and Bobo Carpenter as the two top scorers wearing a BU sweater that night.
Both delivered.
Forsbacka-Karlsson potted a hat trick and Carpenter added a goal and assist on the night. It certainly gave coach David Quinn plenty to smile about.
"I was so proud of our effort and out mental toughness," said Quinn. "I think these players were being asked, 'How are you going to win a game with all these players gone?' I think they felt a little slighted. It was a great win. A great win for us."
Quinn credits his upperclassmen for Thursday's win, particularly the leadership who helped steer the somewhat empty bus.
"A leadership has been tremendous," said Quinn. "Our team, in general, we feel really good about the way we're approaching the game. If we're going to be committed you have to be committed 24 hours a day. We kind of feel like we're getting towards that point. That starts with leadership."
It does seem that Quinn took what he knew would be a lineup highly impacted by World Juniors into consideration when making his schedule this season. He avoided any holiday tournaments and didn't play the first weekend after the holiday break. In fact, had the American team not had such success, there's a chance the bulk of the players could have returned for the Union game.
But the fact of the matter was the Terriers had to approach Thursday's contest – non-league in nature, but still important on the national landscape – quite shorthanded.
Thus, Quinn understands the importance of earning that win.
"With a team like [Union], who is so high in the [PairWise], that gives you some stability in the [PairWise]," said Quinn. "I'm not a PairWise expert in my short time at BU, but I think I can say this win will certainly help us."
Notes from around Hockey East
— Hats off to UMass Lowell junior C.J. Smith who, with an assist in a 2-1 victory over New Hampshire on Friday, earned his 100th career point. After the game, in praising Smith, Lowell coach Norm Bazin noted he was "happy it was behind him," referring to Smith chasing the milestone. It was an appropriate comment as the goal came on a shot from Smith that banked off the derriere of Jake Kamrass, who was standing net front.
— With the New England Patriots playing in the NFL playoffs this Saturday night, a number of game times involving Hockey East teams have changed. Most notable are the games being played at Fenway Park in Boston, each of which has been moved up 2 1/2 hours. Maine will now play Connecticut at 1:30 p.m. and New Hampshire will take on Northeastern at 5:00 p.m. Additionally, Providence will now host Vermont beginning at 5:05 p.m and Notre Dame at Merrimack is now a 6:05 start. UMass Lowell at UMass, a 7:05 p.m. start, will maintain its start time.
— If the season ended today, pairing Hockey East teams for the NCAA tournament would be a nightmare. The four current teams in the field according to the PairWise – Boston University, UMass Lowell, Boston College and Vermont – all would be either No. 2 or No. 3 seeds. Avoiding first-round matchups would require the committee to nearly abandon bracket integrity and, possibly, shift teams to the western regionals thus putting in peril attendance in Manchester and Providence. The good news is there is plenty of hockey to be played to change this.
— Hockey East and the ECAC announced the fields for the next two Friendship Four tournaments to be played in Belfast, Northern Ireland. The 2017 edition will feature Providence, Maine, Rensselaer and Clarkson. The 2018 tournament will feature Boston University, Connecticut, Yale and Union. Similar to the first two editions, semifinal games will be league game in Hockey East and the ECAC with the winner/losers playing the following night in the championship and consolation games. Both tournaments will again be played during the weekend of American Thanksgiving.
— Three winning streaks will be put to the test in Hockey East this weekend. Vermont and Boston University each enter the weekend with four straight wins. UMass Lowell has won six straight and is unbeaten in seven (6-0-1). Vermont will play twice at Providence. Boston University will renew its rivalry with Boston College on Friday at Agganis Arena before moving to Conte Forum on Monday evening. Lowell, as mentioned above, travels to Massachusetts for a single, nonconference game on Saturday.