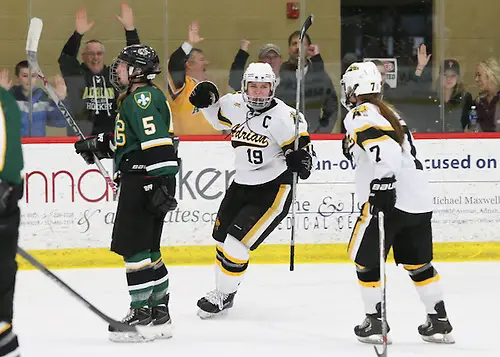 Every program feels the pressure to win. Every player is hoping to be a national champion.
Few programs have the urgency to win right now that Adrian does.
Two seasons ago, they went undefeated in regular season conference play. They set a record for the longest unbeaten streak. They held opponents to just 33 goals all season. And they lost in the semifinals of the NCHA tournament and did not receive a bid to the NCAAs.
Last season, they were determined to erase that disappointing end to a spectacular season. They won the conference regular-season and tournament titles and earned the program's second-ever NCAA berth before being knocked out in the first round by Elmira.
This season, the Bulldogs have 10 seniors that coach Chad Davis credited with being the foundation of what the program has been able to achieve. These players have had an impact on every aspect of Adrian women's hockey. They are the leaders, both on and off the ice. They've helped to build and create an elite program. And they have a desire to win — an urgency to make sure their four years at Adrian are capped with a national championship run.
They've created a locker room culture that leads by example and impacts even possible recruits, who see their commitment, their passion and their drive. Davis said their attitude is contagious, and it draws like-minded people to them.
That same urgency that's driving the Bulldogs this season is something Davis and his staff have to help keep harnessed so that it doesn't overwhelm them. They all have to find a balance where the expectations are managed and the players aren't looking too far ahead of themselves.
No matter what happens to this season's squad, everyone wants to make sure next year's squad doesn't suffer any ill effects, whether it be disappointment, let down, or excitement. Davis said they want to make sure they slow it down. The season can fly by, and he wants to make sure everyone has a chance to savor, appreciate, and enjoy it.
"We constantly try to be in the moment and let it happen," Davis said. "At the end of the day, you have to enjoy the process. At this point, there's a lot of hockey ahead of you, but you don't want to take things for granted either, which can be challenging at times. Coaches are always forecasting and looking down the road, but as players they have to be present that day. It is a challenge (to not get overwhelmed), but you can use it as an advantage. (The seniors) are not looking beyond this season and that helps push the other players in the room. What (the seniors) have been able to do is leave the expectation of where we're at and what we want to achieve and the goals that we set."
Davis isn't worried about the culture or commitment of future Adrian rosters. He's positive that the underclassmen are constantly learning from their seniors and that those lessons will reverberate long after the players are gone. However, he does have to strike a balance between using the most experienced and talented players on his roster and making sure the underclassmen are getting the necessary ice time to learn and grow and be the new leaders next season.
"Our goal was to be a strong player in this and ultimately build a program to give ourselves an opportunity to compete for a national championship. Along the way came adversity and disappointment. … It's been rewarding to see that we're able to compete with teams and be confident and have an opportunity to win," said Davis.
Adrian is led by seniors Kristin Lewicki, Kaylyn Schroka and Sarah Shureb, who lead the Bulldogs in scoring and are three of the top seven scorers in the country. They're three players Davis said are incredibly different, but seem to mesh well together, and they're all players that have improved considerably in their time at Adrian. From focus to work ethic, these three are the epitome of the type of player that Davis wants to see at Adrian.
Lewicki, he said, is very dynamic, with tons of speed and finesse. He called her one of the quickest players in Division III.
Schroka is the hard-worker. Davis called her determined and noted her drive to the net.
Shureb is the playmaker. She has vision across the ice, has a nose for the net, and uses her "good hands" to feed her linemates. Different mindsets on the ice and complete different skill sets.
What makes them so dynamic is how well they use their different mindsets and skill sets together to create something incredibly special on the ice. None of the three were considered elite in their younger years. They played on the third line. They've all doubled or tripled their scoring output, and they make the players around them better.
The Bulldogs brand of hockey isn't fancy, Davis said. He called his team hard-working and blue-collar. Part of that is philosophy, but part of it is a product of their circumstances. Adrian is the only women's hockey squad — of either Division I or Division III — to play in the lower part of Michigan.
The average travel time to their conference opponents is more than seven hours. The closest is Lake Forest, a northern suburb of Chicago. The farthest is St. Scholastica, in Duluth, Minnesota. Finlandia, the only other women's hockey program in Michigan, is at least a 10-hour bus ride.
And those are just conference games. Adrian has twice traveled to Vermont this season to play in tournaments — and face the top-ranked teams in the country. Each time, the bus ride was in excess of 14 hours each direction.
Neither Davis nor the players focus on this part of their season; it's their normal. It's something he says the players know when they sign on to play at Adrian, but it's impossible to overlook the impact that has on the student-athletes. From the physical demands of the long bus rides to the impact the extra time on the road has on their class schedule and schoolwork, it's clear that choosing to be an Adrian Bulldog takes a specific type of person. Davis said his players are mentally tough and don't use their travel situation as an excuse — and that plays into the identity of their team.
"The girls are willing to do whatever it takes to reach the top and they know it's part of the deal," he said. "It makes them mentally tough at the end of the day. They're able to handle any situation. You have to be completely committed at 110 percent in when it comes to our program and very passionate about what you do. Those are the types of players we attract."
So the Bulldogs are poised for the final push of the season. They appear to have all the necessary pieces to put together a postseason run and reward this senior class that Davis credits with so much of the building of their program. Ultimately however, all Adrian can do is play its game to the best of its ability and hope it's enough when the final puck drops.
"We're a program that's 10 years old; we're newer, but we're starting to hopefully hit our stride," said Davis. "The program has grown and the expectations have, too. They're a blue-collar, hard-working team that's trying to get to the top. A lot of people are contributing in different ways. We have a lot of pieces and they also have a huge challenge ahead of them to get where they want to go."