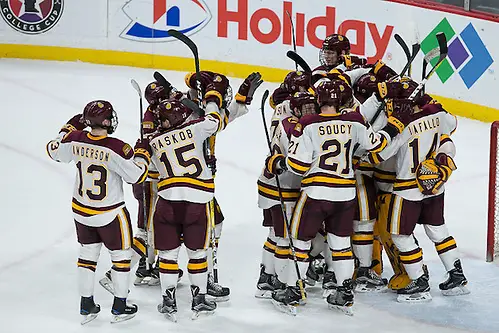 It says something about Minnesota Duluth's quality of play this season that three ties and three wins in the month of February has proven to be a mild disappointment for the Bulldogs.
Entering the second half, the Bulldogs were in first in the NCHC. A few ties, and a loss to Colorado College, have them trailing Denver for first place in the league, with a slim chance of overtaking the Pioneers for the Penrose Cup, awarded to the regular season champion.
Still, Duluth is in possession of a home-ice spot for the first round of the NCHC playoffs, and that's something to celebrate, according to coach Scott Sandelin.
"I think the goals at the start of the year are the same: you want to try to win your league, you want to win your league playoff championship, and you want to be one of those 16 teams at the end of the year," said Sandelin. "I think you also want home ice; that's an accomplishment in our league. To be in a position to win our league like we've been, certainly that's fun too. Only one team can win it, and right now Denver is playing very well. They are the best team in our league and I think in the country right now. Winning the league is still attainable, but it's very slim. Obviously we have to play better hockey. I think that's the key, and will build some momentum and confidence going into the playoffs. Hopefully, we get to the Target Center and have a chance to win that, and hopefully we'll be one of the 16 teams playing in March."
Last weekend, Duluth won its first game against Miami 4-3, despite giving up leads of 2-0 and 3-2. Saturday, the Bulldogs rallied from 2-1 down entering the third period to take a 3-2 lead, only to give up a late Miami goal at 16:35 and then lose the extra conference point in the three-on-three overtime. Sandelin admitted his team has struggled with playing three consistent periods of late. In their last three games, Duluth has been outscored in the second period 5-1.
"Our second periods weren't where they needed to be, but our starts were good," said Sandelin. "Overall, both games were typical of our league. They were hard-fought tight-checking, there wasn't a lot of space. Bright spots for us, our power play scored each game, penalty kill did a good job. It's such a fine line right now in every game. It's a three-period hockey game. We have to start playing three periods. It's nothing we haven't been used to. We've been behind in games, we've been in tight in games, we've had one-goal games, and I don't expect that to change."
One thing Sandelin has noticed is his team's inability to really build its lead beyond a couple of goals. Aside from a 5-0 win over Omaha Feb. 4, Duluth's last three series have been marked by one-goal games.
"We've had so many close games all year. We've had a lot of one-goal games, we've had seven ties. Our whole year has been tight games give or take a few games here or there. That's kind of what we've come to expect. I wasn't necessarily pleased that they scored three goals off long shots in traffic. We didn't do a very good job of blocking shots and we are a pretty good shot-blocking team. These are all things that are correctible. I think for our team we need to play a little tighter defensively and eliminate some of the things in the second period where we lose momentum. The game is a game of momentum, but we just haven't been able to find that third goal when up 2-0."
This weekend, the Bulldogs are on the road at Western Michigan. While the Penrose Cup is still a possibility, training Denver by four points means Duluth needs a lot of things to go its way. From Sandelin's perspective, the preparation for the playoffs is more important.
"Andy (Murray) and their staff have done a really good job of recruiting and changing their team identity," said Sandelin. I think they've always been a hard team to play against. They play a heavier game. I think it's the best team they've had since they came into the league. They have a really good combination of speed, skill, and size. They are playing with a ton of confidence, and Lawson is a tough place to win hockey games. I think it's a great test before the playoffs. I think it will be playoff-type hockey. We've got to be ready. This is not an easy road trip for any team and the way they are playing right now makes it even harder. I want to play good, and I think they are going to force us to play good because they are a good hockey team."
North Dakota in unfamiliar position (sort of)
In college hockey, memories are often short.
Case in point: North Dakota. Last season, the Fighting Hawks won their eighth national championship. Over the last two decades or so, they have been a perennial NCAA tournament team, often being one of the strongest teams down the stretch.
This year has not played out like that.
North Dakota has struggled somewhat in February, and is currently facing the possibility of not even having a chance to defend its national title.
Yet, when asked, coach Brad Berry points out that even in 2014, North Dakota was in a position in the NCHC Frozen Faceoff where things had to break their way to even make the NCAA tournament, and once things did go their way, North Dakota advanced to the Frozen Four before falling to Minnesota.
"Three years ago we had to go all the way to the Frozen Faceoff tournament and we had to play the third-place game and win there against Western Michigan, and even after we won that game we still weren't in; Wisconsin had to beat Ohio State. We have been down this road. We don't like being in this situation, but we are and we have to make sure we control what we can control going forward."
Despite that, North Dakota has undeniably struggled, going 4-8 over the last 12 games. In 2014, the Fighting Hawks went 12-4 down the stretch, so even though their NCAA tournament hopes came down to the wire, the team was trending in the right direction.
According to Berry, North Dakota has been playing the right way, but not getting the results.
"We've outchanced, outshot every team we've played except for the Saturday night game against Omaha," Berry said. "We've been playing very good hockey over the last month. We were in Colorado, won Friday night, and I think had 40-some shots and ran into a goaltender who shut us out. Following that, we've had a couple wins, and in the losses we've played the right way. We came into Saturday night and to be honest we didn't play our best game. They played a good road game and we didn't play our best. Other than that, we've played rather well over the course of the last month without getting the results, the wins in the wins column."
North Dakota does have some bright spots. In particular, Shane Gersich has continued to improve, leading the team in scoring. Last season, he played on the fourth line.
"Shane Gersich came into our program two years ago as a first-year freshman and had a pretty good impact in the national championship game scoring a goal on the fourth line," said Berry. "He came in this year and wanted more. He got stronger, he's very fast, his skating ability is one of his best assets as far as skating, and he's on that top line with Tyson Jost and Brock Boeser, and he's been the guy that consistently does things over and over again. He's been consistent in his work habits, and he's been consistently showing up on the score sheet. It's no coincidence the success he's had."
North Dakota's penalty kill is strong, ranking 18th in the country at 84.6 percent. Team defense is 20th, giving up 2.58 goals per game. Offense, however, particularly on the power play, has been an issue, clicking at 18.57 percent.
"Our penalty kill, we have to maintain the level we are at," said Berry. "The power play, we have to simplify what we are doing as far as not over-handling pucks, not trying to get too complicated. It's a shot-retrieve mentality when you are playing fast, making a couple of passes, getting to the net, making the other team defend, retrieve if you don't score, and putting the other team on its heels. I think our pace has to get better and our shot-retrieve mentality has to get more simple."
This weekend, North Dakota closes its regular season on the road against Miami. For those who like poetry, this series offers it.
North Dakota started its second half going 3-0, and played Miami Jan. 13-14 coming off a series in which it rang up 16 goals against Omaha. Carrying a 3-1 lead into the third period against the RedHawks in the first game, North Dakota uncharacteristically collapsed, giving up five goals in an eventual 6-3 loss that started the current 4-8 run. Despite the mounting losses, North Dakota can still take home ice for the first round if things break right. The Hawks are tied with Omaha with 29 points, and have a one-point lead on St. Cloud State.
"That's the strength of our team, closing out games," Berry said. "That game (Jan. 13), we were up and the first shift of the third period our system, our structure through the neutral zone got a little loose and Miami made a quick pass and came through it. That was something that normally doesn't happen that structurally we weren't very good in the third period. Again, I don't think that led to losing a bunch of games. We made adjustments and are pretty tough mentally at North Dakota here. We weren't strong enough in a couple areas and it cost us, so I think we've been playing the right way the last month here.
"You go through all the analytics, shot opportunities, shots on net, possession, all the things that go into the game, we're on the top end of all of them except the scoreboard. We have to work hard to get over that hump."
NCHC Players of the Week
Offensive Player of the Week – Dylan Gambrell, Denver: Gambrell led the league with five points over the weekend in Denver's impressive sweep of St. Cloud State. He had two goals in Friday's 4-3 overtime win, tying the game 2-2 in the first period and then giving Denver a 3-2 lead early in the second while finishing plus-2 and being named the game's first star. Saturday, he had three assists, setting up Denver's first, fourth, and sixth goals in a 7-2 win while posting a plus-3 and being named the game's second star. He is third in the NCHC on the year with 34 points.
Defensive Player of the Week – Neal Pionk, Minnesota Duluth: Pionk's offensive and defensive efforts helped the Bulldogs net a win and tie against Miami. He helped the power play score three times and anchored a penalty kill that only gave up one goal in nine chances. Thursday, he scored a goal to put Duluth up 3-2 in the third and assisted on the game-winning power-play goal with 1:21 left. Friday, he assisted on Duluth's second and third goals. He ranks third among NCHC defensemen with 28 points and has a plus-17 rating in 32 games.
Rookie of the Week – Jared Brandt, Miami: Brandt notched three points on the weekend and played on Miami's top defensive pairing. He scored on Thursday in a 4-3 loss while posting a plus-1 rating and Friday, had a goal and assist in a 3-3 tie, scoring Miami's first goal of the game and assisting on the game-tying goal late in the third. He posted a plus-2 on the weekend.
Goaltender of the Week – Evan Weninger, Omaha: Weninger stopped 22 shots in helping Omaha to a 3-0 shutout win over North Dakota Saturday night, his fourth career shutout. He stopped 15 shots alone in the third period as North Dakota furiously tried to rally from a 1-0 deficit entering the third, and was named the game's first star. He has a .907 save percentage in 21 games this year.