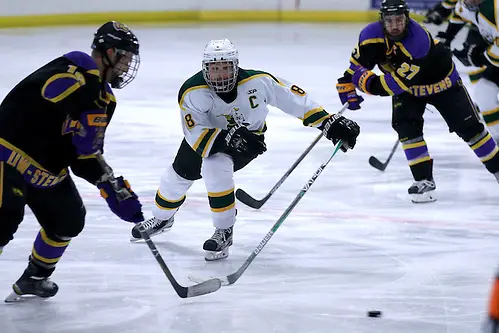 Noah Nelson has never been one to shy away from the pressure of a big game. He and his St. Norbert teammates will play one of their biggest games Saturday night, squaring off with Adrian in the NCHA title game.
"Personally, I love it," Nelson said. "Our team is driven by the opportunity to play in big games. We play our best in those high-pressure type of games. We know there are high expectations here and we strive to live up to them."
The Green Knights have a history of playing in big games. They are in the championship game of the Harris Cup for the 15th time in the last 16 years and have won five of the last seven titles.
They are up against a Bulldogs team aiming to win its third consecutive title. St. Norbert won the regular-season series against Adrian, knocking off the Bulldogs 3-1 and 4-2.
"Adrian is a really good hockey team; they are all the way around," Nelson said. "It's a great rivalry, and I think the emotion both teams play with has really added to it. It's important for us to go into the game and control our emotions."
Nelson has played an instrumental role in St. Norbert's success, scoring eight goals and dishing out 17 assists. The senior captain said playing with familiar linemates in Steve Phillips and Riley Christensen has played a big role in his personal success. The three have combined to score 25 of the 100 goals the Green Knights have scored this season.
"We've been rolling right along," Nelson said. "Playing with those two has made my job easier to get opportunities to contribute."
Nelson is looking forward to making even more contributions this weekend when the Green Knights and Bulldogs battle for an automatic berth to the NCAA tournament.
Adrian won't be an easy team to beat. The Bulldogs have scored 118 goals. Trevor Boyd leads the way with 16. Kevin Entmaa anchors the defense in goal. He has won 14 games and owns a 1.81 goals-against average.
The Green Knights counter with T.J. Black, who has won 15 games and has a 1.09 goals-against average.
Having the chance to play in a game with so much riding on it is the reason Nelson chose to play at St. Norbert.
"This program has had a lot of success," Nelson said. "It's exciting to have a chance to play for the championship again. Winning a conference championship was one of our goals when the season began. We're ready to go."
For now, the focus is on Adrian, but St. Norbert also has its sights set on a national title, especially after coming up short a year ago against Wisconsin-Stevens Point.
"It left a bitter taste in our mouth, but we also know we have to put that behind us and look ahead and take care of what is front of us," Nelson said. "We just need to take it day by day and keep getting better. We want to be the best team we can be. If we do that, we are going to be in a good position to win a championship, but for now, the focus is on Adrian."
Auggies seek repeat
Augsburg (16-4-6) didn't win the regular-season title in the MIAC, but the Auggies are poised to repeat as MIAC tournament champions when they square off against St. Thomas on the road Saturday.
The Tommies (14-7-5) were the regular-season champions of the MIAC and are seeking their first conference tourney crown since 2014.
Both teams are nationally ranked — the Auggies are 10th and the Tommies are 14th — and that adds even more interest to the game.
Over the last 10 games, Augsburg has lost only once. It is 8-2-2 on the road and features the most potent offense in the MIAC, scoring 103 goals. The Auggies have allowed 69.
St. Thomas is solid offensively as well, punching in 84 goals, and its defense is the best in the conference, having allowed only 63 this season.
The two regular-season meetings were high scoring. Augsburg earned a 5-3 in its first meeting with St. Thomas before playing to a 6-6 tie the second time around.
Defense typically decides the outcome of a playoff hockey game and this showdown will likely be no different.
St. Thomas and Augsburg both have sensational goalies. Benjamin Myers has won 11 games and owns a 2.29 goals-against average for the Tommies, while Nick Schmit of Augsburg has won nine times and has a 2.01 goals-against average.
The winner is assured of a spot in the NCAA tournament, but the losing team Saturday could still earn a spot in the tourney.
Pointers aiming for the another title
Wisconsin-Stevens Point won the WIAC tournament crown a year ago and went on to win the national championship as well. The Pointers are hoping to do the same this season.
Standing in their way is Wisconsin-Eau Claire, a team the Pointers defeated twice during the regular season.
Both teams are stellar offensively, each scoring more than 100 goals on the year. The Pointers have tallied 120 and the Blugolds have struck for 101.
Lawrence Cornellier leads the Wis.-Stevens Point attack with 23 goals.
Jacob Barber is tied for second in the WIAC in goals with 17. Patrick Moore of Wis.-Eau Claire has scored 17 goals as well.
During the regular season, the Pointers won both meetings, earning a 3-2 win the first time around and a 4-1 victory the second time around. This game is more than likely to be tight, and it will be a surprise if it's decided by more than a goal.