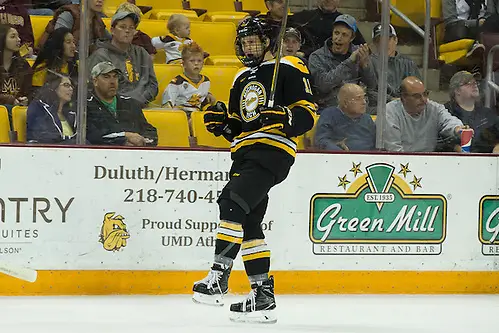 This year, more than ever, order of finish actually, truly mattered in the WCHA.
Of course, winning the MacNaughton Cup was always important in seasons past. And teams always wanted to finish in the top four of the standings in order to earn home ice for the first round of the playoffs.
But beyond that, actual order of finish was somewhat meaningless past the first round. Once teams got to the Final Five, the only thing that seedings really mattered for was which team would be wearing lighter-colored jerseys and which would be wearing dark jerseys at the neutral-site location.
That's no longer the case.
Thanks to the WCHA's new playoff format, seeding really matters. The team with the higher seed will host each quarterfinal and semifinal series. The highest-seeded team at the end of those two playoff rounds gets the privilege of hosting the single-game WCHA championship game.
Which means that Michigan Tech head coach Mel Pearson was very glad to get the No. 2 seed for the playoffs instead of No. 3.
Tech split with rivals Northern Michigan last weekend, but was able to clinch second in the conference thanks to their win on Friday night and Minnesota State's loss to Bemidji State.
"It's important," Pearson said on his radio show before last weekend's game. "You want the home-ice advantage. You always want to try and finish as high as you can, regardless of who you're going to play in the first round, you want to move onto the second round and get home ice there, too."
Should all the top seeds advance this weekend, the Huskies will be hosting No. 3 seeded Minnesota State in Houghton.
League champions Bemidji State, meanwhile, would host No. 4 seeded Bowling Green in Bemidji.
But this is the WCHA we're talking about here.
It's always a tightly-contested league, and if we've learned anything from the past four years of the newly-realigned conference, it's that you probably shouldn't expect all the top seeds to advance.
That, though, is what makes this new playoff format so exciting: No. 5-seeded Ferris State could, in theory, host a championship game. And depending on how everything plays out, that's not necessarily a far-fetched proposition.
Here's a rundown of all four quarterfinal playoff series:
No. 1 Bemidji State vs. No. 8 Northern Michigan
Bemidji State, as you well know by now, went on an early 13-game conference unbeaten streak to start the season, which is one of the reasons why they were able to clinch the MacNaughton Cup before Valentine's Day. The Beavers beat Northern Michigan four times in that 13-game span, with all four games coming in October and November. That included a pair of 2-0 shutouts by Michael Bitzer and the Beavers in Marquette, plus 2-1 and 5-2 wins in Bemidji. BSU is probably lucky that they didn't have to see NMU in the second half of the season. The Wildcats got themselves back in the playoff picture thanks to a nine-game unbeaten streak in January and February; they won 10 of the 14 games they played in 2017 to pull themselves out of the cellar.
About the Beavers
Record: 20-13-3 (20-6-2 WCHA)
Top scorers: Phil Marinaccio (9-16-25), Gerry Fitzgerald (12-9-21), Kyle Bauman (12-8-20), Brendan Harms (7-11-18)
Top defensemen: Zach Whitecloud (2-13-15), Dan Billett (1-9-10)
Top goalie: Michael Bitzer (20-11-3, .932, 1.68)
X-factor: Everybody knows the Beavers have one of the stingiest defenses in the nation — BSU gives up just 1.89 goals per game. That number gets down even lower in conference games — 1.57. Bitzer's 1.40 GAA in WCHA games is a new league record. So what else is new? The biggest question for BSU will, naturally, be how many goals the Beavers can score on Atte Tolvanen and the Wildcats. We're likely going to be seeing some low-scoring games, so it's going to depend on capitalizing on special teams opportunities. Fitzgerald has, coincidentally, scored a power play goal in each of BSU's past four games.
That's a fact: The Beavers are looking for just their second victory in a three-game quarterfinal series since joining the WCHA in 2010-11. That year, BSU went on the road and upset Omaha in a two-game sweep. Since then, the Beavers have won just one game in the first round, and that came last season, when they pushed Bowling Green to a third game before falling in Game 3.
About the Wildcats
Record: 12-20-4 (10-15-3 WCHA)
Top scorers: Robbie Payne (13-15-28), Dominik Shine (18-17-25), Darren Craighead (7-18-25), Gerard Hanson (6-16-22)
Top defensemen: Brock Maschmeyer (4-16-20), Philip Beaulieu (3-16-19)
Top goalies: Atte Tolvanen (11-20-4, .917, 2.66)
X-factor: Tolvanen five-game shutout streak made the big news, but the Wildcats have also been scoring in bunches lately, netting 14 goals in the last four games — including five power play goals. Of course, they've gone 1-3 in those four games, so they're going to need Tolvanen to be on his 'A' game to get by the Beavers.
That's a fact: The Wildcats haven't won a playoff game since joining the WCHA in 2013-14. Their last playoff win was in 2012, when they took Bowling Green to three games in the CCHA first round. Their last playoff series win was 2009-10, when they beat Alaska in the CCHA quarterfinals. They lost to Michigan in the CCHA finals that year and ended up making the NCAA tournament.
No. 2 Michigan Tech vs. No. 7 Lake Superior State
Tech was nipping at Bemidji State's heels all season and nearly caught the Beavers for the MacNaughton Cup. However, the Beavers swept the Huskies in Bemidji and effectively eliminated them from the title race. That turned out to be the only time since the first two series of the season that Tech was swept. They've played very well in the season's second half, although they'e won just two of their past six games. Lake Superior, meanwhile, hasn't won a game since a Jan. 20-21 sweep of Alabama Huntsville. They stumbled into the playoffs thanks in part to earning a couple extra points in 3-on-3 overtime and shootouts. This series, at least, could be unpredictable: The teams met in November and Tech swept in Houghton, winning 6-1 and 4-2.
About the Huskies
Record: 18-13-7 (15-7-6 WCHA)
Top scorers: Jake Lucchini (10-9-19), Joel L'Esperance (8-11-19), Reid Sturos (8-11-19), Gavin Gould (6-10-16)
Top defensemen: Matt Roy (5-15-20), Shane Hanna (6-13-19)
Top goalie: Angus Redmond (17-8-5, .916, 1.87)
X-factor: Tech's defense has been the story this season, contrasting with their high-scoring offense from the past few seasons, when they had Alex Petan and Tanner Kero up front. Redmond has been brilliant since taking over in the net in late October, but their deep and experiences defensive core has had a lot to do with that, too — Roy, a Los Angeles Kings draft pick, is a solid defender and also leads the Huskies in scoring.
That's a fact: The Huskies are hosting a playoff series for the third season in a row. In 2014-15 they hosted Alabama Huntsville and in 2015-16 they took on Alaska.
About the Lakers
Record: 11-16-7 (8-13-7 WCHA)
Top scorers: JT Henke (10-20-30), Mitch Hults (10-20-30), Diego Cuglietta (12-12-24), Anthony Nellis (9-13-22)
Top defensemen: Collin Saccoman (2-13-15), Kris Bindulis (1-9-10)
Top goalies: Gordon Defiel (11-14-7, .913, 2.70)
X-factor: The Lakers have only won three games in 2017, and weren't able to earn enough conference points to pull themselves out of the No. 7 seed. If they want to beat Tech, they'll have to recapture some of that scoring magic they found early in the season, when they were putting in 4.5 goals a game. Five players — Henke, Hults, Cuglietta, Max Humitz and Gage Torrel — have all scored double-digit goals this season. That will need to continue.
That's a fact: After facing Minnesota State in the playoffs two consecutive seasons, the Lakers get a new opponent this year in Tech. LSSU has just one playoff win in their WCHA era — they took MSU to three games last season. Their last playoff series victory was 2012, when they beat Alaska in the first round of the CCHA playoffs before losing to Western Michigan in the quarterfinals.
No. 3 Minnesota State vs. No. 6 Alaska
In what was a two-tiered WCHA, Minnesota State was one of the two teams that could have given Bemidji State a run for the regular season title. The Mavericks have the firepower and depth of a championship team, but haven't had the consistency and dropped too many games against teams below in the standings. Alaska had to claw its way up the standings and could make this an unpredictable weekend. The teams met four times this season, with the Mavericks winning the season series 2-1-1.
About the Mavericks
Record: 19-11-4 (15-9-4 WCHA)
Top scorers: Marc Michaelis (14-22 — 36), C.J. Franklin (12-18 — 30), Brad McLure (14-14 –28)
Top defensemen: Daniel Brickley (8-20 — 28), Ian Schneid (7-16 — 23)
Top goalie: Cole Huggins (8-6-1, .902, 2.29)
X-factor: The Mavericks goalies have been through a bit of a revolving door this season and Huggins, Jason Pawloski, and Aaron Nelson have all looked like the starter at different times. Combine that with a young core, and the goaltending will be closely watched in the playoffs. Can a goalie make the timely saves, and provide the needed stability as the Mavericks try and advance in the playoffs?
That's a fact: Mavericks freshman Marc Michaelis was in the mix for the WCHA scoring title this season with 36 points, including a league-high 22 assists. Michaelis was a power-play magician in the regular season with 16 points on the power play.
About the Nanooks
Record: 12-18-4 (11-13-4 WCHA)
Top scorers: Chad Staley (8-13 — 21), Marcus Basara (9-10 — 19), Zach Frye (5-14 — 19), Troy Van Tetering (8-6 — 14)
Top defensemen: Zach Frye (5-14 — 19), Just Woods (3-9 — 12)
Top goalie: Davis Jones (6-9-3, .912, 2.69)
X-factor: The Nanooks have been playing with a playoff mentality for the last month and got the job done by winning three of their final four games and haven't lost since Feb. 11. Alaska also grabbed some momentum in a sweep against Anchorage, an emotionally-charged rivalry, and look much better defensively as they've moved through the season.
That's a fact: It's a tough time for Alaska hockey right now. Both the Alaska college programs were rumored to be on the chopping block early in the season, while the pro hockey franchise in the state, the ECHL's Alaska Aces, and the Kenai River Brown Bears of the NAHL recently announced they will both shutter after this season. A playoff win for the Nanook could lift some spirits.
No. 4 Bowling Green vs. No. 5 Ferris State
This could be the most entertaining series of the opening weekend. The teams finished the season separated by just two points and they evenly split the season series at 2-2. Both teams are trying to make amends for a bit of a disappointing season. Bowling Green was thought to be a title contender before the season, and never looked like on. The Bulldogs were thought to be amongst those pushing for home-ice advantage — and they were — but didn't look like a team that could make some noise in the postseason until the second half of the year. Both teams have good feelings heading into this weekend, though, and have built momentum over the past two weeks combing to go 6-1-1 during that stretch.
About the Falcons
Record: 17-17-2 (14-13-1 WCHA)
Top scorers: Mitchell McClain (17-13 — 30), Kevin Dufour (13-11 — 24), Tyler Spezia (7-17 — 24), Brett D'Andre (7-11 — 18).
Top defensemen: Mark Friedman (8-15 — 23), Sean Walker (9-11 — 20)
Top goalie: Chris Nell (13-13-2, .912, 2.19)
X-factor: Before the season the Falcons were picked as the favorite to win the championship while Chris Nell was looked at as a potential Hobey Baker finalist. Neither panned out after a slow start for the Falcons, but a recent resurgence and three straight shutouts to end the regular season have things pointed in the right direction.
That's a fact: Bowling Green looked like it should be better than fourth in the WCHA. The Falcons were third in both goals scored and goals allowed this season, but outliers and letdowns limited the Falcons from making the most of a promising season.
About the Bulldogs
Record: 13-17-5 (12-12-4 WCHA)
Top scorers: Gerald Mayhew (17-16 — 33), Corey Mackin (13-13 — 26), Jared VanWormer (8-14 — 22), Mitch Malone (11-8 — 19)
Top defensemen: Joe Rutkowski (2-17 — 19), Ryan Lowney (2-15 — 17)
Top goalies: Justin Kapelmaster (10-3-3, .933, 2.17)
X-factor: Gerald Mayhew is making his final playoff run and has been one of the WCHA's most exciting players during his collegiate career. The Bulldogs are 12-8-2 in games he scores a point, and he's riding a three-game point streak heading into the postseason.
That's a fact: Ferris State played in the 4-5 series last season and was ousted by Bemidji State in multiple overtimes. The Bulldogs are playing well heading into the playoffs with a 5-1-1 record in their past seven games.
Ice chips
• For the second straight season, both Alabama Huntsville and Alaska Anchorage are sitting out the WCHA playoffs. The Seawolves made the Final Five in 2014, but haven't been back to the WCHA playoffs since. UAH has made the conference tournament just once — in 2015 — but were swept in two games by Michigan Tech.
• WCHA players of the week were Bowling Green senior forward Kevin Dufour (offensive), Bowling Green junior goaltender Chris Nell (defensive) and Ferris State freshman forward Craig Pefley (rookie).