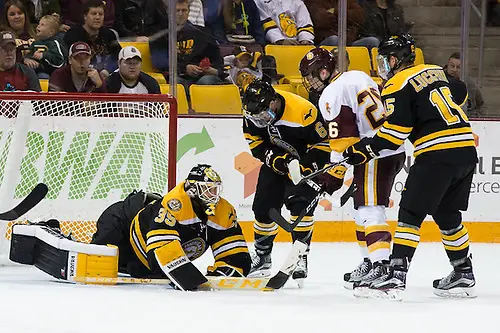 Shortly after the final buzzer sounded following Game 3 Sunday night at the MacInnes Student Ice Arena, the line to buy tickets for this Saturday's WCHA title game went halfway around the arena's concourse.
Michigan Tech beat Minnesota State 4-1 to win their best-of-three WCHA semifinal series and clinch a spot in the finals.
And because Bowling Green had finished off their sweep of Bemidji State the night before, Husky fans knew they would be back in Houghton, Mich., next weekend.
"The history here, for us to have the first championship game in this format, I think that's tremendous for this community," MTU coach Mel Pearson said. "The buzz has been unbelievable. You should have seen the line Sunday night to buy tickets. It was incredible."
This is exactly what WCHA administrators had in mind when they changed playoff formats before this season. Although it was tough to ditch the classic old Final Five format, a single-game WCHA title at the sold-out and raucous home rink of the highest seed is just too appealing.
"We have about 100 standing-room tickets left," Pearson said. "It's been crazy here, which I think is great. As coaches, I think we were hoping that whoever was going to host that championship game would have a situation like this. I can't underestimate the buzz in the town and whatnot. We're looking forward to hosting the game."
Another underrated aspect of this year's title game: The WCHA is a one-bid league this year. The winner will play in the NCAA tournament. Michigan Tech has one appearance in the NCAAs since 1981, and it came two seasons ago. Bowling Green is looking for its first appearance since 1990.
"Not only do you have a chance to win the championship, but you have a chance at the NCAA tournament," Pearson said. "It's a big game. Some years, even if you don't win the tournament, you have a chance to move on, but this year, it comes with added implications. You get it all. There's no second place."
Tech, the No. 2 seed in the WCHA, scored 14 goals in their quarterfinal sweep of Lake Superior State before netting nine in their harder-fought three-game series with Minnesota State. BG swept both Ferris State and Bemidji State to get here; the Falcons are currently on a seven-game win streak that they carried over from the regular season.
The teams haven't played since December, when the Huskies swept the Falcons in Ohio. Since then, BG played itself into a No. 4 seed in the league and has been a very different team.
"Bowling Green's a good team," Pearson said. "The last four years, (BG head coach Chris Bergeron) has done a good job. They've done it the right way and I know they're looking to break through. They've been knocking on the door. But we have, too. We got there two years ago, and we were disappointed we didn't get in. We were the last team out, second to last team out last year, and our guys want to get back and have another opportunity there. But you gotta win the game first."
Bring Back the Glory
Eight years ago, Bowling Green re-dedicated itself to college hockey.
It was a frustrating time for Falcon hockey fans. Rumors were rampant that the program would shutter, while program had turned into the laughingstock of the now-defunct CCHA.
Then in October of 2009, the "Bring Back the Glory" campaign was launched. It raised money and awareness for the program, and the results on the ice started follow.
In the WCHA championship game on Saturday, the Falcons can reward those efforts with the first NCAA tournament bid since 1990 and first conference championship since 1988.
"This program means a lot to a lot of people, even more than I thought when I was an outsider coming in," Bergeron said. "It would be very special to share that with so many of them."
Bergeron and the players understand what it would mean to add another banner to the ice arena, affectionately known as "The Madhouse on Mercer," and it's something that almost came to fruition a couple seasons ago.
"We thought about that a couple years ago when we thought regardless we were going to get an at-large into the national tournament, and that didn't happen," Bergeron said. "And then you start thinking how great that would have been and what that would have meant."
To avoid getting caught up in the moment, the Falcons are treating it like any other week.
It just seems like another week right now.
"In college, you get caught up in such a routine and what gets your attention is when your out of that routine and it's Monday and there is no season yet," Bergeron said. "It just seems like another week and obviously, it's not that."
It's much more. It's a chance to raise a banners, something the Falcons haven't done in a generation.
"When people come into the building they notice it's the history, there hasn't been a lot of present," Bergeron said. "We can change that."
Bitzer wins player of the year, named Hobey finalist
The awards and nominations are coming fast and furious for Michael Bitzer.
Bemidji State's junior goaltender, already an All-WCHA First-Teamer and a Mike Richter Award top 10 finalist, added two more accolades this week.
On Tuesday, he was named the WCHA's Player of the Year.
Then on Wednesday, it was announced that Bitzer was a top 10 finalist for the Hobey Baker Award — the lone WCHA representative out of the 10 finalists this season, and just one of two goalies (Charles Williams of Canisius being the other).
Bitzer was just the third goalie in 25 years to win the WCHA's MVP award and, when all was said and done, finished the year with a 1.40 GAA in conference games, setting a new WCHA record.
Overall, he finished the year with a 1.71 GAA — currently leading the nation — and played in 39 of the Beavers' 41 games. All told, he spent 2355:22 between the pipes for BSU this season (which also leads the nation), and had six shutouts. He is currently fourth overall in save percentage (.932).
"He was our best player, he was the best player in the league, he was one of the best players in the country," BSU coach Tom Serratore said. "When you have a player that good, it means a lot to your team. A big reason why we had the success we did is because we had a heck of a player like Mike Bitzer. I'm happy to see him get rewarded for a team that we had."
Beavers, Mavericks sweep individual awards
Aside from Bitzer being named the conference's MVP, the WCHA also announced its other individual award winners on Tuesday.
Serratore was named the conference's Coach of the Year after leading the Beavers to a 22-16-3 record and their first-ever MacNaughton Cup title. BSU was picked to finish sixth in the preseason.
The other two awards went to Minnesota State.
MSU sophomore defenseman Daniel Brickley won Defensive Player of the Year, while freshman forward Marc Michaelis won Rookie of the Year.
Brickley, who led all league defensemen with 19 assists, 26 points and 14 power-play points in 22 games, was also second with 55 blocked shots.
Michaelis led his team with 36 points — the second-most by a Maverick freshman in the program's Division I history. He scored 14 goals and collected 22 assists in 39 games.