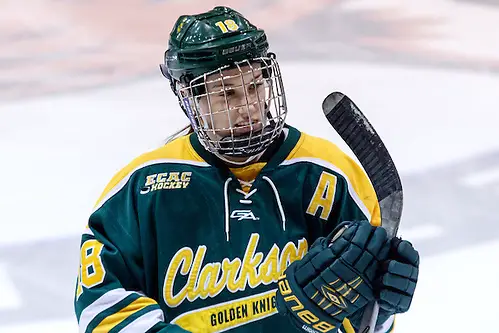 Clarkson senior forward Cayley Mercer may not have walked away with the Patty Kazmaier Award this past weekend, but leaving St. Charles with the second national championship win in her four-year career at Clarkson was probably pretty good balm for any lingering wounds.
Having suffered a severe leg injury prior to starting her career at Clarkson, Mercer is no stranger to adversity or overcoming odds. Though most of the Golden Knights players and staff didn't want to compare 2017 to 2014, Mercer pointed out after the title game that Clarkson hadn't had any difficulty winning a title as the supposed underdog in years past and they weren't going to let it stop them.
"People thought we were underdogs (in 2014) and we came out with the win," said Mercer. "At no point did we ever feel like underdogs; we knew how strong we were, we knew we had the potential in that locker room to win this tournament. At no point were we ever scared. We had nothing but confidence."
The Golden Knight set a new standard at Clarkson, surpassing Jamie Lee Rattray as the all-time leading goal scorer in program history with 80 goals. She finishes just three points shy of Rattray for career scoring with 188 points from those 80 goals and an additional 98 assists.
With two goals in the national championship game, she moved into a tie for first place with Kelly Pannek for the overall scoring lead. Her 28 goals paced the nation and she added 34 assists for a total of 62 points in 41 games.
Mercer was named a First-Team All American as well as best forward and player of the year in the ECAC. She earned the ECAC Hockey scoring title with 42 points on 20 goals and 22 assists through 22 league games. She recorded at least one point in 35 games and had 21 multiple-point outings. She was the league-leader in power-play points (12) and goals (6).
In addition to excelling on the ice, Mercer, who red-shirted her freshman year, graduated last year and is on track to complete a two-year MBA program in one year's time.
After a great regular season, Mercer backed it up by leading the Golden Knights to their second title in four years — they're still the only team outside of the WCHA to win a national championship. Her goal with 3:04 to go in the title game iced the win and she added an empty-netter to seal it up. She won the matchup of Patty Kazmaier top-three finalists against Ann-Renée Desbiens, and the title. For that, it was impossible not to believe Mercer had the best season in the country this year.
Congratulations to Clarkson's Cayley Mercer, USCHO's player of the year.