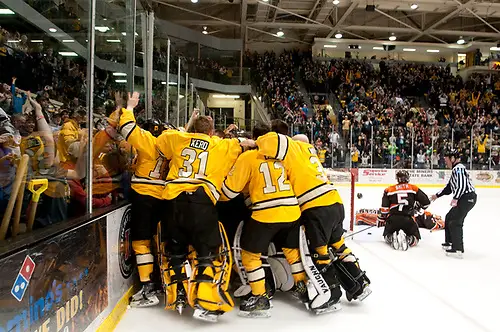 Each week during the season, we look at the big events and big games around Division I men's college hockey in Tuesday Morning Quarterback.
Jim: Well, conference championship weekend is in the books and the NCAA field is set.
Before we get to that, though, I want to offer congratulations to the six champions: Air Force, Harvard, UMass Lowell, Michigan Tech, Minnesota Duluth and Penn State. Each team for one reason or another has a great storyline to both their season and their tournament wins.
Two, though, stand out. Both Michigan Tech in the WCHA and Penn State in the Big Ten needed double overtime before they finally broke through for the game-winner.
Talk about drama.
The fact that Michigan Tech was able to earn their victory on home ice after what became a very successful experience to move the WCHA tournament back onto campus added to the drama. Watching video from the game, you can see fans almost hanging from the rafters. Nate Ewell from College Hockey Inc. told me on Saturday night that fans were lining up 29 hours before the game. So to say that the experiment of playing the entire WCHA tournament on campus certainly worked well.
Which brings me to the Big Ten. Another tournament filled with the dramatic, the crowd at Joe Louis Arena was hardly one to write home about. Three nights and five game barely drew 10,000 fans. You know that league intimately, Paula, so I'm guessing that the thought of moving next year's tournament to campus sites, at least right now, seems appealing.
Paula: First, I also congratulate all six champions. It was a great weekend for college hockey wherever it was played, and the storylines – as you suggested – should make for a lot of interest in the regionals and the Frozen Four.
As for the Big Ten, the thought of moving the tournament to campus sites has always been appealing to me, not just now. I know that the tournament drew well in St. Paul for the two years it was played there, but it was abysmal in Detroit in 2015 and this year. The crowd size was insulting. Thank goodness the hockey itself was a very fitting sendoff for the college game in Joe Louis Arena.
Beyond the poor attendance at JLA, I am eager for campus sites for other reasons. There are areas of the country where it's been difficult to draw fans to arenas for all kinds of reasons, ranging from economic to geographic. The campus sites will insure, at least, a good showing from the home crowd. And I know from talking to players and coaches that even when a team is the visitor, an electric, hostile crowd is still an electric crowd.
I covered the WCHA Final Five in Grand Rapids, Mich., in 2016 and there were very few people in Van Andel Arena then, too. I'm so glad the WCHA made the smart move it did after that tournament. I'm really looking forward to next year's Big Ten playoff format. There's nothing worse than an empty building to counteract outstanding hockey.
Jim: Well, unfortunately, when you talk about an empty building counteracting good hockey, we're at NCAA regional weekend which often produces disappointing crowds. This year, I think three of the four regionals will have decent atmospheres for some of the games. Obviously, Fargo, N.D., has been sold out for a while and, if history repeats, North Dakota fans will pack that venue for both semifinals (and possibly the final, too, even if the Fighting Hawks lose in the semifinals).
UMass Lowell's fans have been scooping up tickets in Manchester, N.H., quickly, though the atmosphere when Minnesota faces Notre Dame could be pretty quiet (and if Lowell loses to Cornell, Sunday's final will be somewhat empty).
Providence should be good for a few thousand fans at the Dunkin' Donuts Center, just a few miles from the PC campus. And the fact that either Harvard or Providence are guaranteed a spot in the final should make for a decent atmosphere for Saturday's final.
But that leaves Cincinnati. Our bracketologist, Jayson Moy, has been raising concerns for this venue for quite some time. We're going to learn quickly how well Penn State fans travel given that the venue is still nearly seven hours away from State College, Penn., but (and this isn't a knock on any of the four teams' fans) I'd be surprised if there were more than 2,000 fans on either day.
Paula: The arena in Cincinnati will be nearly empty – and not just because there isn't a local team to help fill it.
Cincinnati is a terrible choice for a regional.
In college hockey terms, it's pretty remote. Miami is just up the road, but the RedHawks haven't yet flourished in the NCHC. Ohio State is a hundred miles away, but Buckeye hockey fans don't travel en masse. In terms of college hockey, it's off the beaten path. It's the closest regional to where I live and it's a horrible, construction-filled, five-hour drive down I-75 from my corner of mid-Michigan. The venue is only so-so and there isn't a lot to draw fans to Cincinnati beyond the hockey.
I do not understand why Cincinnati was awarded not one, but three regionals: 2014, 2016 and this year. You're not alone, Jim, in wondering if the event will draw 2,000 fans on either day.
Jim: My guess – and this is what makes the regional setup a difficult one for the NCAA – is that Cincinnati was likely one of the only venues in the what is considered "the west" that bid for the Midwest regional. That's the challenge that goes along with using a regional site structure for this tournament. Personally, I'm hoping that the success of the WCHA using campus sites this year and, hopefully, the Big Ten next season might show more coaches that resorting to a campus site structure would be great for the NCAA tournament. That's a conversation for another day, though, as I'm sure people want to hear some thoughts on the NCAA field.
So I'll pose the question: which is the most challenging of the four regions?
My answer is Fargo. You have host North Dakota to contend with and the team with the unenviable test of facing the Fighting Hawks in round one is Boston University. The Terriers themselves have tons of depth and talent, but also have struggled of late to play with the lead. If BU falls behind, I'm sure they'll have the chance to come back as they've proven all postseason. But falling behind against the host in a raucous atmosphere might be difficult.
On the other side of that draw you have Minnesota Duluth, the NCHC champs, and Ohio State, which has a good power play, but I'm not sure is in the same class as the Bulldogs.'
There's also the possibility that Duluth and North Dakota meet in the finals for the second time in a week. The NCHC final had a chippy undertone to it. I can only imagine what a game with a Frozen Four berth on the line could bring out in these two.
Which region do you think is toughest?
Paula: Without question the West regional. While I think that Duluth is the best team in that regional – and may be the best team in the country – you have North Dakota at home and a talented, tenacious BU team. I do not see Ohio State as a problem for Duluth, in spite of the Buckeyes' potentially explosive offense.
Once upon a time, there was a great debate about East versus West hockey, about the alleged finesse play of Eastern teams versus the alleged grittiness of Western teams. The debate about that dynamic has lessened in the last decade because of how the approach to the game has played. Everyone has video of everyone else. Nothing's much of a surprise anymore in terms of on-ice systems or physicality of play. There are differences in recruitment pools, for sure, but even in that there is significant overlap once you go down below what are considered some of the more elite programs in the game.
All of that having been said, I think the NCHC is as chippy as you say, Jim – and gritty and super physical and harkening back, perhaps, to the old WCHA. I think that regional in Fargo is going to produce some amazing hockey.
I will say, though, that the Northeast regional promises some very good hockey, but for a different reason. That field seems to have the most parity. I think Lowell is the best team in that field in spite of Minnesota's top seeding, but I look at the four teams in that regional and can see any one of them emerging, depending on the consistency of their play in a given game.
Do you see any chance of a dark horse emerging from any of the regionals?
Jim: I think the best chance of a major upset might come from the East regional in Providence. The Friars are playing an incredible team in Harvard and would then have to face either Air Force or Western Michigan in Saturday's final, but the fact that the games are played so close to campus (remember, this happened two years ago and the fourth-seeded Friars won a national title) I think could be the edge that Providence needs.
How about you? Who's your biggest dark horse?
Paula: Penn State – but only if the Nittany Lions play the way they did in the Big Ten tournament rather than with the inconsistency they displayed during the regular season. Their defense was extraordinary in Detroit. If the Nittany Lions play in Cincinnati like they did in Detroit, they will prove incredibly difficult to defeat.
Besides, after last weekend in Joe Louis Arena, Penn State knows how to play big games in front of small crowds.