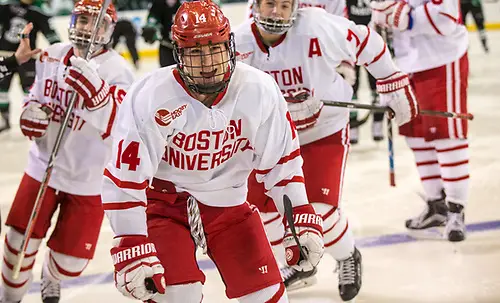 FARGO, N.D. — Here are three takeaways from Boston University's 4-3 double-overtime thriller over North Dakota:
1. Young Terriers growing up
With a sold-out, UND-dominated crowd at Scheels Arena, there may have been some people wondering if Boston University's young squad would fall short of its potential, as the Terriers had done in the Beanpot final as well as in the Hockey East semifinals.
But on this big stage, in one of the most memorable first-round games in recent memory, the Terriers bent but didn't break, even when everything was going against them. It didn't matter that UND came back from a 3-1 deficit. It didn't matter that the Fighting Hawks kept piling on the shots (145 shot attempts and 59 on goal). When Dixon Bowen's apparent game-winning goal was called off due to an offside judgment on replay, the Terriers knew they weren't going to let the game slip away.
"Throughout the season, one thing we've battled with is trying to play well beyond our years. We're a young team," Charlie McAvoy said. "Maturity might be something that people question is in our locker room at times, but tonight we proved that we can play our game and stick with it regardless of what happens."
If the Terriers get their legs going in the Saturday night regional final, they obviously could wield a dangerous combination of talent and resiliency.
2. Unheralded Hawks key both Friday night and going forward
The offseason begins earlier than UND has been accustomed to in the past handful of years, and the questions abound about next year's team.
Once again, many of UND's top players are candidates to leave school early. Everybody in Grand Forks dreads this time of year, wondering what will be left in Brad Berry's cupboard for next year's team.
Friday night was at some level an indication that the core of the team cannot be overlooked, with standout performances from undrafted players such as Christian Wolanin and Ludvig Hoff, who had missed the NCHC Frozen Faceoff with an injury.
Berry will have to rely on Wolanin to put up more nights like the sophomore had Friday (game-tying goal and four shots on goal) to shore up a blue line that relies on senior Gage Ausmus and Tucker Poolman, who many expect to sign early.
Friday night was too early for the Hawks to think about next year, but the game showed that UND has some pieces on which it can build. First-round draft picks Brock Boeser and Tyson Jost combined for just one assist Friday, but the Hawks managed to find scoring from other places in its lineup. That might have to be the recipe in 2017-18.
3. Now they get one more
Terriers coach David Quinn was asked after the game if he thought fatigue was going to be a factor in Saturday night's West Regional final. Quinn responded with the obvious: "Yes."
A game with nearly 32 minutes of overtime sounds exhausting enough, but make no mistake — it was emotionally and physically debilitating for everybody involved, maybe even more than the total time would indicate.
It certainly will be a tough hill to climb for the Terriers. Since the NCAA tournament went to the 16-team format, no team has won a night after winning in more than one overtime (0-4).
The Terriers can't do much about that now, of course, and Quinn said he doesn't plan on changing their planned routine. Friday night's curfew is probably safe.
"I won't need to sing them lullabies," he said.