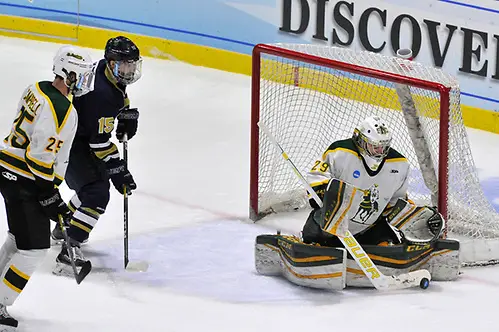 For a big game like the national semifinal against St. Norbert, it should come as no surprise that the guy leading Trinity in assists coming in would "help" his team to the national championship game with assists on all three Bantams goals in a hard-fought 3-2 win. Tyler Whitney was the common element on all three Trinity goals, showcasing great vision and passing on one power-play goal and two even strength-goals.
"I am happy to score them and happy to pass to someone for the goal too," said Whitney. "The most important thing is that the team is scoring and that is a good thing, whether it's me or someone else."
Anthony Sabitsky, Ethan Holdaway and Samuel Johnson were all beneficiaries of Whitney's passing artistry, with Johnson's being the ultimate game-winner with just over 90 seconds left in the second period. Whitney's seeing-eye pass through the slot on a power play to Sabitsky got Trinity on the board and his setup of Holdaway on a two-on-one gave the Bantams their first lead of the game.
"We knew that their defensemen were going to be skating forward in the neutral zone and in the offensive zone supporting the forecheck," said Trinity coach Matt Greason. "We wanted to get pucks behind them and when you got Tyler behind them with possession on an odd-man rush, you saw good things are going to happen. He is slippery and fast and creates good things for us when he has the puck on his stick."
Whitney increased his team-leading assist total to 25 on the season and would be more than happy to help his teammates to one final win on Saturday night in Utica.
Ice Chips
— Whitney looks to add to the national championship pedigree of the family by adding to the haul of hardware collected by himself and his brothers, Joe and Ryan, who play for Boston College at the D-I level.
— You expect big-minute guys to play big games, and Trinity's Samuel Johnson did just that on the blue line, just like he has done all season, but he added a bonus today, scoring the game-winning goal, his first goal of the season for Trinity.
— Trinity and St. Norbert had not faced each other this season and hail from very different parts of the country in Wisconsin and Connecticut, but have something in common in the hometown for St. Norbert's Tyler Andrews and Trinity's brother duo of Brandon and Ryan Cole; all hail from Anchorage, Alaska.
— Both goaltenders, T.J. Black for St. Norbert and Alex Morin for Trinity, were "big" in their nets, but stand an identical 5-feet-9 in height. Black stopped 34 of 37 shots while Morin made 31 of 33 saves to pick up his 19th win of the season.
— Saturday's title game appearance for Trinity will be its second in three seasons. The Bantams' last appearance saw a 5-2 win for the national championship over Wisconsin-Stevens Point in 2015.